Transformation Not Transaction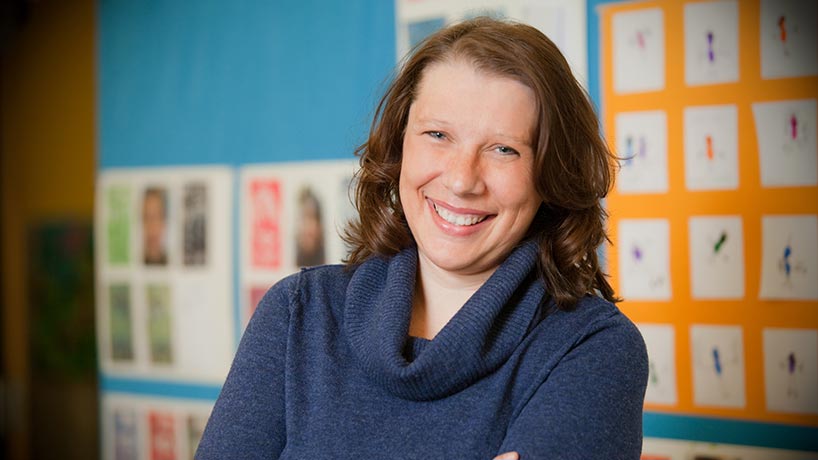 It may be rare that a Christian school both seeks and attracts non-believing students, but Christine Metzger M.Ed. '96 believes such a school can become the center of a thriving and dynamic learning community. As head of Mustard Seed School (MSS), a model urban school in Hoboken, New Jersey with Jewish, Muslim and Hindu children studying alongside Christians, Christine works to foster a place in which Christ's love is shared through relationships, exploration and understanding, not heavy-handed rhetoric.
After growing up in a public school system, Christine chose a Christian college for her bachelor's degree and came to Covenant for her master's in education. As she taught, and then moved into administration, her experiences at various schools shaped her passion for classrooms defined by diversity, hands-on experience and community.
"I've learned that a big impact can be made by intentionally embracing our families in a Christian community of faith, whether they are Christian or not, with a specific sensitivity to not alienating anyone," says Christine. "Worship at MSS is eclectic in practice and has honored many different school families and their culture and Christian faith practices."
Christine remembers watching through the window of the school as the World Trade Center fell. "We actually kept school in session," she says, "even though it happened first thing in the morning. We worked really hard to keep the day normal for students."
When parents rushed to gather their students, Christine and her faculty gave them the option of letting the students finish their day, allowing the parents to gather themselves for a few hours before working through the event as families. "The MSS community comes together every school day for worship and prayer. In a crisis like 9/11, worship time provided a routine and familiar place for students, parents, faculty and staff to come together to grieve and pray."
As she concludes her eleventh year at MSS, Christine plans to step down from her position and bring to other communities the philosophy of education she has learned and developed throughout her career. "What I took away from my time at Covenant is a strong understanding of a Reformed worldview and perspective, and seeing the world in a holistic way," she says. "I also became much more reflective about the vision of a grace-filled classroom."
Christine believes the arts are different languages with which students can experience and reflect the world around them. Rather than firing facts and Christian doctrine at the student body, she contends that relationships and experience can communicate facts and truth. "Education can look different," she says. "Someone said to me the other day that he was a fan of transformational education, not transactional education. And I said, 'That's it; I'm with you there.'"