IDS Alumni
Rachel Watanabe Kim '04
Current occupation
Assistant Director of Community Health and Wellness, Esperanza Health Center. Currently, I co-lead the department which spearheads initiatives that focus on prevention (health promoter program, cooking classes, exercise classes and fitness programming, diabetes classes, healthy café, etc) and community partnerships (with churches, schools, youth mentorship programs, medical student ministries and other local organizations).
Current residence
Philadelphia, PA
Family members
Husband, Mark, and daughter, Naomi
Church
City Church of Philadelphia
What were you involved in on-campus while at Covenant?
Diversity club, intramurals, RA staff, MK club, gospel club
What has your career path looked like since leaving Covenant?
After graduating with an IDS degree, I thought I would eventually end up oversees doing some sort of mercy ministry or development work. Despite that desire, I felt like God was calling me to continue to put down roots in Chattanooga, especially at my church (New City Fellowship) until he clearly called me elsewhere. At first, that was a difficult calling but I realized I couldn't just run off to my next adventure. The harder option for me was to stay, trust and see what God had in store for me. In that time, I worked and volunteered at a few non-profits using my Spanish, counseling, and community development skills. I grew more familiar with various organizations and city endeavors and was excited to participate and engage with new connections in a place that I loved.

God began weaving ministry at church (Hispanic ministry) and my professional work (pregnancy resource center) together by allowing me to participate in dreaming and praying for a vision of a health clinic to serve the uninsured and underserved Latino community.

At that point, I began to feel called to pursue further schooling to be better equipped to serve others. I never wanted to go to seminary, but there I was, applying to complete not one but two degrees at a seminary where I had few connections! Though it was hard, I knew that God was moving me to leave behind an amazing community he'd surprised me with to start the next season in Philly. My plan was to get my counseling degree as well as an urban missions degree. Two years later, I finished the counseling degree and got married to a fellow seminary student. I never wanted to do clinical counseling, but there I was, needing to find a job to support my family. God led me to my current place of employment where I had the privilege of being a behavioral health consultant for two years at a Christian primary care clinic in urban North Philly. God then opened the door for me to participate in the launching of a community health department at this same clinic, once again using the skills and passions he'd been growing in me over the years.
What is your favorite part of your job? What gets you excited to go to work every day?
My favorite part of my job is working with an amazing team to participate in building programs and processes that point people towards holistic health. I love working with such a diverse group of people called to serve a community who are very close to God's heart. Seeing individuals transformed, find community/comfort, get plugged in to church, and become more healthy—because God cares about them and keeps drawing the team and I to step out and join what he's already doing—that brings me so much joy. I love connecting with community partners and finding ways to encourage, support and work together on shared goals.
How did Covenant prepare you as a person and how did it prepare you for your career?
Covenant not only prepared me to understand concepts and problem-solving strategies, but also to value the process and people I'm called to work with and serve. My IDS major gave me the creativity and flexibility to bring various areas and perspectives together in a way that enhances the bigger picture and hopefully, God's Kingdom. I am able to build on community development principles I learned, take into account individuals and how they are shaped and impacted (sociology/counseling) and use my Spanish to communicate and learn more about the community and culture I work in. Covenant reinforced the firm foundation and ultimate hope on which to stand when life, work and things in my community and world are hard. Covenant also gave me leadership occasions, which prepared me for future opportunities to serve.
---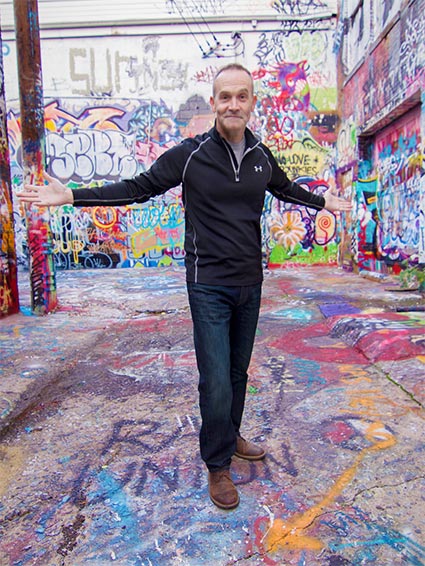 Steve Smallman '85
Current occupation
Sr. Partner and Chief Creative Officer, 15Four.com
Current residence
Baltimore, MD
Family members
Wife, Mary Lutz; sons, Isaiah '11 and Paul '13; daughter-in-law, Kelly Gillikin '12 – married to Isaiah
Church
New Song Community Church
What were you involved in on-campus while at Covenant?
Music, drama, intramural sports, student senate, RA of the Ghetto, co-chair of film committee.
What has your career path looked like since leaving Covenant?
Twenty years in a community development career, two years on staff at New City Chattanooga, then worked in Philadelphia and Baltimore after leaving Chattanooga in 1987. Ten years ago I started a digital marketing agency called 15Four. We do video, animation, web and communications strategy for large corporate clients like Under Armour, T. Rowe Price, PwC, Booz Allen, and for educational clients like Johns Hopkins University and Georgetown University.
What is your favorite part of your job? What gets you excited to go to work every day?
I've loved building a team culture and sharing important values with our staff, especially within the diversity of their own worldview perspectives. I also enjoy working with our clients and helping them find a sweet spot for their messaging in the context of their markets and customers—keeping them honest about who they are and what they're hoping to accomplish.
How did Covenant prepare you as a person and how did it prepare you for your career?
Covenant developed my mind in a way that has allowed me to think critically about faith, culture and commerce. Covenant is where I learned compassion for broken communities, and Covenant taught me about deep and abiding relationships. With that baseline, I've been able to live in a variety of situations and navigate a couple of very diverse careers.
Tell us a little more about your involvement with your church.
I'm still a volunteer associate pastor (TE, PCA). I moderate the session of the church and serve on the worship team. My wife, Mary, is involved in teaching Bible study and children's ministry, and served as the church administrator for many years before stepping away from that role in 2013. It is also my great privilege to serve on Covenant's Board of Trustees.
---
Elissa Yukiko Weichbrodt '04
Current occupation
Assistant Professor of Art, Covenant College
Current residence
Chattanooga, Tennessee
Family members
Husband, Noel Weichbrodt '04; children: Ezekiel (5), Miles (3).
Church
Rock Creek Fellowship
What were you involved in on-campus while at Covenant?
Diversity club, gospel choir, art club president, and RA of 3rd Central.
What has your career path looked like since leaving Covenant?
I did some adjunct work at Covenant and worked in the Writing Center, then went to graduate school at Washington University in St. Louis. I received my MA in art history in 2008, and my PhD in art history in 2013.
What is your favorite part of your job? What gets you excited to go to work every day?
I love interacting with students. My classes are full of questions, and I especially love the moments when students have an "aha" moment, finding a new way to approach a complicated artwork or making a connection between the image on the screen and something we've seen in class before.
How did Covenant prepare you as a person and how did it prepare you for your career?
During my time at Covenant, I learned so much about the struggles and delights of living in a community that allowed for brokenness and asked for vulnerability. The friendships that I formed on my residence hall, 3rd Central, continue to this day, because we came to know each other as flawed people who were unconditionally loved by a merciful Savior.

Academically, Covenant gave me a strong grounding in intellectual history and in working across disciplines. Especially as an IDS major, I learned that allowing disciplines to inform each other could result in really robust scholarship. I also learned that integrating faith and learning was not necessarily finding a "Christian" way to make art or study history. Instead, my theological convictions could shape how I understood art's social function and drive my research. My dissertation, for example, considers how contemporary art can engender empathy, a project that began with my interest in a theology of embodiment.
Tell us a little more about your church
My husband Noel and I attended Rock Creek as students and then as a newly married couple prior to moving to St. Louis for graduate school. It has been a joy to come back to our first shared church home. We share hosting duties for the St. Elmo small group and are currently co-leading the youth Sunday School.
---
Meet More Interdisciplinary Studies Alumni: