2018-2019 Theatre Productions
Fall 2018
---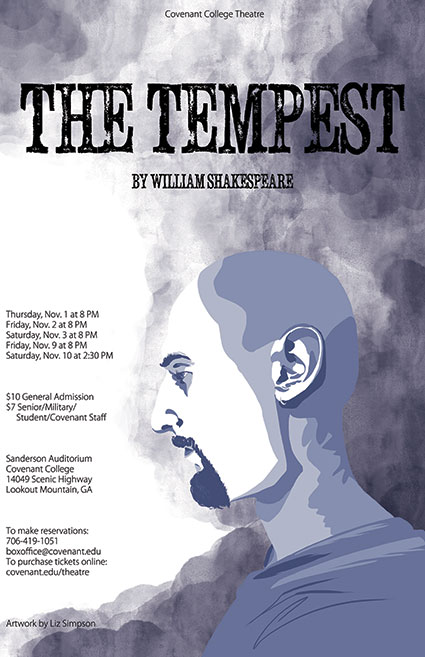 The Tempest
Written by William Shakespeare
Directed by Prof. Claire Slavovsky
Music by John Reeder '17
One of Shakespeare's late romances, The Tempest is the fantastical story of Prospero, the exiled Duke of Milan, and his quest to restore his daughter's place in the world and bring a reckoning to his enemies.
Show times | November 1, 2, 3, and 9 at 8 pm, November 10 at 2:30 pm
Cast and Crew Q & A after the show on November 2nd
Faculty discussion panel after the matinee on November 10th
Sanderson Auditorium
$10 General Admission
$7 Senior/Military/Student/Covenant Staff Discount
To reserve tickets or get information about group rates, please contact the box office:
boxoffice@covenant.edu
706.419.1051
Purchase online tickets here (tickets available online until 12 hours prior to the show)
Spring 2019
---
"A Farewell Party" & Other Original Work
Written by Mark Makkar Gabriel '18 & TBA
Directed by TBA
This show will feature several new works including alumni Mark Makkar Gabriel's one-act "A Farewell Party" about being family across cultural differences. Gabriel writes out of his experience of growing up in one culture and being educated in another. To submit a play or scene dealing with the themes of familial or cultural difference, please send to claire.slavovsky@covenant.edu no later than October 1.
Show times | February 15, 16 and 22 at 8 pm, February 23 at 2:30 pm
---
Flowers for Algernon
Written by David Rogers, based on the novel by Daniel Keyes
Directed by Maya Pirschel '19 (Senior Integration Project)
Charlie, an intellectually challenged adult, is the subject of an experiment which rapidly increases his intelligence to a genius level. The play explores whether our value as humans lies in our capabilities.
Show times | April 4, 5, 6, and 12 at 8 pm, April 13 at 2:30 pm
---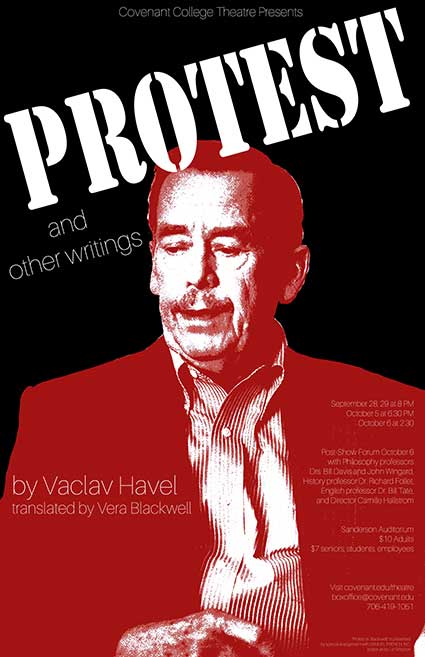 "Protest" & Other Writings
Written by Vaclav Havel
Translated by Vera Blackwell
Directed by Prof. Camille Hallstrom
Featuring 20th-Century Czech dissident/statesman/playwright Vaclav Havel's one-act play "Protest" together with selections from his philosophical and presidential essays and speeches.
Show times | September 28 and 29 at 8 pm, October 5 at 6:30 pm, October 6 at 2:30 pm
On October 6, there will be a post-show discussion forum featuring Dr. Richard Follett of the History Dept., Dr. Bill Tate of the English Dept., Drs. Bill Davis & John Wingard of the Philosophy Dept. and the director.
$10 adults, $7 seniors, students, and employees
Sanderson Auditorium
boxoffice@covenant.edu
706.419.1051