2018-2019 Theatre Productions
Spring 2019
---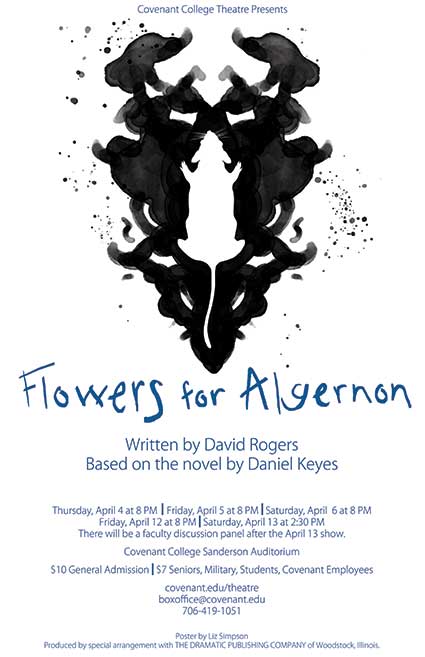 Flowers for Algernon
Written by David Rogers, based on the novel by Daniel Keyes
Directed by Maya Pirschel '19 (Senior Integration Project)
Charlie, an intellectually challenged adult, is the subject of a shocking new experiment which rapidly increases his IQ to a genius level. The play explores whether our worth as humans lies in our intelligence.
Show times | April 4, 5, 6, and 12 at 8 pm, April 13 at 2:30 pm
Sanderson Auditorium
$10 General Admission
$7 Senior/Military/Student/Covenant Staff Discount
To reserve tickets or get information about group rates, please contact the box office:
boxoffice@covenant.edu
706.419.1051 (Box office hours Tu/Th 12-5)
Purchase tickets online >
Produced by special arrangement with THE DRAMATIC PUBLISHING COMPANY of Woodstock, Illinois.
Previous 2018-19 Productions
---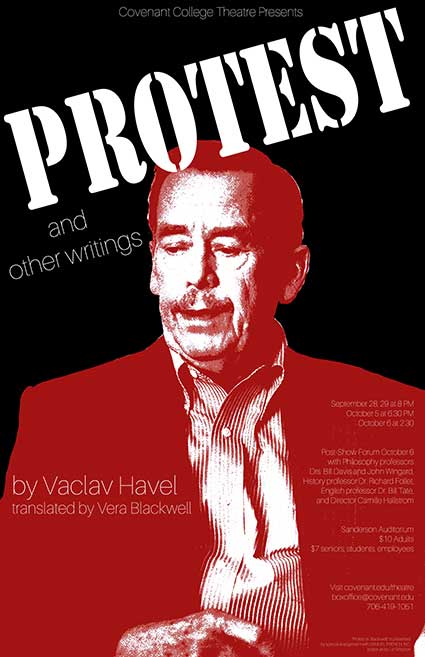 "Protest" & Other Writings
Written by Vaclav Havel
Translated by Vera Blackwell
Directed by Prof. Camille Hallstrom
Featuring 20th-Century Czech dissident/statesman/playwright Vaclav Havel's one-act play "Protest" together with selections from his philosophical and presidential essays and speeches.
---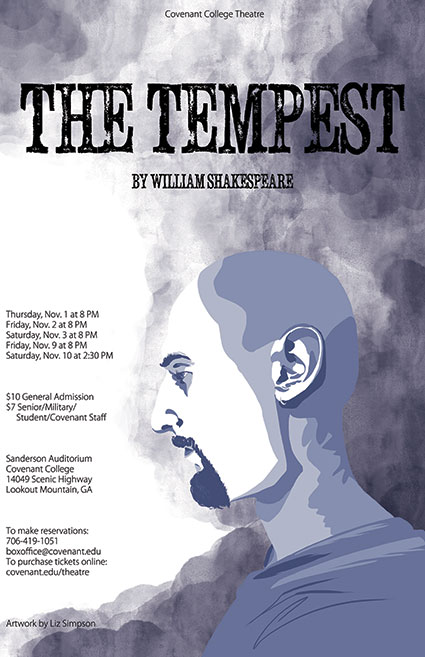 The Tempest
Written by William Shakespeare
Directed by Prof. Claire Slavovsky
Music by John Reeder '17
One of Shakespeare's late romances, The Tempest is the fantastical story of Prospero, the exiled Duke of Milan, and his quest to restore his daughter's place in the world and bring a reckoning to his enemies.
View the photo album on the Theatre Department's Facebook page >
---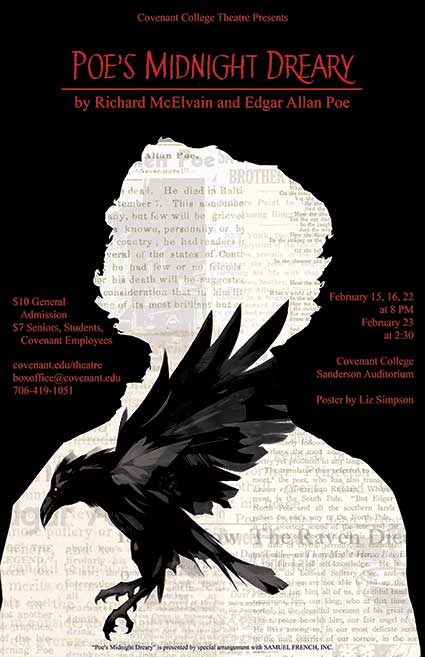 Poe's Midnight Dreary
By Richard McElvain and Edgar Allan Poe
Directed by Ana Gresham '19 & Cara Smole '22
A stylized production inter-weaving events from Poe's life with several of his poems and short stories including, "The Raven," "Annabel Lee," "The Fall of the House of Usher," and "The Tell-Tale Heart."
---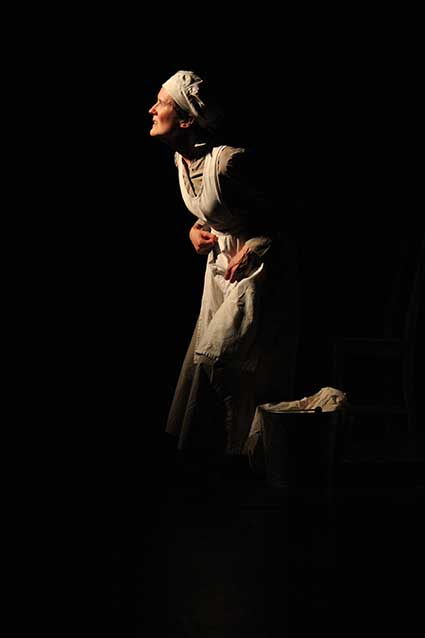 Magdalen
Written and performed by Erin Layton
Directed by Julie Kline
A one-woman show that premiered at the New York International Fringe Festival, has also been performed at the Edinburgh Festival Fringe as well as Off-Broadway. Erin Layton is a member of Ascension Church (PCA) in Queens, NY.
From the show's website:
"MAGDALEN is a fictional exploration of the women and children who passed through the Magdalene Laundries as slave laborers to orders of nuns in mid twentieth century Ireland, and the complicity of the church and society that tried to keep their stories hidden."
Visit the website >
Read the press release >