Sarah Erickson '17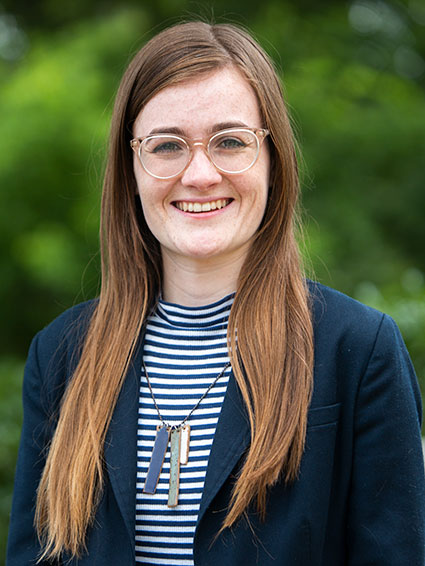 Admissions Counselor
Hometown
Carrollton, TX
Major at Covenant
Philosophy, minor History
How did you choose Covenant?
When I was a junior in high school, I visited Covenant and had lunch with Dr. Bill Davis, one the of philosophy professors here. I quickly realized that he and the whole department took academic study seriously, something that I thought I would have to compromise on if I attended at private Christian college. He further explained the benefits of diving deep into philosophy while having your professors and peers keep you grounded in the Christian faith. That night, I stayed in the dorms where my host student invested in me with really rich and fun conversation. I ended up choosing Covenant because I felt like it would be a place where I could flourish in my academic and personal life.
Most influential class at Covenant
In Metaphysics with Dr. John Wingard, he once explained that God can see all sides of a cube at the same time—inside and out! Every time I dwell on this truth, I am overwhelmed by how extraordinary God is. Although the "all sides of a cube" truth doesn't necessarily have practical application, it was the first time that academics and philosophy clearly incited worship in me. In that class, I understood more fully God's transcendence. When I study philosophy, I first think of God as the great Philosopher, and I just get really, really pumped about philosophy and God.
Women, Art, and Culture was another influential class because Dr. Elissa Weichbrodt so clearly demonstrated how to prayerfully and faithfully lament the ways in which women have historically been robbed of their dignity and value. By cultivating a space for biblical mourning, she encouraged students to join her as she rested in Christ's sacrifice on the cross and his tender ear for the tearful laments of women. Through her dependence on God, which was evident in her lectures and conversations outside of class, I became worshipfully dependent, too.
Best college memory
My best friend and I took a midnight hike on the Covenant trails after snow had blanketed the forest. The snow was so bright with the reflected moonlight that we didn't even need flashlights. I remember hearing the quiet but steady snowmelt between the crunching of our steps. It was such a beautiful and peaceful respite from the hurried college life and challenging academic work.
Contact Information
Toll Free: 888.451.2683
Call: 706.419.1603
Text: 469.546-5636
E-mail: sarah.erickson@covenant.edu

Sarah Erickson
Covenant College Admissions Office
14049 Scenic Highway
Lookout Mountain, GA 30750