Alumni Profile: Daniel Baker '00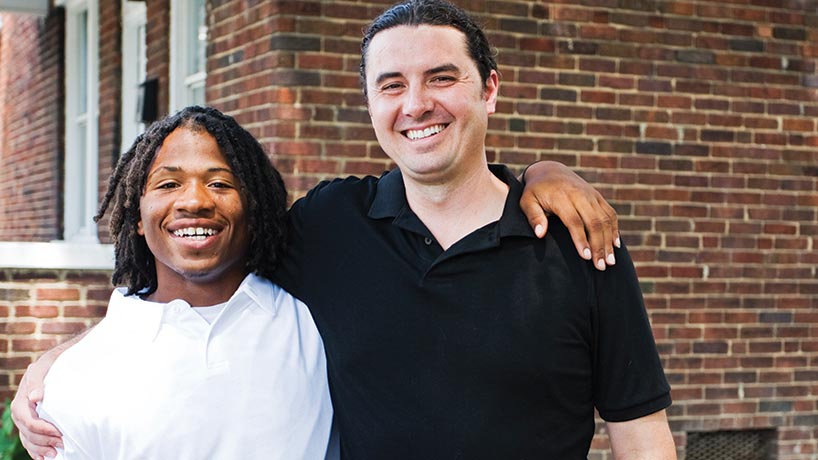 One day during college, on the steps of the Bethlehem Center, an outreach center in one of Chattanooga's less advantaged neighborhoods, Daniel Baker '00 shared his tater tots with a 7-year-old boy named Danzel.
Today, Danzel lives with Daniel and his wife, Brooke, who have opened their home to him as mentors and friends. It all began when seven Covenant students decided to move into a house in Danzel's neighborhood.
"We wanted to live with the people we were ministering to," says Daniel. "It was a real challenge, but it allowed us to see God at work in ministry in a very powerful way." From his love for inner-city ministry and involvement with a new inner-city Chattanooga church plant, to his work as the owner of Tight Seal Plumbing, Daniel is a man who points people to Christ by serving in ordinary ways. But his calling is nothing less than extraordinary.
"Christ is preeminent in plumbing because every day, He must become more, and I must become less," says Daniel. "Otherwise, this is just another business. It may be a good business—it may make money, it may make people happy—but if I'm not keeping my focus on God—loving the people around me and loving the work I'm doing—it's going to be futile in the end."
Daniel says his Covenant education equipped him for the plumbing trade by teaching him to think critically. And through residence hall relationships, professors' godly examples, and the interest his work supervisors took in his life, he saw Christ everywhere and grew in his faith.
"Covenant taught me to live expectantly for God to be active in the details of our lives—even the littlest details," says Daniel. "Covenant is a place where students come face to face with Christ."