Alumni Profile: Alice Davis '62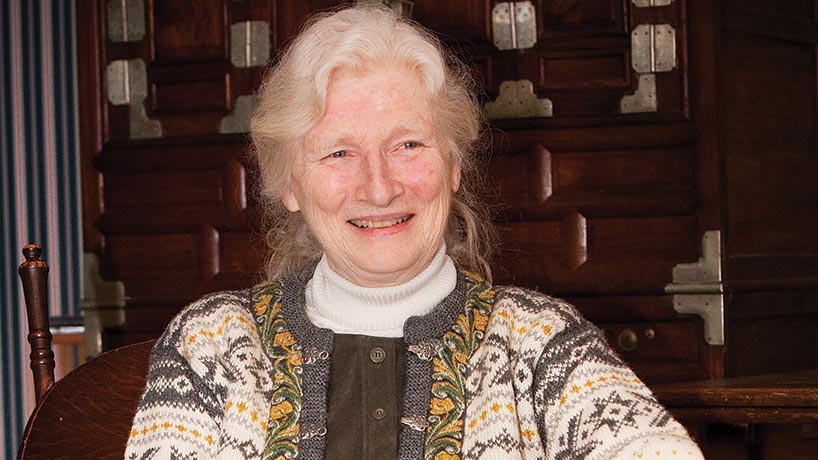 The Thirty-Nine-Year Book
In 2010, Wycliffe published the first New Testament in Maithili, a South Asian language spoken by more than thirty million people. For Alice Davis '62, one of the linguists who worked on this thirty-nine-year project, it all began in high school.
"There was a series of outreach meetings," says Alice, "and I invited one of my high-school friends, who I figured didn't really know the gospel. So I took her, hoping she would be saved, but I was the one who raised my hand. I realized that I'd never really told the Lord I wanted him to be in charge of my life. It wasn't necessarily to be a missionary; it was just to let him direct."
She soon enrolled at Covenant and, of the two languages offered by the College in those days, she chose Greek. "I really found that I enjoyed structure and grammar. I guess I knew that from sixth grade when we learned how to diagram sentences. I found that great sport. So I'd been interested in language analysis for a long time. I'm not any great shakes at speaking other languages, but the structure and design of language has always interested me."
After college, having majored in history, Alice began teaching in a small farming community in central Illinois. She had a sense this was not her life's work, though, and when a contract came for a third year there she sent it back unsigned. "I felt the Lord saying to keep moving." A friend suggested Alice take a summer course offered by Wycliffe Bible Translators, reminding her how much she had enjoyed studying Greek at Covenant.
She attended the summer course and thoroughly enjoyed it. After another year of working and praying, she took a second course, and by the end of that summer in 1965, she was accepted by Wycliffe and began preparing for work overseas.
After field training in southern Mexico ("jungle training, they called it"), Alice took her first assignment. "I didn't have a particular preference for which field I went to," says Alice, "and India was a new field and they were looking for people to go, so they sent me. As a social studies teacher, I felt at home as soon as I got there. Even though there were so many strange things to learn about the culture, I felt at home."
She was sent to Andhra Pradesh and settled into a small village where she began learning the local dialect and culture in preparation for translation. She became convinced these people were her life's work, but in the spring of 1969, before she had gotten very far in her research, visa issues made it necessary for her and many in her institute to leave the region, likely never to return.
"I had to tell myself: 'Okay, Alice, this is not your project. This is the Lord's project.'" In 1971, though still unable to reenter the region, she then joined in the new project of linguistic research and translation into Maithili. Though considered a minor language, more than thirty million people speak Maithili as their first language. Maithili presented various problems to the young linguists who hoped to one day complete a New Testament in the language.
"You've got to learn the language and the culture first," says Alice, "and there are no how-to manuals for these minor languages. So you just have to listen and listen and listen, and mimic, and try to internalize as much as you can, and begin analyzing the language." Alice explains that culture is the crucial element of translation. "It's not just the language you translate into; it's the culture you translate into. You want it to be a translation that sounds like it really came from their culture. You can't adjust the gospel to fit their world view; you've got to explain the gospel in terms that their world view can understand.
"It's trial and error. Even after all your studying and reading up and memorizing and all the rest of it, you try something out and if it doesn't work, why, you try something else out. You just have to keep trying, testing it out with different people at different times, with different age groups, checking with men and with women and just see what the reactions are. That was part of the reason for translation work taking a long, long time."
In 1980 Alice left the project and worked for Wycliffe stateside, typesetting for other translations ready for print. She never fully lost touch with the Maithili project, though, and in 2004 she moved to Nepal, where she participated in the last six years of the translation process by helping with secretarial assistance for the team.
In April 2010, the Maithili New Testament was completed. The first printing consisted of 15,000 copies. Within a year, a reprint was needed. Looking back at the decades it took to complete this work, Alice has much to say on the subject of her alma mater. "Covenant grounded us in the Word, which was good exposure for translation. I think being part of a small group (there were only about seventy-five students when I enrolled) was very helpful when I got to the field with a very small number of linguists trying to work together to accomplish similar things."
Forty years later, Alice celebrates with the small group that managed to finish a project often hindered by border control, logistics and cultural barriers. "Doors aren't closed until God closes them," she says.