Alumni Profile: Mark Gornik '84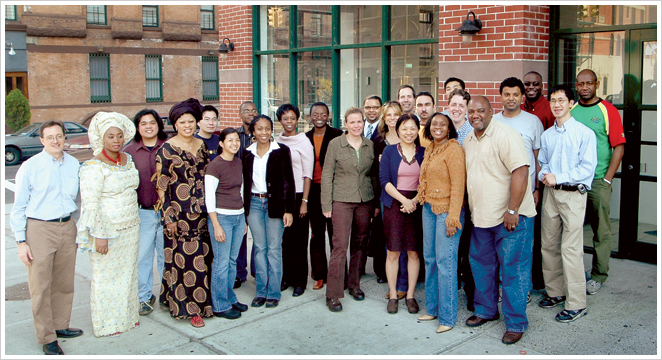 "Nothing could be more crucial today than for Christians in the West to become more aware of the diversity of our global world," says Dr. Mark Gornik '84. "As American Christians, we do not know enough about the processes of cultural interaction with the gospel that are taking place in Africa, Asia, and Latin America."
Mark is the director of City Seminary of New York in Harlem and author of two books: To Live in Peace: Biblical Faith and the Changing Inner City (2002, Eerdmans) and Word Made Global: Stories of African Christianity in New York City (2011, Eerdmans), which won Christianity Today's 2012 Book Award in the missions and global affairs category. Passionate about the gospel and intercultural community building, Mark and his wife, Rita Aszalos, have been called to help launch church and community development efforts in inner city and now a seminary.
Formerly the pastor of New Song Community Church in Sandtown, a Baltimore neighborhood, Mark and Rita moved to New York City in 1998 to help birth a second New Song in Harlem. Now at City Seminary, Mark leads an intercultural learning community that is focused on urban ministry, applied theology, and the changing church. Students at City Seminary, unlike most traditional seminary students, are already in leadership positions in ministry. "They come not to get 'prepared,'" says Mark, "but to reflect more critically and move into the next level of growth." The seminary puts a strong emphasis on building community together.
"Over half the world is now urban," says Mark, "and the center of Christian gravity has shifted from the West to Africa, Asia, and Latin America. Because New York City is connected to the world, this is our reality at the seminary. Every day I learn something new about the church, our world, on what it means to follow Jesus in the 21st century world."
When not playing Frisbee on the chapel lawn as a Covenant student, Mark was taking core classes and courses for his Bible major. As much as he recognizes the importance of biblical and theological studies classes, he stresses the advantages of a true liberal arts education. And not just that, but a liberal arts education with a global perspective.
"We live in a global and interconnected world," states Mark. "The current crisis in the financial markets is but one example. The environment is another. Education has to be global in outlook, and lead to service, hope, humility, and peacemaking. It will push you outside of your comfort zones, to say the least. But that's part of what a Christian liberal arts education should do!"
One of Mark's first-year core classes set a benchmark for him for seeing all truth as God's truth, for learning that seeks the mind of Christ in all disciplines—and ultimately in all of life. "Covenant was a completely foundational experience for me," he says, "grounding me in a kingdom outlook that profoundly impacts my understanding of family, community, economics, and social life. Covenant gave me a passion for scholarship and social justice, seeing both as a response to God. Working in an intercultural setting, I am able to see a sovereign God working in believers from around the world, and not only learn from them, but be shaped by them as well."
Taking their cue from Jeremiah 29:7, the Gorniks plan to stay in New York, praying for the city, seeking its peace, and raising their family.