Alumni Profile: Eddie and Carlee Hilger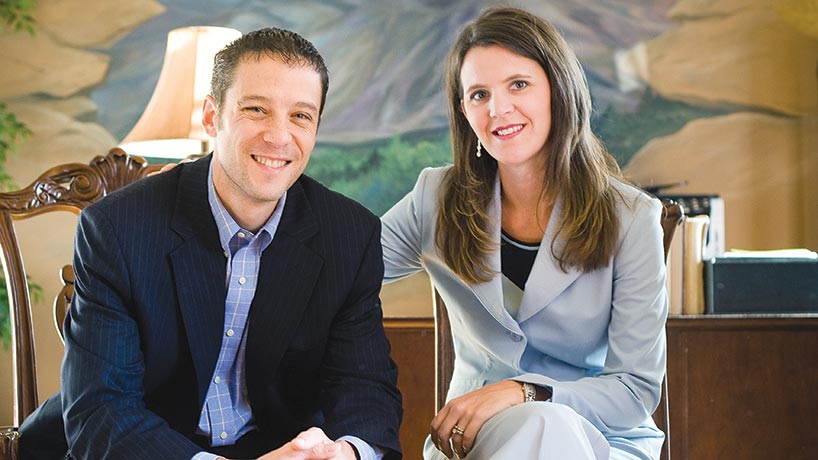 Carlee Hilger '95 told herself and God she would never teach. "I think because I knew how grueling a field it is," she says. After graduating from Covenant she was accepted to physical therapy school and had made her deposit, when those plans were interrupted by a job offer in Atlanta, at Landmark Christian School. "I really wrestled with the Lord and just felt like he was saying: 'This is what I have for you.'"
She took the job and taught high school science. As she forgot her hesitations and devoted herself to the work, she came to question common education methods. "I think one of the main things I realized is that we have a tendency to teach children what they're supposed to know, and they're supposed to memorize that and spit it back to get the grade. What I try to stress is getting rid of that grade mentality, and learn for the sake of learning. We're created in the image of God as learners, active learners, and we should be doing that in all areas, not just in a classroom setting."
After three years in Atlanta, Carlee returned to Chattanooga and married Eddie Hilger '95, one of her best friends from Covenant. Carlee was offered another teaching position, but had it on her heart to teach science to homeschoolers. Parents who homeschool often struggle to teach science, considering the equipment and preparation it takes to make a science class hands-on and interesting. She began presenting the idea to homeschooling mothers. "It was surprisingly exciting to them," says Carlee. "Honestly it wasn't about what I was offering as much as relationships. We just clicked, even though we didn't have kids at the time."
With Eddie's help, Carlee brought the idea into action and began teaching science to her first group of homeschoolers, as a supplement to the work the parents did at home. Before long, families expressed interest in supplemental math classes, and the Hilgers decided to hire another teacher. Looking through their list of faculty, it is easy to see where they turn for many of their hires.
"I just don't have to take a long time to interview a person who has their education degree from Covenant, because I know what I'm getting," says Eddie. Carlee agrees, adding: "It's so much more than what we're getting academically. We're getting these real relational people that love Jesus and want to work with the ebbs and flows of life in whatever it brings." Thirteen years later, Hilger Higher Learning serves more than 250 families, with 17 teachers offering over forty classes and workshops for elementary, middle and high school students.
With Eddie serving as the full time head administrator of Hilger Higher Learning, and as she continued to teach science, Carlee felt another calling on her heart. Watching her friends Troy '93 and Sarah Duble '95 go through the process of adopting a little boy, Carlee saw another good work families often struggle through alone. "I had to come face to face with the reality that I'd never even thought twice about an orphan," says Carlee. "I realized I could not name a single orphan. The Bible specifically says to visit them and to care for them and if I was doing that I would at least know one orphan's name.
"Sarah and I started dreaming together about raising some money, because we realized through her situation that finances are what keep lots of Christian families from adopting. So we got a vision of raising $100,000 and giving $10,000 each to ten families and let them pursue an adoption. So from there the Lord started rallying troops around us and then a donor came along and gave us $30,000 in seed money."
Together, Sarah and Carlee started Lookout for Orphans, gathering the community on Lookout Mountain to support Christian families considering adoption. "It's an emotional, spiritual ministry," says Eddie, "having a couple over for lunch or going over to their house for dinner, just to talk with them as they're praying through the question, should we adopt?"
"The cool thing about it," says Carlee, "is they have to go choose an agency, choose a country, a race… they get to go choose all that, and once they've completed their home study they can apply for funds through Lookout for Orphans." Carlee explains that Lookout for Orphans offers to match grants given by that family's community. "You've got this hub of Lookout for Orphans, but then every spoke of the wheel is that family's community, so you're not always pulling from the Lookout community to fund each adoption." To date, eight orphans have come home or are on their way through the support of Lookout for Orphans. Carlee and Eddie themselves are also nearly through adopting a young boy from Haiti named Kervens.
Neither Eddie nor Carlee was homeschooled, nor did they have children to homeschool when they started Hilger Higher Learning. Neither was adopted, nor did they plan to adopt when Carlee partnered with a friend to start Lookout for Orphans. Though they now homeschool and are nearly through adopting young Kervens, the Hilgers' work has been born out of recognizing the needs of other families. Thirteen years into the life of Hilger Higher Learning, Eddie and Carlee continue to nurture community and support around challenges that families typically go through alone.