Alumni Profile: Isaac Wardell '01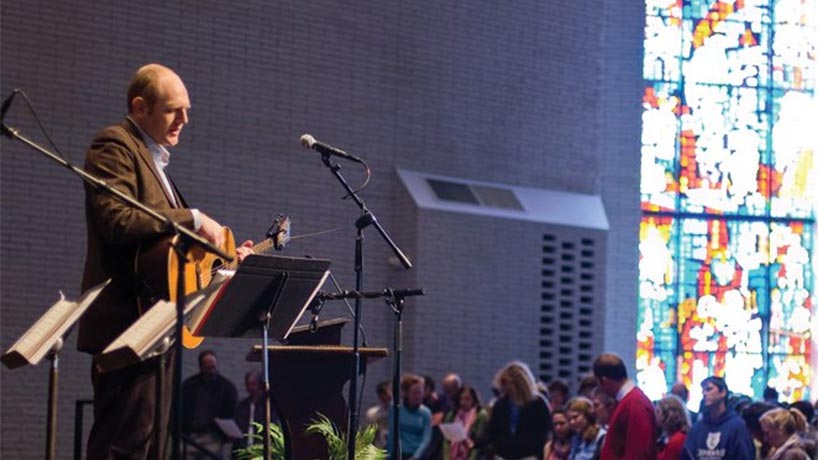 Isaac Wardell '01 saw a problem and created something new to address it. Isaac's problem was division in most churches and congregations along the issue of music and worship style, and the common assumption that to be effective, worship must be separated along generational lines. To address that problem, he created Bifrost Arts.
After studying biblical studies and music at Covenant, Isaac planned to go into urban music ministry. "I was excited about what was happening with Redeemer in New York and that kind of thing," he says, "so that's what I planned on doing." The year he graduated, though, Lookout Presbyterian planted Rock Creek Fellowship, and he was asked to be their music director. He took the job, intending to stay a year, and stayed for five, while the congregation grew from roughly a dozen members to over two hundred.
It was toward the end of that experience Isaac began considering the shortage of useful resources for church musicians. "I say that fully aware that there's a billion dollar Christian music industry out there," says Isaac. "I read so many books on worship over those years, and only one in every five tended to be really enlightening." He moved to New York in 2005 and continued leading worship, learning from other musicians, and "looking for an underlying theology of worship."
"It's no secret that evangelical churches all around the country split along style lines," says Isaac. "Churches do a huge amount of self-identifying based on what kind of music style they have. Is it pop style or something more connected to heritage? It seems to be to be deeply unfortunate for churches to split along these kinds of lines . . . What we're really saying is: 'the way we do music and the way we think about what happens in the worship service doesn't really matter; it's just about catering to the demands of a certain demographic.' It's the worst kind of consumer approach to the church, I think."
While the production value of church services improved, Isaac noticed that congregational singing was happening less and less. Music had become divisive, rather than unifying. The implication seemed to be if a congregation couldn't agree on worship style, it would be impossible to work together. As he continued playing in churches, Isaac began teaching on the subject of music and worship, leading a Sunday school class in Brooklyn and lecturing at various conferences. In 2007, he was approached by a number of pastors who wanted to provide funds for him to create worship and liturgy resources for churches, including recorded music, corporate prayers and Sunday school materials. That same year, Bifrost Arts was incorporated. They named the company after the bridge that connects heaven and earth in Norse mythology, "because we think that's what worship essentially is," says Isaac.
Bifrost now works alongside churches from various denominations, guiding discussions of worship, and what it means to worship together. They have since produced a twelve-week curriculum for small groups, Sunday school classes, exploring the question: "what is worship? And how is it that worship is not just music?"
Isaac does not aspire to create other organizations, or to grow Bifrost into other ventures. His hope for the company is that it would gather enough artists and believers and leaders that he would be able to give it only half his time, devoting the other half to his church, Trinity Presbyterian Church, in Charlottesville, Virginia. "What we're really talking about is trying to come alongside churches and institutions and denominations to think about how to help them with church music, as opposed to a pure entrepreneurial enterprise, which has that primary goal of growing into something bigger." Their largest event to date was a conference on worship in St. Louis, attended by more than five hundred pastors in March 2011.
While at Covenant, Isaac benefitted from the mentorship and friendship of various professors, all of whom helped him grow away from the idea that every generation must worship their own way. "I was prepared at Covenant to see that that's not how the church works, as I saw spirituality and accountability and teaching and learning taking place in the multigenerational context of professors' homes and in small groups and Sunday school classes. And in some ways that's kind of the cornerstone assumption that makes Bifrost different than almost every other one of these projects out there."
Bifrost works to bring congregations together through the common act of worship. Isaac believes a sanctuary should be less a concert hall, where the audience is passive, and more a banquet hall, where everyone shares in the feast. The goal is not to optimize cultural relativity in worship, but to use worship as a connection between God and all the people. "The most fundamental thing we're trying to do is to get congregations speaking to one another," says Isaac, "learning how to talk across generational lines, and I think Covenant prepared me very well for that."