Theatre: Two Rooms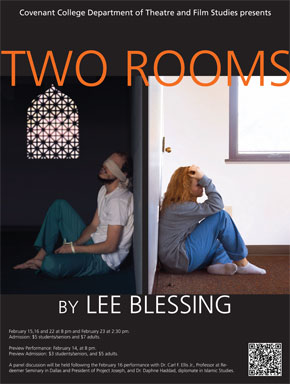 Covenant's theatre & film studies department presents Two Rooms, written by Lee Blessing and directed by theatre professor Camille Hallstrom. The play opens February 14, 2013.
Set in two rooms, the play examines terrorism, government, media, and the love of a married couple in crisis.
"Lee Blessing is a remarkable playwright," says Professor Hallstrom. "The quality of insight into human relationships, depth and complexity of characterization will give the audience a moving and insightful meditation on life, love, war and politics, and it gives the actors truly challenging and stretching roles to play. "
Two Rooms will be performed in Sanderson Hall Auditorium on the Covenant College campus. The show begins at 8:00 p.m. on February 14, 15, 16, and 22, and at 2:30 p.m. on February 23. A panel discussion will be held immediately after the performance on February 16. Panelists will include Dr. Carl F. Ellis Jr., professor of practical theology at Redeemer Seminary in Dallas, and Dr. Daphne Haddad, professor of education at Covenant.
Tickets are $7 ($5 for students and seniors).