Prof. William Dennison Authors Book on Marx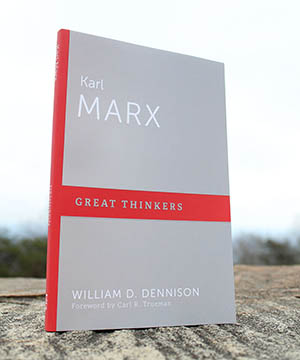 Dr. William D. Dennison, professor of interdisciplinary studies at Covenant College, has authored Karl Marx, a volume in Presbyterian & Reformed Publishing's Great Thinkers series.
"Since the corpus of Marx's works is so large, the main focus of the book is Marx's philosophy of history, and a Reformed biblical and confessional response to his position," said Dennison.
The book is divided into four sections, each of which examines a separate facet of Marxist thought: The Marxian Tradition; A Brief Biography; Marx's Philosophy of History; and a Transcendental Critique of Marx's View of History. All of these add up to a brief, easy-to-read work of just over 100 pages.
"It was to be written at the level of late high school, early college level," said Dennison. "I hope I met that standard. Also it is intended to be accessible by the broad Christian evangelical world. Of course, I would be pleased to know that those who may be sympathetic to Marx would read it."
Discussing his research and writing process, Dennison said, "It was wonderful to get back into reading Marx after a long delay from working intensively on him. Basically, I discovered that there has not been much more done in the field of Marx's view of history since my graduate years. In some ways, secondary sources were not an issue for me, since I love to read and analyze primary sources. So, my time of research and putting that down on paper was spent working with primary documents."
Karl Marx is available for purchase through P&R Publishing, Amazon, and the Covenant College bookstore.
Prof. Bill Dennison received a BA from Geneva College, MDiv and ThM from Westminster Theological Seminary, and PhD from Michigan State University.