Covenant Expands Art Department With New Faculty Member
This fall, students will be able to further explore applied arts under Ken McElrath, who believes design is about meeting the needs of others.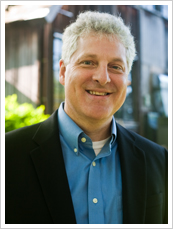 Ken McElrath joins Covenant College's art faculty beginning with the 2010-2011 academic year. This addition will allow students to further explore design and applied arts, benefitting from McElrath's extensive experience in business, design, photography, and digital tools.

McElrath has a passion for meeting the needs of others through design. Traditionally, Covenant's art program has focused on the fine arts, such as sculpture and painting. McElrath wants to expand that focus. "Loosely you could say the stuff I'm working on has more to do with the commercial or business side. That's what we mean by applied arts," he says.

He notes that art students gain a significant advantage from studying at Covenant. In his experience, artists with a bachelor's in fine arts often fall short when applying their skills to real world situations. "They were taught to stay in a silo," he says. "If they have a degree in graphic design, they typically haven't learned how a business major thinks, or how someone in marketing or science or mathematics thinks."

Students in McElrath's classes can expect ample technical training, but it will come paired with the principles of integration and real-world application of their art. A liberal arts education at Covenant encourages students to gain familiarity with the challenges and needs of those in other disciplines.
In McElrath's view, designers must enter into the world of the people experiencing the problem at hand, empathizing with them and applying creativity to develop solutions. "I don't want to make it sound like communication design is the only way to meet needs," says McElrath. "Fine arts meet needs, but in different ways."

For students considering or majoring in art, McElrath aspires towards a shift in their thinking. He defines art as "an act of love, a response to calling. Although the arts have been severely tainted by the fall, there's a great deal of hope we can have about redeeming that area of life. If you're going to enter into art as a major you're entering a battleground that is fraught with all kinds of danger but also filled with exciting adventure. It's a great field to be involved in as a Christian, but it isn't going to be easy." For other students, McElrath hopes to demonstrate the connections between creativity, design, and other disciplines.

"People come to Covenant to teach because they passionately believe that we have to apply our calling in an interdisciplinary way if we're going to have a serious influence on this culture," says McElrath. "Existing in silos is not going to work."

McElrath will teach Communication Design, Introduction to Art, and Art History in the upcoming fall semester.
Related Resources