Covenant's Rank Rises to #4 in U.S.News & World Report
In its 2009 edition of America's Best Colleges, U.S.News & World Report ranks Covenant College #4 among baccalaureate colleges in the South and #4 in the "Great Schools, Great Prices" category in the same field.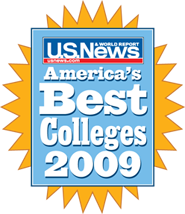 This placement continues a steady upward trend for Covenant,which ranked #7 and #6, respectively, in the same categories last year. This marks Covenant's 6thconsecutive year with a solid position among the top ten baccalaureate colleges in the South.
Covenant continues to have the 4th highest graduation rate in its field.
"The U.S. News rankings are based on a set of criteria that, while they aren't the most important or mission-critical values we embrace, nevertheless reflect some of the attributes that often characterize excellent institutions," said Covenant College President Niel Nielson.
"We are pleased with Covenant's high ranking in terms of both overall excellence and financial value. At the same time, we pledge to continue to focus on those aspects of Covenant's work that enable us to stay true to our founding mission and our aim to declare and demonstrate the preeminence of Jesus Christ in all things."

Click here to hear students talk about their Covenant experience.