New Faculty Appointments for Fall 2017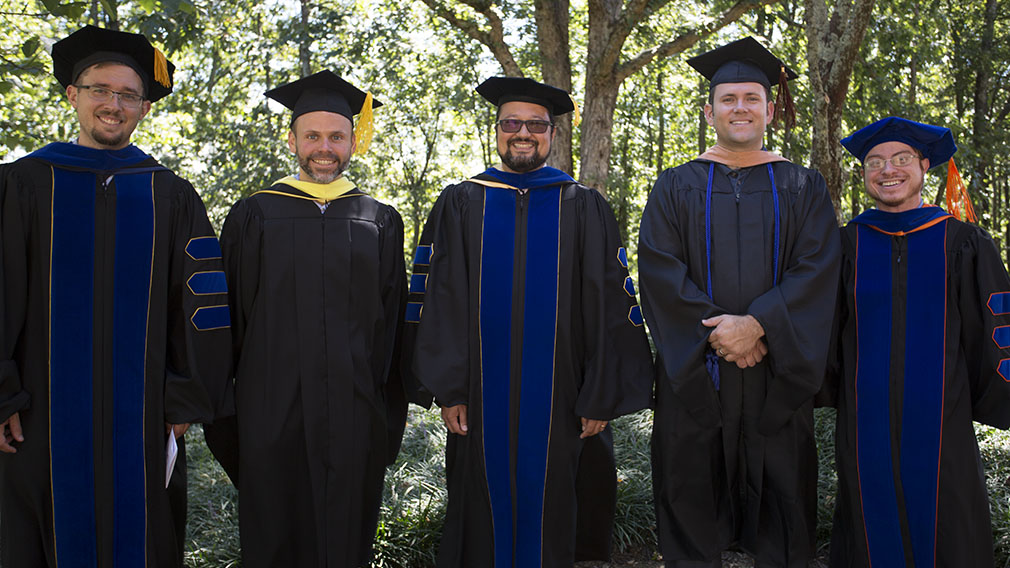 l-to-r: Dr. Heath Garris, Mr. Brian Hecker, Dr. David Saiki, Mr. Mark Slavovsky, Dr. Chris Cyr

Covenant College is ringing in the 2017-18 academic year with the appointment of several new members to the faculty.
Dr. Chris Cyr will be joining the faculty as assistant professor of mathematics. Dr. Cyr earned his Ph.D. from the University of Florida earlier this year in addition to his M.S. from North Carolina State University in 2012 and dual undergraduate degrees in mathematics and music from Mercer University in 2010. Dr. Cyr's mathematical research focus has been abstract algebra, specifically finite group theory.
In addition to being a scholar, Dr. Cyr is also an accomplished musician, playing the piano and alto saxophone. He contributes his musical gifts by participating in musical ensembles and enjoys listening to classical and contemporary Christian music.
As an assistant professor at Covenant College, Dr. Cyr hopes to share his enthusiasm for mathematics and creativity with his students. "I am passionate about helping students come to a greater understanding of and appreciation for mathematics. I am enthusiastic about the power of mathematics to explain the world around us, as well as its intrinsic beauty which it derives from the perfection of the Creator. I strive to impart that excitement to my students."
Professor Mark Slavovsky has been appointed assistant professor of accounting, joining his wife, adjunct theatre professor Claire Slavovsky, as a member of Covenant's faculty.
Professor Slavovsky earned his Masters of Taxation from the University of Tulsa and his B.A. in Business from Covenant College. He is also a member of the American Institute of CPAs and the Tennessee Society of CPAs.
Professor Slavovsky is looking forward to shifting his career from the practice of accounting to the teaching of his discipline. "I found in my work as a practicing accountant that I really enjoyed chances that I had to help others understand accounting concepts. Because of those interests, I've had thoughts about shifting into academia for several years."
Having earned his undergraduate degree at Covenant, Professor Slavovsky is eager to share the study of accounting with his students. "I'm excited to get to the point in the accounting courses where the concepts really start to click in the students' heads. I remember how confused I was starting out in accounting classes, but eventually it really began to make sense and that was a great feeling."
Sharing his discipline is not the only thing Professor Slavovsky is looking forward to in returning to Covenant. He is also thrilled to be re-joining a community he has continued to feel a connection to post graduation. "When I was a student here I felt that I was part of an amazing community of people working toward the common goal of bringing glory to God through learning about his creation. Even in the interim, when I was away from Covenant, I still felt connected to the community. I'm so grateful to have the opportunity to be back, joining in the academic work that is being done."
Mark and Claire have two young children and are members of Saint Elmo Presbyterian Church, where Mark serves by filling the role of church treasurer.
Dr. Heath Garris was recently appointed to the position of assistant professor after joining the Covenant community as a visiting professor of biology in the fall of 2016. Dr. Garris earned his Ph.D. in integrated bioscience from the University of Akron and his M.S. in biology from the University of Alabama at Birmingham. His undergraduate studies were completed at Furman University where he earned his B.S. in biology. Dr. Garris was an associate graduate instructor and postdoctoral fellow at Thompson Rivers University prior to joining the biology department at Covenant. He and his wife, Ashley, have two young daughters.
Dr. David Saiki has been appointed associate professor of chemistry. Professor Saiki is coming to Covenant from California State University in Bakersfield where he contributed the knowledge of his discipline by filling the role of associate professor of chemistry and the vice chair of the chemistry department. His academic credentials include a Ph.D. in physical chemistry from the University of California, Davis and a B.S. in chemistry from Westmont College. He and his wife, Sarah, have three elementary-aged children.
Covenant will also be gaining a reference librarian in the person of Mr. Brian Hecker. Mr. Hecker earned his degree in philosophy from Covenant College in 2006. He also holds an M.A. in historical theology from Westminster Seminary in California and an MLIS from the University of Wisconsin-Milwaukee. Brian is joining Covenant from Gateway Seminary in Ontario, California where he worked as a circulation librarian. Mr. Hecker has served at other libraries in various capacities, including Westminster Seminary. His keen mind and faithful enthusiasm for his work makes Mr. Hecker a most welcome addition to the staff of Covenant College.
Covenant joyfully welcomes all new additions to the faculty and staff and joins them in anticipating a great academic year!