Bursting the Bubble: In a Filtered World, Covenant Students Expand Horizons in London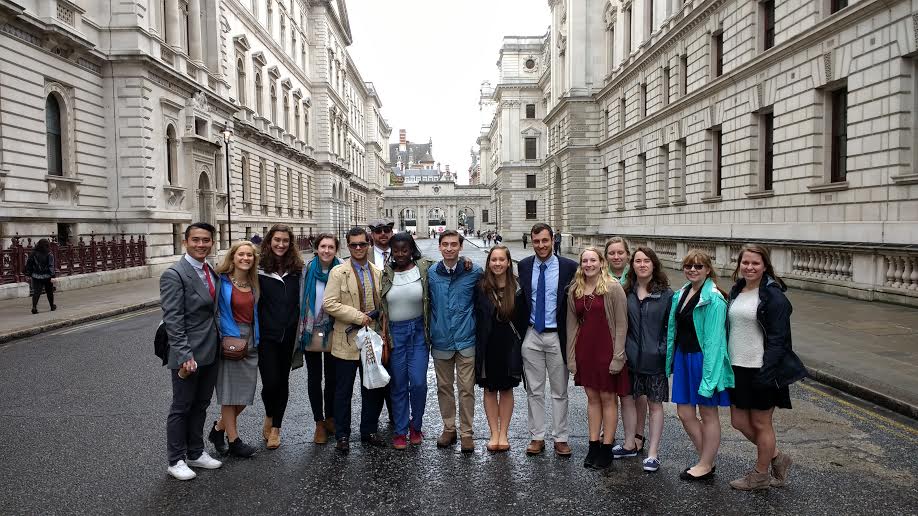 While many of us were soaking up beach sun and putting up summer photos on Instagram, two classes of Covenant students spent a 2017 May term exploring London, its history, and the issues we face as a global society. Students who attended the London trip participated in one of two courses: Public History of London, taught by Dr. Richard Follett, Professor of History; and Global Trends for the 21st Century, taught by Dr. Daphne Haddad, Professor of Education.
During a May term, students dive deep into one course in a way that they aren't always afforded during a regular semester. When that May term is done abroad, the material is also uniquely and often dramatically contextualized by the trip in ways it never can be in a classroom. Students also have the chance to worship with other believers, seeing how their shared faith works itself out in a context different from their own.
A May term trip also fulfills a Core Curriculum requirement for a Covenant student's education – the only one which is explicitly experiential – the Intercultural Experience. Students can fulfill this requirement in a variety of ways – not all involving travel outside the country. But with its unique combination of time abroad, affordability, and a deep learning experience, May term trips are a critical part of the curriculum and the mission of Covenant's Office of Global Education.
Says Christiana Fitzpatrick, Director of Global Education at Covenant College, "I would love for everyone to be able to study abroad for a whole semester. But because of course loads, sports or finances, that's not possible for everyone. A May term is a good time of year where students can go for more than a week – which is important because in a week you're just scratching the surface, in three you can go a little deeper."
To make the most of their time, each day of the trip boasted a fairly robust schedule. Mornings began with an orientation for the day's itinerary and some discussion of background reading before heading out mid-morning to the sites. Sites would consume them for 2-4 hours each before they returned for the evening.
Students in Public History of London engaged not only with the city's history but also history as a vocation. Says Follett, "I wanted to give students an introduction to what it means to do 'public history,' to do history with the intention of reaching a broader public. You're taking specific things and interpreting them into a place. So when students visited historical sites, they also had the opportunity to visit with people working in history professionally, and talk with them about the profession of history."
One of the students' opportunities to speak with someone in the profession was after touring the Museum of London, when they met with one of the museum's curators. This led to conversations about history as a vocation and the challenges involved in the field of public history: such as how one chooses an object to put before the public out of thousands of objects in the collection to illustrate a place's history.
Dr. Follett and Dr. Haddad also deliberately built in overlap between the history and the more present- and future- focused Global Trends course, provoking another layer of thinking for the students in sometimes unexpected ways. One site visit which both courses shared was outside of the city itself to the Crossness Pumping Station or "The Cathedral on the Marsh".
Says Follett, "This was one students were not expecting to find especially interesting but turned out to be both unusual and significant for them. It was a pumping station for sewage from the late 19th century, a Victorian application of new engineering principles. It demonstrated quite concretely how those in London's past addressed the question, 'What do you do when your population grows from one million to four or five million? How do you deal with all the waste and provide clean water?'" This historical site – one of the first of its kind – also brought home for both classes the reality of more presently relevant questions of the dramatic effect that modernization has on developing areas of the world today.
Within the city itself though, other realities were brought home for the students. Says Fitzpatrick, "I have the privilege of getting to read a lot of the students' reflections for their Intercultural Experience. And getting to briefly live and walk in London, gave them a sense of the global, multi-ethnic nature of the city that they didn't get from readings. Taking Global Trends is very different in London and Jakarta than in the classroom. The complexity of the world becomes a very real thing."
Being abroad for May term also allows students the chance to worship with believers of a different nation and experience. Students in London visited All Souls Church, an evangelical Anglican congregation, together on their first Sunday and visited congregations of their own choosing for the remaining Sundays. Says Fitzpatrick, "Students get to worship with at least one and probably several different congregations and they're able to see Christians in a different tradition and context, and perhaps even understand some of their challenges."
It's eye-opening experiences like students had in London that make May terms special and teach lessons that are hard to replicate inside a classroom. As Follett points out, "Going abroad expands the range of the possible. Seeing how other people in other places have dealt with similar problems differently than in the U.S. raises new options for thinking about how we might address issues when our solutions have not worked as well as we want. It creates a focus on asking questions so that, when students approach something new, they know to expect differences from their own thinking and they want to understand why those differences are there."