Theatre Department Presents "Consumption"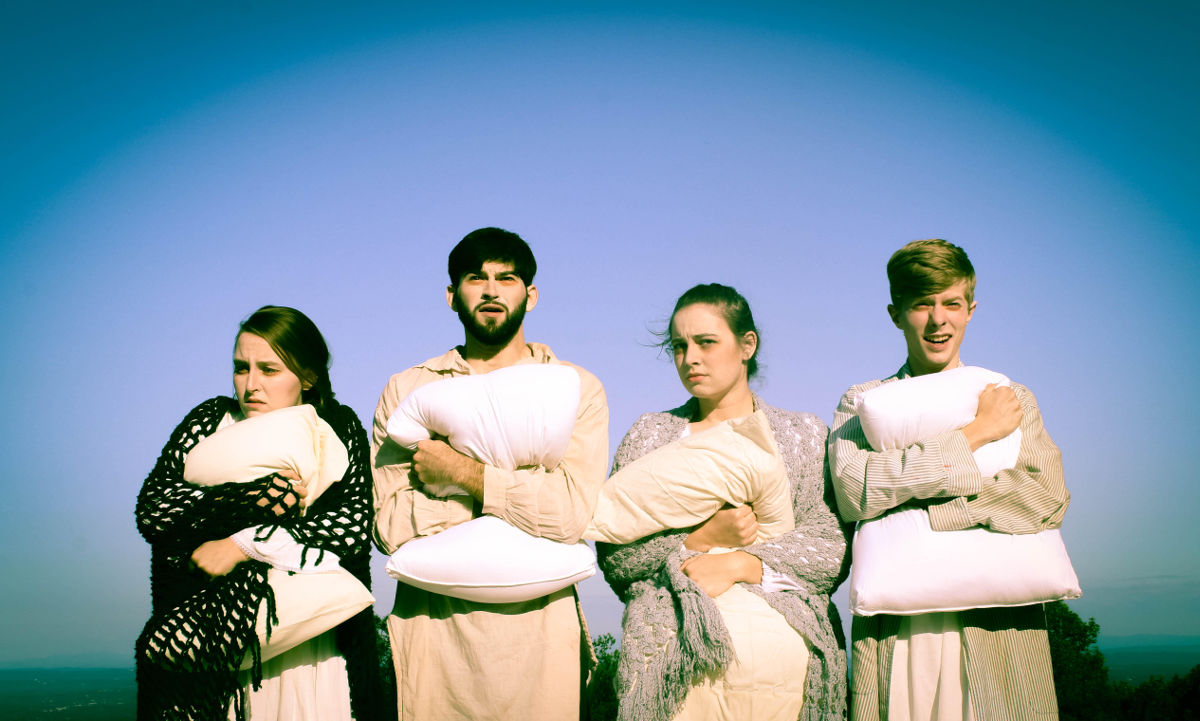 Courtney Baron's Consumption: A "Fever Dream" Meditation on 19th-Century Youth and Tuberculosis
The 19th century is coming to a close. An ambitious nurse, a young man of privilege, a wandering preacher, and an Appalachian farm girl living states away from each other seem to have nothing in common but their youth and a bonerattling cough—yet, miraculously, they share the same fever dreams. As these strangers' malady intensifies throughout Courtney Baron's surreal and poetic 50-minute vignette Consumption, they realize they might be each other's last confidants.
"The four are dying of tuberculosis whether they accept the fact or not and find themselves together in the same mental space even though they are miles apart," says Abigail DeGraaf, who will be portraying Philly nurse Hannah O'Flannery for her Senior Thesis. "However, the story isn't about their death but the lives they are leaving behind and could have lived." The poignant historical drama recreates a handful of stories from the hundreds of thousands who died in the United States each year from tuberculosis in the late 1800s—just a few decades before the development of a cure that rendered tuberculous an afterthought in the U.S. during the years to come.
"It's almost a poem of a play, a remarkable study of loss," adds Professor Camille Hallstrom. "Consumption speaks to what loss means for individual families, for me, and for all these young people with —as it would be— their life ahead of them."
The play's unorthodox structure marries the feel of a present-day poetry slam with an honest heart-to-heart on gritty subjects we moderns tend to shy away from. Despite its retrospective lens, Consumption speaks to a current world still wracked by lethal disease and even tuberculosis itself in some regions.
"I've never seen a play told this way before," says Bethany Hicks—playing young North Carolinian mother, Pearl Jacobs (also for her Senior Thesis)—in regards to the production's non-linear approach. "As all of the characters have been psychologically affected by their disease, Consumption prompts the audience to think even deeper about how people's backgrounds could have affected them in the present."
Senior Noah Lloyd plays passionate New England clergyman Gideon Warren while alum Matthew Mindeman returns as the insensitive and immature golden-child Nathaniel Moore.
Consumption plays in Sanderson Auditorium September 29 at 6:30 p.m., September 30 and October 6 at 8:00 p.m., and October 7 at 2:30 p.m. with $7 tickets for adults and $5 for seniors, students, and staff. Visitors can also attend a final dress rehearsal on September 28 at 8:00 p.m. with $5 tickets for adults and $3 for seniors, students, and staff. There will also be an after-show discussion on September 30 featuring history professor Dr. Jay Green, theology professor Dr. Hans Madueme, and counselor Shan Alexander. To reserve tickets or ask any questions, call the box office at 706-419-1051 or email at boxoffice@covenant.edu.