Student Profile: Bennett Jonathan '21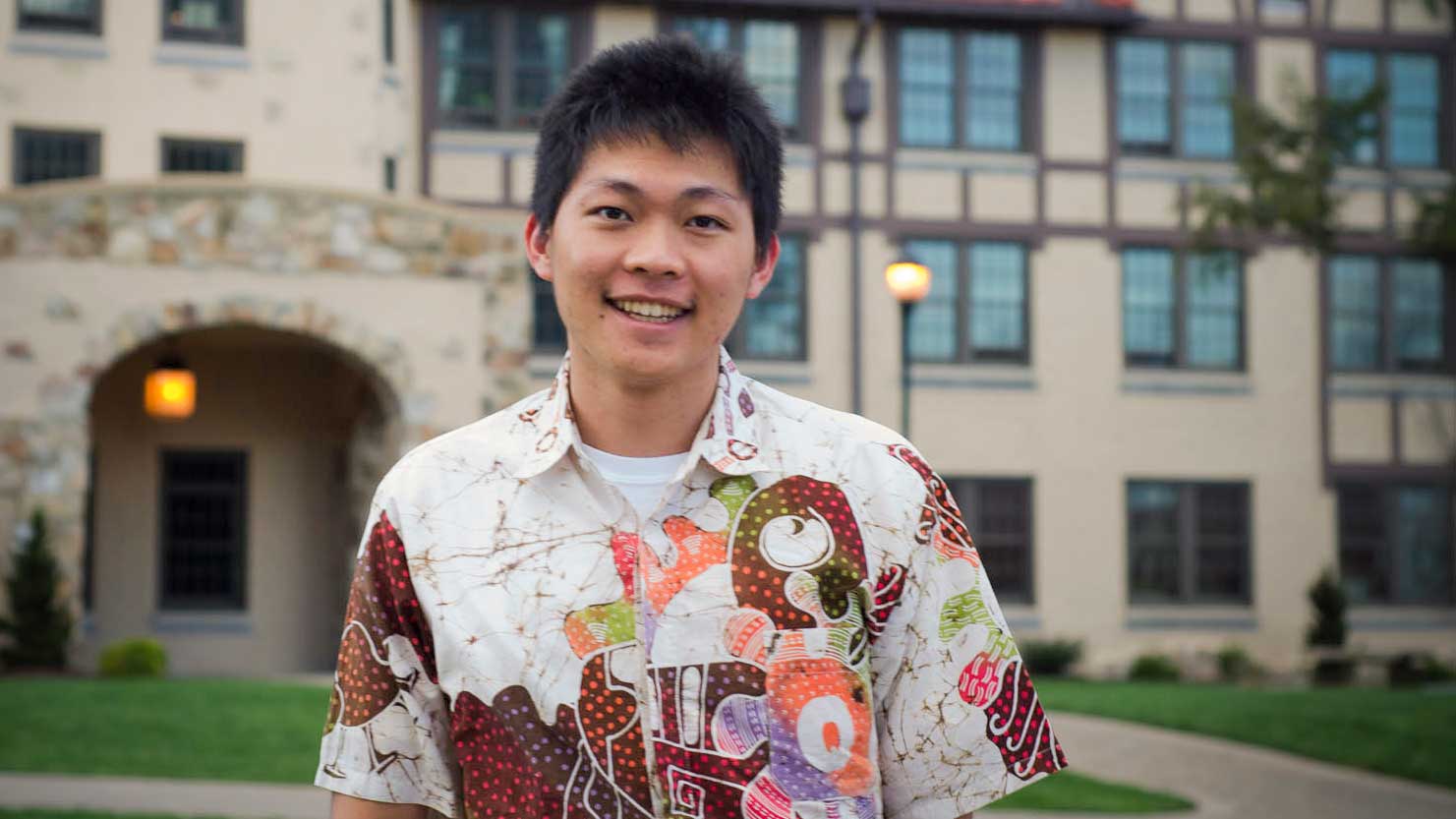 Class Year
2021
Hometown
Jakarta, Indonesia
Majors
Pre-engineering
If you visited Covenant College, what first stood out to you about the community?
I first visited Covenant College during the summer before my senior year of high-school. While the college was on summer break, the first thing I noticed was how welcoming the staff and faculty are on this campus. What's outstanding about the community at Covenant is that they try and give their best to accommodate others even though you may not have any connection at all with Covenant. We were grateful for the time that the faculty and staff on campus during summer gave to introduce us to Covenant and its community as well as their effort to know us better.
Why did you choose Covenant College?
I've been fascinated with airplanes since a young age, and that inspired me to become an aerospace engineer. However, my Christian upbringing as well as my desire to know God's world more made me realize that college is not all about getting knowledge. It's about understanding more how my relationship with God translates with my relationship with His fellow image-bearers. Because of this, I chose Covenant College because I was looking for a Christian school that offers an engineering program. In addition, several people influenced my decision to come to Covenant. One of my good friend's brother and sister went to Covenant and Dr. Jim and Sara Drexler came to my school's university fair and introduced me to Covenant.
What aspect of Covenant College do you like best?
I like how Covenant holds fast to God's Word and how it translates to everyday life. I've always thought Christian colleges were just "Christian" either because they are sponsored or founded by Christians. However, after being a year here, I have found that our Christian faith does not have to be separated from the rest of our lives – it can be the central of our lives. That's the kind of people I find here.
What has been your favorite Covenant College event and why?
One of my favorite events at Covenant is Culture Fest. I really enjoyed spending time with people and learning more about their different backgrounds and experiences they went through. Playing the Indonesian instrument called "Angklung" with Chi Xin, Davy, Joy, Gaby, Nicholas, John, Senri, Max, Esther, Ella, Ismael, and Mark has been one of the highlights because I enjoyed knowing to know more about them through practicing and performing together. I was also excited to share the foods from back home to people here because I feel food can be one of the best ways to know other people's culture.
How does residence life add to/support your academic goals at Covenant College?
Having never lived outside of my home in an extended period of time, I have found that residence life at Covenant have tremendously supported my academic goals at Covenant. Covenant's residence life meant that I'm living with around 20 other guys in my hall. I am able to know what kinds of assignments, projects, and exams they are going on and they know my work as well. I am thankful especially for my roommate, Davy Codington, and my suitemate, Chi Xin Leow, Matt Leo and Christopher Davila who have supported me through difficult times in order to achieve my academic goals at Covenant.
Which professors have most impacted the way you think and why?
Dr. Curt Stern have most impacted the way I think since coming to Covenant in ways which I never expected. I remember meeting him during my visit to Covenant during the summer before my senior year of high-school. Being the first Covenant faculty I met, I thought he would be just like any other engineering professor. Yet I was wrong. The way he showed his Christian faith through what he's passionate about have taught me that an engineer can also be a devout Christian. In the midst of a radically changing worldview we are living right now, it is hard to not contradict science and religion. However, I have never seen an engineering professor who integrates his faith with what he teaches so well, yet so practical. For example, during our first Calculus I class, he acknowledged how the difficulty of Calculus reflects God's infinite complexity and creativity. Having taken three of his classes, I have enjoyed them all and am looking forward to take future classes from him.
What do you most enjoy about your major?
One of the things I enjoy most about my major is discovering more of what I did not expect it to be. Wanting to be an aerospace engineer, I did not expect that engineers today are involved in a lot of computing, which was something I was unfamiliar about. In my first semester, I had the chance to take a class called Computing for Engineers by Dr. Curt Stern. Even though I had experience with computing before, I found this class challenging because of the level of difficulty and persistence needed. I often found myself working until late nights working on assignments. However, this is what makes this major challenging yet exciting. I learn to enjoy the unexpected in an effort to follow what Romans 12:12 says, "Be joyful in hope, patient in affliction, faithful in prayer."
How is Covenant equipping you for post-graduation life in your area of study?
Wanting to become an aerospace engineer, I quickly learned from taking two engineering-related class my first semester that working as an engineer doesn't mean it's all numbers – we work with people as well. Being at Covenant, I am really thankful that I don't just learn how to become an engineer – I learn how to become an engineer that uses our God-given gifts, talents, and abilities to serve our Big 'C' calling. I learned that whatever profession one is called to, whether that's becoming an English teacher, doctor, pastor, or even a counselor, God has a bigger picture of our lives and His plans are the best for us. This means a holistic approach in our education. Taking introductory Bible classes such as Old and New Testament is not merely to fulfil our core requirements. Rather, I found that taking a class in New Testament has helped me to understand my Christian faith better. In this class, one of the things I remembered best is the historical aspect of early Christianity and the early Church and how history proves that Christianity was not a made-up religion. I believe taking these kinds of classes will equip me for real work, where our faith as Christians are not separated as our work. Rather, Christ becomes the center of our lives.
Can you give an example of how the core classes affected your other classes?
Several of the core classes that I have taken includes New Testament Introduction with Dr. Jeff Dryden, The Christian Mind with Dr. Don Petcher and English Composition with Dr. Heather Hess. In my opinion, the core classes that I have taken has greatly affected how I value and understand the complex ideas and problems of our society as taught in other non-core classes that I took. For example, taking English Composition with Dr. Heather Hess has taught me that writing is an integral part of many classes here at Covenant. People's ability to write and communicate effectively is important because we, as humans, are created as relational being. Many aspects of our relationship involves communication and that's why writing is important for each of us to understand ideas, opinions, and perspectives that each of one have.
How is Covenant equipping you for active membership in the church?
One of the ways Covenant does different than other Christian schools in equipping their students to become an active member of the church is by not having a church on campus. I believe this encourages us to go and be a member in other churches in our community. In addition, the Christian doctrines that Covenant teaches includes an emphasis in becoming a member of a church. Many times during chapel I have heard sermons about being an active membership of a church and that is central to our Christian faith, as greatly stressed by Paul in 1st Corinthians 12.
How have your relationships at Covenant shaped your expectations for the other communities God will call you to in life?
As an international student who has never lived in the United States (or in the South), I feel I have more diverse relationships. Whether it is my relationship with friends who grew up in this area, in other parts of the United States, Children of Missionaries, or even other international students, I have found that God has intentionally placed me here to be more open - to have various kinds of relationships that teaches more about Him. For example, I have never met a missionary kid before I came to Covenant until I roomed with Davy Codington, who spent his last seven years living in Dali, China. I am thankful to learn more about him, his kindness, compassion, and love for God. It helps me to understand other 'MK's here on campus. In addition, often times I find it challenging for me to relate with others, even though other people may not have the exact perception about me. I think God is constantly teaching me to be humble yet courageous; humble to open up my weaknesses, faults, and mistakes, yet courageous to reach out to people who are lost.
What's your favorite way to spend your free-time on or off campus?
I like to do photography in my free-time, whether that's actually taking pictures or researching more about famous photographs and how I can improve. In addition, I like to read books about history because for me, history is a collection of someone's story. I enjoy drawing and building scale model airplanes, learning a language or two, as well as watching movies relating to World War II. Lastly, I like to spend time with people through these activities. Hit me up if you like taking pictures too or want to learn more about photography – I'd love to spend time with you hiking or camping!