Student Profile: Hallie-Blair Quatro '21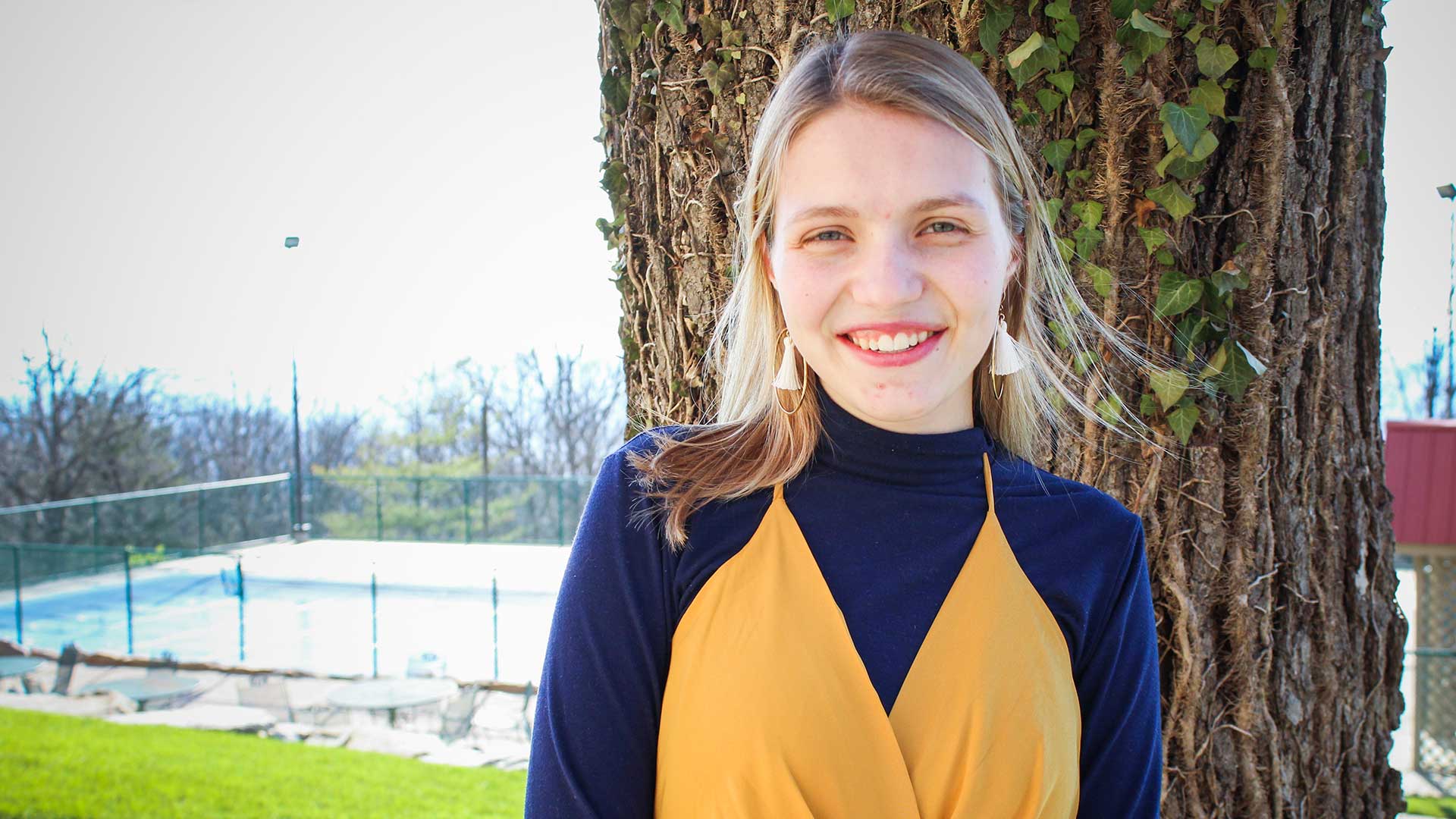 Class Year
2021
Hometown
Lookout Mountain, GA
Majors
English and French
If you visited Covenant College, what first stood out to you about the community?
Since my dad is a business professor at Covenant, I have been coming to Covenant's campus since I was about 7 years old. However, when I visited during CPW weekend, what really stood out to me was the incredibly intentional relationships I saw and the way that professors truly strove to show Christ's preeminence in every area of teaching.
Why did you choose Covenant College?
Though of course I was influenced by my parents (mostly my dad), I chose to come to Covenant because of the people. After being on campus for just two days, I did not want to leave the new friends I had made in only a matter of hours. I loved that despite all of the differences between the students, they are all still striving towards the same goal: learning what it means to love Christ with all of your heart, mind, soul, and strength.
What aspect of Covenant College do you like best?
One of my favorite aspects of Covenant is Chapel three times a week. Despite the busyness and schedule of whatever is going on in the day, every Monday, Wednesday, and Friday, the campus stops their daily work to worship God and remind ourselves of what is truly most important--it's such an encouragement to me.
What has been your favorite Covenant College event and why?
I would have to say Day of Prayer. One of the most impactful and beautiful moments out of my first year of Covenant was waking up with the sunrise at 7 am and going to Rock City with the whole student body, our voices singing out over Chattanooga in harmony.
How does residence life add to/support your academic goals at Covenant College?
I believe that residence life is vital to the entire college experience, and I am blessed to have had an amazing and encouraging hall my first year at Covenant. My hallmates and the students here have a mature and healthy approach towards academics, and I have been reminded daily that you are first and foremost a student at Covenant. My hall and the residence life in Carter has encouraged me in many ways, especially in my academics, and has given me the space and time that I need to be able to do my best work each day.
Which professors have most impacted the way you think and why?
I have been very impacted by Professor Baek, who is one of the two French professors here at Covenant. My first semester, I took her class, Gender, Ethnicity, and Religion in Contemporary France, and it completely changed the way that I thought about people with a differing gender, ethnicity, or religion from me. I so appreciated the way that Professor Baek pushed us to think critically, but also to think with compassion and understanding.
What do you most enjoy about your major?
There are many different things that I enjoy about both of my majors, but one of the things I most enjoy about my French major is the unique ability and chance it has given me to learn more deeply about a culture that is very different from mine. Learning other languages has the unique ability to open up new doors in your life, and to provide you with a new and fresh mindset on life. Rather than just speaking the language, I have learned to think in this language as well.
How is Covenant equipping you for post-graduation life in your area of study?
I believe that Covenant is providing me with the necessary tools and Christian mindset that I need to be able to go out from here and pursue what I am passionate about without feeling the often overpowering burden of "making a living," or making enough money in the future. Of course, this is not to say that you have to go through multiple jobs that you are not in love with first, but with Covenant's core curriculum each year, I am also learning how to do my best and to find the joy in all areas of learning and life, and not just one.
Can you give an example of how the core classes affected your other classes?
Overall, the core classes for me have been so beneficial, and have pushed me to think more critically and more deeply in my other major-specific classes. Instead of taking away from or distracting from my classes for my majors, I think that the core classes have all been in direct communication with both of my majors. Even after just one year of core, I have actively learned to improve my reading and writing skills, which I believe are the two most important things you can do in college, and in any career following.
How is Covenant equipping you for active membership in the church?
The wonderful thing about going to Covenant is that I have been able to remain an active part of my home-town church, Lookout Mountain Presbyterian Church. Growing up here on Lookout, I have attended LMPC since I was 7 years old. When I was 12, I became a member of my church and have been actively serving and growing in the church ever since, doing things like nursery, Sunday School helper, High school and Middle school youth group/events, leading worship, Middle school leader, and singing in the choir. I hope to remain involved in and connected with my church all four years here at Covenant and following, and am so thankful I have this unique opportunity. Covenant students and faculty respect and reserve Sunday as a day for worship and for rest, and therefore make it a lot easier to be actively involved in a church here in Chattanooga or on the Mountain during and following undergraduate years.
How have your relationships at Covenant shaped your expectations for the other communities God will call you to in life?
Covenant is a pretty special place, and I truly do believe that you will not find such sincere, intentional, God-centered relationships in a lot of other places. However, Covenant also has many unique connections, not just in the city of Chattanooga, but around the country and in the world, which encourages me as I leave Covenant and follow God's path for me. The community and relationships here have given me a healthy and strong perspective and knowledge of what it means to do justly, love mercy, and walk humbly with God.
What's your favorite way to spend your free-time on or off campus?
My favorite way to spend my free-time on or off campus is either spending intentional one-on-one time with friends -- whether that be getting a meal in the Great Hall, going on a walk, or going to a coffee shop in Chatt together -- or serving in Chattanooga. I am a Middle school youth leader at LMPC, and also love to sing. This has opened up many unique opportunities for me to sing for others both on and outside of campus.