I Belong to Jesus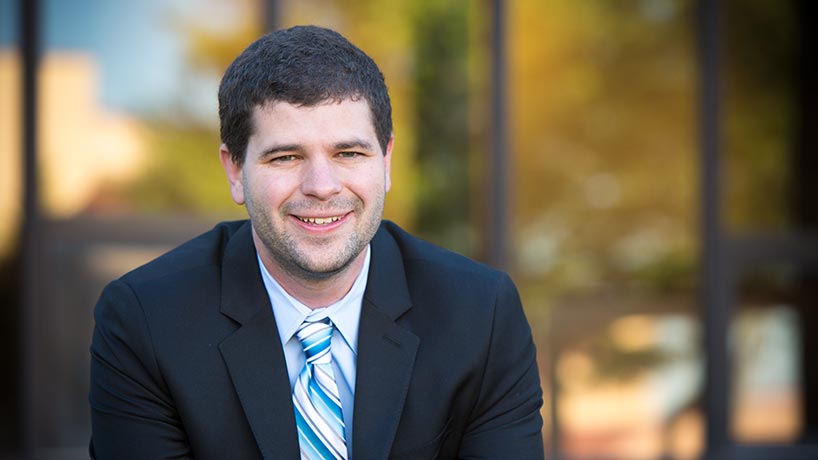 by Matthew Trexler '11
A poster of Jesus with little children hung on the wall of our church. I remember looking at the poster as a young kid, seeing all the children hanging onto Jesus' arms and tugging at His robes. They were smiling and laughing and Jesus Himself seemed delighted. I remember looking at the poster and thinking that if I ever met Jesus, He would yell at me.
From a very early age I knew shame. Although I would not have used that word as an eight-year-old, I knew that I felt different from the other kids around me. I was attracted to people of the same gender, and although I could not properly explain why this was wrong, I felt a strong sense of shame.
At the age of twelve I remember reading a Focus on the Family article that explained that some children have confusing same-sex desires, but they can grow out of those desires after puberty. There was a flicker of hope: maybe this would happen to me. But as time progressed, I realized that the desires were not going away.
I really wanted the other guys in my class to like me. I remember being obsessed with their approval. As time progressed into middle and high school, I remember becoming emotionally attached to my best friends. But in the busy parade of proms and dances and dates that is junior high and high school, my friends became more seriously interested in girls. It felt as though someone had hit the pause button on my life while everyone else's was on fast-forward. I didn't find the same interest in girls and I became distressed over what I was feeling. I would have to play along or else be found out.
Deep down, what I desired was intimacy. We all long for intimacy because we are wired for it. Unfortunately, the Fall has caused us to look for it in all the wrong places. I wanted intimacy, and I was looking for it in the satisfaction of same-sex desires and emotional co-dependency. True intimacy, however, was seemingly out of reach. This led to depression—a deep depression driven by self-contempt and self-hatred.
In high school, I was confronted with the issue of my own salvation. I remember reading about false repentance and genuine repentance and it began to inspire questions in my mind about whether or not I was truly a Christian. I had never given serious thought to it, but soon I became obsessed with the idea. An improper understanding of genuine repentance led me to despair because I could not "repent" of my same-sex desires. However hard I would try, they would still be there.
What I did not know at the time was that Jesus was beginning to break into my life. He was going to begin a very long, slow, and quite painful process of bringing me to Himself. These questions that wrestled inside me led down a road of about two years of deep spiritual depression. Everything I read seemed to condemn me further. I couldn't shake the image of Jesus holding up His hand as a sign of turning me away. It was as though a dark cloud had obscured the face of God, and as much as I may try to approach Him, Satan would only cast me down with fear and dread.
In those two years I could count on my fingers the days I felt OK. Instead of giving up, the desire for salvation became an all-consuming thought, but shame threatened to block me at every turn. How could Christ accept such damaged goods? I felt like the character of Christian in John Bunyan's Pilgrim's Progress, trapped in Doubting Castle soon to be the dinner of Giant Despair.
Many of my friends from Rock Hill were going to Covenant College after high school. I had thought about going to Florida State to study film, because I had a small desire to be a film director. But somehow I knew that the answers to my questions were going to be found at Covenant, so I enrolled there.
While I was there, I would hear the gospel preached, but my view of God was so harsh, and Jesus seemed like such a "hard man" that nothing seemed to sink in. I remember calling a youth pastor back home and telling him about my struggle with depression and doubt. I did not mention the struggles with same-sex attraction because I was still too afraid to share it with anyone. He recommended a sermon by a well-known preacher in South Carolina named Sinclair Ferguson. The sermon was called "The Waiting Father," and it was about the father in the parable of the prodigal son. I went back to my dorm and listened to it, hoping for some sort of answer to my nagging doubts.
From the outset, the sermon was not like one I had heard before. The entire sermon was simply on the character of the father as told by his son. In the sermon, Dr. Ferguson pointed out that ever since Eve ate of the fruit, the human heart has looked upon the character of God with suspicion. We have doubted His generosity, His love, and His provision. The serpent's words have acted like venom to the human race, poisoning our hearts to God. The serpent has held up a warped mirror and shown us a God who despises His children, who turns them away, and who is ungenerous to them in the time of their deepest need.
But Jesus' parable to sinner and Pharisee is that the character of His Father has been greatly distorted. Jesus holds up another mirror and in it He shows a Father who does not delight in the death of the wicked, but delights in finding what is lost. In this mirror, He shows a God who is ultimately joyful. Growing up I could understand a God who is moral, and I could understand a God who is holy and just, but a God who was happy seemed foreign and unfamiliar.
As I've heard one of my professors put it, "God swims in joy like I swim in self-doubt." God overflows with abundant happiness, and His joy is in finding the lost sinner. He finds them and rejoices over them. The angels of heaven throw a party when even one sinner repents, but the greatest joy comes from the one who stands among the angels. In a few moments, the entire picture of the Lord I had while growing up came crashing down.
As Jesus continued His parable, He showed His Father to be one who was in deep pain over the loss of His Son. Dr. Ferguson said that the "fruit of God's joy was rooted in His pain." The ultimate pain was the loss of His own Son, so that He might have the joy of finding lost sinners and bringing them home.
It was as though Jesus had entered my dorm room, in the spring of 2008, and said to me, "Matthew, what do you see? What am I really like? I am the Shepherd who leaves the fold to go and search for the one lost sheep, and when I find him, I put him on my shoulders, rejoicing. I am willing and able to save you, for I delight to save the lost. I will rejoice over you, and I will bring you to my Father, who is quick to bless those who return to Him."
The gentle, tender Shepherd, who will not break a bruised reed, gave me His pierced hand and said, "Follow me, come home." In the days that followed I began to see that Jesus had actually loved me and gave Himself for me, and that the Father had me in His embrace. I had never sensed the love of God like that. I could call Him Father. For the first time, I felt as though my sin, my deep pride, my lust and struggles could actually be forgiven—that the Lord was not only able to save, He was willing and ready to. A mix of the Lord's incredible goodness and tenderness with His mighty ability to save tasted so sweet to me.
I remember walking down to my intramural soccer game at twilight and thinking, "My sin really is killed on the cross, there really is no condemnation for me, Jesus has completed the work, and He has done it," and I felt free.
I'd like to say that I never sinned again. But no, doubt, fear, lust, pride, and self-righteousness still came at me like tentacles from the deep, luring me back in. The Lord still had much to teach me about what it meant to live as a Christian. I spent the first part of that summer in Uganda with Dr. Krabbendam, professor emeritus of biblical studies.
It was there that I was faced with the demands of discipleship that Jesus required of all those who follow Him. Following Him meant self-denial. I began to realize that one of the ways I had been resisting Jesus was in not trusting Him with my present and future. He has forgiven and healed my past, and if He has forgiven my future sins, then why do I not trust Him for the future?
I was on a hill in Uganda overlooking the valley and town of Entebbe with Lake Victoria on the left. I had just finished reading C.S. Lewis' Mere Christianity for the first time, and I saw that true joy in my life would come through surrender of self to Christ, with the full knowledge that my same-sex struggle could possibly mean giving up the prospect of marriage. I didn't fully understand that at the time, and I don't really today either, but I knew that Jesus calls people to die to certain desires for the sake of the kingdom. That was evident all around me in Africa, with my Ugandan brothers and sisters, who went through true suffering for the sake of the kingdom every day.
I finally knew that I was not surrendering to a harsh dictator in the sky, or an armchair general, or a cool, dispassionate deity but to a gracious and merciful Father. I was surrendering to a King who was crucified for my sake. His call was somehow both a call to give up certain desires and an appeal to true desire. It wasn't as though Jesus had wooed me in with the cheese of the gospel only to spring the mousetrap of burdensome discipleship. Jesus is the same yesterday, today, and forever.
My sophomore year of college was a time of deep rest for me. Coming off two years of intense struggle and depression, my sophomore year was a time of connecting with others on the campus and growing in my knowledge of the goodness of the Lord. It was Professor Kelly Kapic's Doctrine I and II classes that profoundly shaped my view of the Lord, as we studied His attributes, the work of His Son, and how we live this life through His Spirit. I was also blessed with wonderful friends that year, many of whom I still consider some of my best friends.
As the years at Covenant progressed, marriage seemed to be the focal point of discussion. Even when I was applying to Covenant, a woman back home told me, "Oh, what a great place to find a wife!" Again, I almost felt as though someone had hit the pause button on my life while everyone else's life was fast-forwarding around me. I was deeply happy for all my friends who were getting married, but I was still wondering what was wrong with me.
To say that there exists an idolatry of marriage on Christian college campuses is probably an understatement. Marriage is a beautiful institution of God's, and is by all means to be celebrated. But it is certainly unbiblical if we begin to think, "I'm not a whole person until I'm married."
That was the culture I found myself in at college, and my great fear was that when I graduated I would be alone. My struggle with this was so great that I eventually caved in and told Ron Brown, the Reformed University Fellowship (RUF) campus minster, about my struggle. Up to this point I had not really told anyone about my struggle. We began meeting and talking about this issue, and whether or not I could have a place in ministry. I was deeply afraid that this struggle disqualified me from having a place in pastoral or relational ministry.
Ron wanted me to apply for the RUF internship, but I was skeptical. He then told me that during my interview, I should tell RUF my story and my struggle. I went into that interview incredibly nervous, namely because I was afraid my fears would be confirmed. When I sat down in that interview and told them my story, the response was incredibly gracious. They said they would place me with a campus minister who would help me walk in repentance, and who would help me understand my story. Through healthy accountability, I could minister as an RUF intern.
I was placed at the University of South Carolina, with a campus minister named Sammy Rhodes. I left my community at Covenant, and went to Columbia, SC, where I knew hardly anyone. It was a hard and very lonely first semester but I was able to share with Sammy my struggles with same-sex attraction. I didn't really have a community outside of the students I was ministering to, and so I saw the need to join a church in the city that had a lot of younger people. The church was called Midtown Fellowship and connected with the Southern Baptist church. One of the members who was a professor at USC in his mid-30s named Thor became one of my close friends. Thor openly struggled with same-sex attraction, and he began to mentor me.
I shared my story with him, and he encouraged me to be more open and honest with others. The community at Midtown and USC was supportive enough to really be open and transparent. Many of the friends that I had already made were also fellow strugglers, and they were committed to living celibate lives. Their friendship proved to be an incredible rest to me.
Sammy encouraged me to share my testimony in the RUF Large Group at USC. As I shared it, I discovered that many of my own students had similar stories and were in need of hearing the gospel applied to them. As I began to share my story, I actually began to experience a kind of freedom. I no longer felt mummified, wrapped and shrouded in secrecy and shame. As the unraveling took place, it allowed for the Lord to truly heal me. I found it also allowed me to be more open and honest in other areas of my life. Sin is like a web and is connected to everything else. Expose and pull on one part and everything else comes with it.
I always desired intimacy, but Jesus was calling me to give up the false hopes of same-sex desire, while at the same time he was also beginning to fulfill those longings for intimacy in a much deeper, holy, and more satisfying way. He was doing this by giving Himself and His community to me.
In reflecting on the power of the body of Christ in my life, I have seen churches desperately seeking to welcome all people with every struggle into the family of God. But I have one word of exhortation to all of us in the church. If we truly want to welcome gay and lesbian people, if we want them to taste and see that the church is an alternative lifestyle from the lifestyle they have been in, we as the church are going to have to work on welcoming in single people. More importantly, we have to welcome single people as whole people now, not as people who will be whole someday, when they get married.
One of my professors at Covenant Seminary reminded our class that the church, not the family, is the central feature of the Christian life in the New Testament. Marriage is a beautiful and wonderful thing, but the Christian community must also understand the real blessing of singleness. We have to ask ourselves to recognize our cultural lens of marriage idolatry and begin to welcome single people to the church as whole people. Only then can we rightly minister to gay and lesbian people as well. Marriage cannot be the only Christian path to real intimacy that gay and lesbian people see in our churches.
For those of us who struggle with same-sex attraction, marriage is not our hope—Jesus is. Marriage is a good and beautiful thing, but it is Jesus who is our hope. The alternative the church offers to the homosexual lifestyle is not heterosexuality, but holiness.
As a current master of divinity student at Covenant Theological Seminary, I am beginning to learn more and more about how my sin and shame do not define me. True self-denial is a denial of self-definition, and only Jesus is authorized to define who I am. It is not as though Jesus looks at me and says, "Oh, there is Matthew, the disciple who struggles with same-sex attraction." No, Jesus looks at me and is delighted that I am His disciple, because He has purchased me with His own blood.
I am not my sin struggle. It's not even the most important thing about me. The most important thing about me is that I belong to Jesus Christ, the one who has rescued and forgiven me. In the new heavens and the new earth, I will not struggle with this burdensome sin. I am, according to the Scriptures, in union with Christ. This struggle is most certainly a part of my story, but it is not my story. I belong to Jesus.