All I Know Is Grace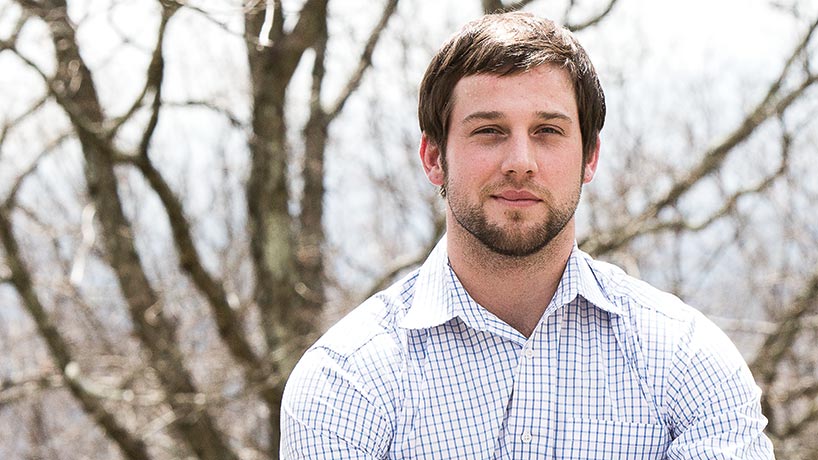 by William Wolfe '10
Let me start at the beginning. I was raised by two loving Christian parents. We lived in Matthews, North Carolina. I was homeschooled through middle school and then went to a local Christian high school. My family faithfully attended church, and I was there almost every Sunday.
My first "conversion," which I know now was a false conversion, took place when I was about nine or ten years old at a vacation Bible school. You know how it goes, I was at this weeklong Bible camp and the main pastor of the church got up on the last day and explained to all the kids that all those bad things they have done are sins, and that if you have sinned, you are going to hell. I didn't want to go to hell! So with all the fear and faith a ten-year-old can muster, I asked Jesus to come into my heart. In retrospect, this was a terrible thing to do. I didn't need Jesus to come live inside my dead heart, what I needed was an entirely new one. The prophet Ezekiel describes this in Ezekiel 11:19: "I will give them an undivided heart and a new spirit in them; I will remove from them their heart of stone and give them a heart of flesh. Then they will follow my decrees and be careful to keep my laws."
I grew up ingrained in Christianity, and I never disbelieved what I heard in church, intellectually speaking. I memorized Bible verses, would defend the validity of the faith, with my words at least, and tried to live a good life, for a while. It was quite convenient for me to be a Christian, which is ironic in some ways, as that is not the historical norm. I already pushed the limits of the rules, got in enough trouble as it was, so there was nothing to be gained by not being a Christian. But I didn't understand the gospel—the most fundamental piece of the Christian faith.
My view of myself as a Christian, along with the next eleven years of youth group, church attendance, going to a Christian high school, and then on to further studies at Covenant, left little doubt in my mind that I was saved. Although the sin and rebellion of what was still my dead heart started becoming much more outwardly noticeable from about eighteen years old and on. Even more indicting than the sin, perhaps, was my almost complete lack of guilt.
I spent my freshman and sophomore years at Covenant playing soccer, studying history, and focusing on myself. My church attendance was minimal; Christian disciplines were non-existent in my daily life; I had little to no accountability; and I walked around with my chest stuck out and a chip on my shoulder. I was ruled by my selfish and arrogant flesh. Towards the end of my sophomore year things were not going well for me at Covenant. I think I had been on probation every semester, didn't seem to get along with anyone in authority on campus, and I wanted out (this is putting it lightly). The problem, in my mind, was everyone else, not me. I was a "victim of my circumstances." Really, I was a slave to my sin.
At the beginning of January 2010, I was halfway through my senior year. Due in large part to my continued rebellious ways, I had moved off campus and was now living with two older guys who, from what I know, were not Christians, or not living like Christians. I was twenty-one years old. The props holding up my fake faith were finally gone—and the world was very appealing. I hadn't really partied much through college and now before me, in my estimation, were my last few months to live what seemed to be the fun lifestyle I had been missing out on. I started drinking and partying, buying the culture's lie about the purpose of "college life," and honestly, at the start, I found that it was fun. I sinned because I wanted to sin. I was, as Paul puts it in Romans, suppressing the truth through my wickedness.
The next two years of my life were a series of steps down a path to destruction. In my mind back then, my last semester at Covenant was roses. I partied, drank, smoked weed, went out on weekends, and lived an immoral lifestyle. I was a liar, deceived people, but still managed to write my senior integration paper (SIP) and graduate with honors. I felt on top of the world. My plan was to come back to Lookout Mountain, get a job, and keep having fun. This is when things started going more pointedly south.
My first summer out of school was fraught with hardship, heartache, and the beginning of consequences for my foolish actions. I was in a serious car accident, driving drunk up Lookout Mountain without a seat belt on, one which I had no business surviving. I walked away with nothing but some stitches and an enduring testimony to God's grace, despite my rebellion. After that my grandfather died and my uncle began seriously suffering from a failed intestine transplant. Around me I saw death, disease, and uncertainty beginning to plague myself and my close relatives. Since I was not seeking the Lord at this time, I had nowhere to go and no hope but myself, or, as I increasingly found, alcohol.
I ended up coming back to Lookout Mountain at the end of August. I moved into a house near the College, and started trying to survive life out of school. As I looked for work I also developed a drinking problem, choosing to job hunt for most of the day, but then beginning to drink around 4:00 p.m. My budding alcoholism, compounded by my feelings as a failure, family problems, and my sinful lifestyle, changed my demeanor. I continued to drink increasingly, but now because I felt like I had to, not just that I wanted to. Instead of having fun, when I drank I got angry, mean, and violent. I estranged my friends and ruined relationships. In January of 2011 I got in another car accident, was charged with a DUI, and arrested. As I was sitting in jail down in Trenton, Georgia, I can remember wondering to myself, "How in the world did I end up here?" It should have been a wake-up call.
Even in all of this, there was some part of me that knew what I was doing was wrong, and I knew that something needed to change. In somewhat of a last-ditch effort to get away from the wreckage of that year, I moved to New York, to sort things out and try to start fresh. After having been there for only three weeks, I received a phone call on the night of June 21, 2011, from my father, telling me that my fifteen-year-old little brother, Evan, had been run over by a four-wheeler in a freak accident and was dead.
Immediately I flew home to North Carolina. We planned a funeral and buried my brother. Dealing with the grief from this heart-wrenching, soul-staggering loss sent me even further down the dark road that I wanted to leave. As I struggled to cope with the bitter and harsh reality that my family had been torn apart and as I tried to face down the darkness of death on my own strength, I failed. I began drinking more and more—five nights a week, if I had to, to try to numb the pain. But it never did. It just made it worse. The loss of my brother, the continued heartache and strife of my failing relationships with everyone in my life, and my drinking soon led to serious depression, a deep sense of daily futility, and the beginning of suicidal thoughts.
In December of 2011, I had come to Washington, DC, for the weekend to visit my sister Danica. I had recently moved up to the Eastern Shore of Maryland. The last straw of hope for something good in my life snapped after something I was desperately holding onto in an unhealthy way finally ended. This started a three-day drinking binge for me that culminated with waking up Sunday morning, drinking before church, and going to Capitol Hill Baptist for the first time, very much drunk, and very much done with life. I made it through the first three songs, thought to myself, "Screw this," got up, and walked out. I left, fully intending on finding a way to end my life. It all just seemed like a cruel joke being played on us by God, and I was done laughing.
I left church and wandered over near Union Station. I bought a pack of cigarettes, and sat on a bench on the edge of the sidewalk. I decided I would smoke a few, and then walk out into traffic. I was, in those moments, wholly and completely at the end of myself. As I sat there, I cried to myself in a crazed way, head in my hands, all hope lost. And then my father called me. In what was very providential timing, my earthly father's phone call was enough to convince me to continue this life. With a bitter and hollowed heart, I told my dad that for his sake I would stay.
After Danica got out of the service she came to find me. She picked me up and brought me back to the parking lot at the church. Being the loving sister that she is, she asked me if I would talk to the pastor. At this point I did not care, so I said I would talk to him. So Mark Dever came and sat in the car with me. I didn't know who he was. To me he was another Baptist preacher in a business suit, something I have learned to be far from the truth.
We talked for a while, and he asked me some questions about my life. I was, for a change, honest with him, and he very quickly got a good view of the sin-laden despondency that had been my life for the past few years. Mark went to Galatians 5 and read verses 19 through 24:
For the acts of the sinful nature are obvious: sexual immorality, impurity and debauchery, idolatry and witchcraft; hatred, discord, jealousy, fits of rage, selfish ambition, dissensions, factions and envy, drunkenness, orgies, and the like. I warn you, as I did before, that those who live like this will not inherit the kingdom of God. But the fruit of the Spirit is love, joy, peace, patience, kindness, goodness, faithfulness, gentleness and self control. Against such things there is no law. Those who belong to Christ Jesus have crucified the sinful nature, its passions and desires.
There it was in black and white words on a page. That first list was more or less a checklist of my life. Upon hearing the difference between the lifestyles of the sinful nature and the Spirit, I knew that my life was not one that would inherit the kingdom of God.
So Mark gave me the book Am I Really a Christian, and asked me if I would read it and come back that night. I read most of it and came back for service that night. Afterwards I spoke with Mark again, and I remember him saying, "You know, William, there are a lot of good guys here at this church that I think could help you through this." I remember thinking to myself, "OK, sure, but I am not coming to DC." Well, that shows how I much I knew of how the Lord was working in my life.
I had to go back to the Eastern Shore on Monday night. Danica gave me a ride back, and I remember feeling very lost. I wallowed in my misery for most of the day on Tuesday, but then, through some prompting, I decided the best recourse at this point would be to open my Bible. So I did. It opened to Isaiah 59:1 and this verse will now be forever etched in my memory:
Surely the arm of the Lord is not too short to save, nor His ear too dull to hear. But your iniquities have separated you from your God; your sins have hidden His face from you, so that He will not hear. For your hands are stained with blood, your fingers with guilt. Your lips have spoken falsely, and your tongue mutters wicked things.
While there had been a time of crying out to the Lord during the past six months after losing Evan, and being crushed by my grief, I was at the same time hiding myself in my sin. My hands were stained with blood. My iniquities had separated me from God. Because sin isn't something the Lord just overlooks. It is an offense against His glory. And when you are buried under the filth of your sin before a Holy God, the only prayer that He will hear is "Lord, save me."
Since I had never read the book of Isaiah before I decided right then and there that I would. So I went back to chapter one and started reading. In a true testimony to Scripture being the living and active word of God, I came across verse after verse that spoke to my heart and soul, rebuking my pride and the lies I had been feasting on, driving me towards repentance, yet at the same time comforting me with the promise of deliverance. Isaiah 1:5, 5:11 reads:
Why should you be beaten anymore? Why do you persist in rebellion? Your whole head is injured, your whole heart afflicted. . . . Woe to those who rise early in the morning to run after their drinks, who stay up late at night till they are inflamed with wine.
Can you imagine how these verses fell on my ears? I had been running to my drinks, and I was clever in my own eyes. Here was my life, being condemned. Then at the end of chapter 30 there is a sweet hope:
In repentance and rest is your salvation, in quietness and trust is your strength, but you would have none of it. . . . Yet the Lord longs to be gracious to you; therefore He will rise up to show you compassion. For the Lord is a God of justice. Blessed are all who wait for Him! People of Zion, who live in Jerusalem, you will weep no more. How gracious He will be when you cry for help! As soon as He hears, He will answer you.
I paused there for the night. I felt a weird sense of calm—not because I knew what I believed, but because perhaps there was hope. Despite who I was, what I had done, the evil my hands had committed, the people I had hurt, the hurt I had suffered, despite Evan dying, the mess my family seemed to be in, the wreckage of my life, maybe there was hope.
I finished reading the rest of Isaiah the next day. As I finished the book, at the close of chapter 66, there is a vivid description of the end, when all nations stream to the mountain of God, and they go out and look on the bodies of those who had rebelled. I was terrified by the reality of the coming judgment, and right there, by myself, was brought to my knees as a real fear of the Lord entered my heart and I realized, for perhaps the first time, the depths of my offense against a wholly pure and righteous and powerful God. Yet, with Christ, and with belief and true repentance, I could one day stand before the throne of God above and be counted righteous.
I went back inside to email this pastor I had just met to let him know that I thought I had just truly repented for the first time. As I opened my email I had a message from Mark, saying that he was praying for my reading of Scripture that day. I emailed him back, telling him that I had just read Isaiah and it moved me to repentance. He replied and told me that he was about to give his last sermon in a series on Isaiah and that I should come back to church that Sunday.
That began a period of two months of clearly providential circumstances in which the Lord led me to DC, to go to Capitol Hill Baptist. Danica faithfully drove out to the Eastern Shore to pick me up for church week after week. I actually wanted to go. I wanted to hear and learn more about how to live this new life that Christ had purchased for me through His atoning death.
In less than three weeks from that first Sunday, one of the guys at the church offered me a spot in his house. I decided that it seemed, for all I could tell, that the Lord was indeed bringing me to DC. So I moved, joined the church, and was baptized as a believer.
I have been a Christian for about fifteen months now, and I am so very grateful that the Lord does not deal with us as we deserve. Now, instead of the former life I lived, I actually want to read the Bible, I want to pray and talk to my good God, I'm hungry to learn about the life that he has to offer in his Scriptures. I try to die to my sin, and I have been sober for over fourteen months. I seek to serve others, to love the Lord, and to follow Him faithfully. The weight of life cannot be placed on ourselves; we are far too small to bear it. But I have found the one who can bear it, or rather, He found me. 1 Timothy 1:15 says:
Here is a trustworthy saying that deserves full acceptance: Christ Jesus came into the world to save sinners—of whom I am the chief. But for that very reason I was shown mercy so that in me, the worst of sinners, Christ Jesus might display His unlimited patience as an example for those who would believe on Him and receive eternal life.
This is a short summary of all who have been saved. In the eyes of our creator, and our judge, we are all the chief of sinners. A dead heart is a dead heart. There is no mostly dead, or somewhat alive. All have sinned and fallen short of the glory of God. God created us to love and serve Him in perfect obedience, and instead we have rebelled and sought to serve ourselves. The lives we have lived in willful rebellion condemn us all equally, and we are equally deserving of judgment and death.
But Jesus Christ displays unlimited patience by coming and living the life we could not live, a life free from any sin in perfect obedience, and dying the death we could not die, a death that satisfied the wrath of God. Then, proving His power and authority over all things, He rose from the grave on the third day, and now sits at the right hand of God the Father, showing matchless mercy to each person who believes in Him, and giving the promise of eternal life to all who repent and turn from their sins, who stop mocking His cross, pick up their own, and follow Him.
One of my new favorite songs is All I Have Is Christ. The second stanza says, "But as I ran my hell-bound race, indifferent to the cost, you looked upon my helpless state, and led me to the cross. And I beheld God's love displayed, you suffered in my place. You bore the wrath reserved for me. Now all I know is grace."
Now all I know is grace. Not for anything that I have done—contrary, in fact, to everything that I have done apart from Christ. Yet the arm of the Lord is not too short to save, and He, in His kindness, saved me.