Is Technology the Devil?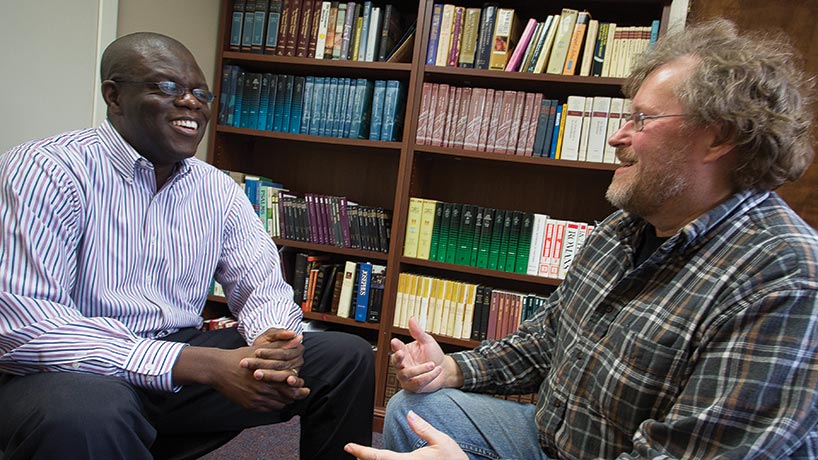 In the 2013 fall semester, Prof. John Hunt (computer science) and Prof. Hans Madueme (theological studies) gave chapel lectures on technology. Dr. Madueme took a cautious look at the effects of social media and provocatively titled his talk "Technology as the 'Devil': Becoming More Sinful, Dumb, and Dumber." In response, Dr. Hunt spoke on "The Glory of Technology," highlighting technological innovations that have prompted important medical and societal advances. We brought the two professors together to discuss their views on technology, social media, and the Lordship of Christ.
Technology & Bearing God's Image
Hunt | Genesis tells us that we're made in God's image. That passage comes right after we've heard about God creating. So I think part of bearing God's image is that we are meant to create—that is one way we image God.
Madueme | I also think it's significant that the biblical story starts in a garden and ends in a city. You're not going to have a city without technology, so it seems like technology itself is part of the very movement of redemptive history.
Hunt | In my field, we have the delight of creation in building software. It's so practical. It's like poetry, except it does stuff. There's something I really enjoy about that. As we build software, we act as sub-creators. Frederick Brooks, a famous computer scientist, expressed the idea this way: "As the child delights in his mud pie, so the adult enjoys building things, especially things of his own design. I think this delight must be an image of God's delight in making things, a delight shown in the distinctness and newness of each leaf and each snowflake."
Social Media
Madueme | The book that I've found really helpful in shedding light on problems associated with social media is Sherry Turkle's book Alone Together. What has happened with Facebook and Twitter, and now many more media outlets, is that young people tend to spend more and more time enmeshed and immersed in those technologies and less and less time in face-to-face presence with each other. I don't know if these media were designed with this purpose, but if not, it's certainly an unintended consequence.
Hunt | Tim Challies' book The Next Story: Life & Faith After the Digital Explosion talks about social media as mediators. The point of mediation is usually to get you to face-to-face contact. The mediator is not the ultimate goal—it's getting you to something. But we often use technology without the goal of face-to-face contact. I think there is a problem when we could be face to face, but we choose to text or write on Facebook instead. We pick the mediator over the real thing.
Madueme | There's a kind of deception or illusion that we're intimate with each other when we're texting and when we're engaged in these social media. We're removing ourselves from face-to-face contact as if these other modes of interaction are actually fostering a kind of intimacy. You look around at a restaurant, and you see families having dinner while all of them are looking at their own phones—the kid is playing a game, the dad is checking on a sport. None of them is talking. That's a problem.
Hunt | What's interesting to me is that I think the trajectory of these media is somewhat positive—they're designed to entangle us with other people. The problem is that we use them instead to distance ourselves from other people.
Technology & Sin Nature
Madueme | My question is—what's the problem here? Is it that we have original sin and, because of our indwelling sin, we transform the "neutral" technology into something ominous? Or do these technologies have their own sets of values that give the technology a certain trajectory?
Hunt | I think in some ways it's too easy to say, "The problem is that students text too much, and if we just took away all smart phones, students would work harder and families would communicate more." We can look back at students in the 1700s who rioted and burned down their school. Clearly that wasn't a texting problem. On the other hand, technology is not simply neutral. We're told to look forward to the day when swords will get beaten into plowshares. It's not that swords have their own volition and go do bad things. But swords do tug at us in a different way than plowshares. I think we need to consider how we use technology. We need to ask ourselves—do I use these technologies to build better relationships, or do I use them as an excuse to not work on my relationships?
Technology & the Lordship of Christ
Madueme | Our narrative is the story of creation, fall, and redemption. We need to see technology as part of that story. It's part of God's creation, and it's what we have created as sub-creators. So there is goodness in technology. But we also live in a fallen world, so there is always a tendency for technology to let us down or for us to use it to subvert what God is doing in our lives. We need to stay aware of the ways technologies let us down and then we have to ask how the Gospel, how God's redemptive story, can turn these things around.
Hunt | I think one of those temptations is the desire for self-sufficiency. We have a large desire to be self-sufficient, and often technology replaces the role of our dependence on God. We start to believe that we can fix all of our problems with new technologies.
Madueme | The technologies may not even be bad at all. They may be good and helpful, but we then use them in nefarious ways. We were designed to worship and love God and seek after Him. But for some reason if I'm in my car, music has to be playing. If I'm alone in my room, I need to be doing something. If I'm alone at home, I need to watch a movie. There's nothing wrong with all of those things. What's wrong is when I use them because I don't want to face myself as someone who is dependent on God. Technology gives me the resources to insulate myself from God.
Hunt | One problem with our culture is an incredible reluctance to leave silence for God to speak into. We want to fill every moment with noise that drowns out thoughts that could lead to reflection. Part of it is trying to keep God at arm's length by having all this noise between us and Him. I find it very hard to relate to God without some silence.
Madueme | I think it's good to remember that most people didn't have access to the internet until the '90s. It helps to put things in perspective. These things are still new, and as a culture we're still trying to figure out how to think about it all, how to live wisely, and how to exhort each other. I think we're in the early days of understanding the redemptive ways we can inhabit this world with these technologies. Hopefully we're helping move the conversation forward.
Hunt | Another thing to consider is that we should care about what God cares about and not only what we care about. The founder of Facebook, Mark Zuckerberg, said, "A squirrel dying in front of your house may be more relevant to your interests right now than people dying in Africa." I think we should avoid making what annoys us more important than what annoys God.
A Greater Hope
Madueme | There are groups striving for immortality through technological innovation. But that's an alternate eschatology, where your hope is in technology and what it can do for you. Our hope is in the return of Christ and in the renewal of creation, but their hope is in technology and the hope that technology can take evolution to the next level. We have a problem with our finitude. I think it's a kind of technological Gnosticism—people are trying to escape the finitude of their bodies through technology.
Hunt | Something I've been thinking more about is being grateful to God. Most people in the history of the world, even the richest people, didn't have access to the technology we have. We need an attitude of gratitude to shape how we view technology.
Madueme | A friend of mine who teaches computer science explained a typology that I find helpful in thinking about how we approach technology. He talked about the two extremes people fall into. First, technological sentimentalism—these people are like technological Luddites. They think technology is the problem. They are scared of everything new, and prefer tradition and the old. It's a sentimental view of the past. The second is technological messianism—these people think technology is inherently good and it will save us. What my friend suggested was somewhere between these two extremes. He recommends that we be technological responsibilists. The creation and use of technology is part of the cultural mandate. We're made in the image of a creator God. It's a natural creaturely activity to take things that are created and transform them. We need to remember that technology is part of a bigger theological picture. Technology can't save us, so we need to use technology responsibly. We need to look at our theological values and make sure that we're not being mindless with technology. I think this technological responsibility is what we should strive for. There is no one size fits all—we need wisdom.