Carter Hall: Then & Now
Then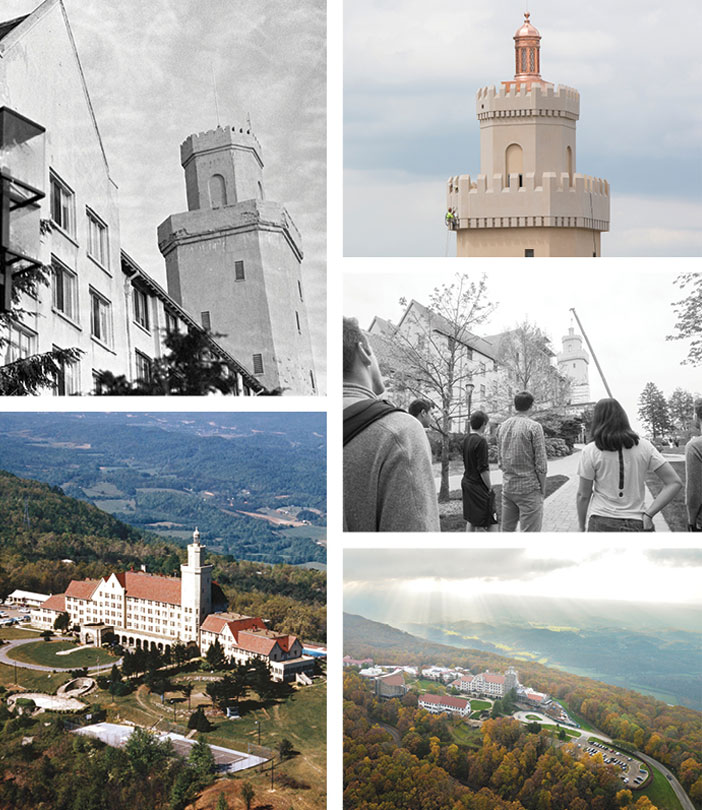 The following is an excerpt from Hugh A. Smith's reflections on "The Story of the College in the Clouds." Smith was part of the team of men and women who moved the College into the Lookout Mountain Hotel in 1964. He writes that his reflections are a story of God's providence and provision.
"In September, 1964, 150 Covenant students moved into their new college home. My daughter, Linda C. Smith, a junior at Covenant, was among that group of students. Her class of 1966 had the unique experience of spending two years on the St. Louis campus and two years on the Lookout Mountain campus. In 1965, my son, James, returned to Covenant, graduating in 1969, after two years in the Navy.
"As I write this, in the year of 1975, the College is in full operation with 400 students. We are now fully accredited and are licensed to give diplomas in the state of Georgia. We have a ten-to-one student faculty ratio and we plan to have a faculty of which 75% have their doctorate degrees.
"I can only say that I know from first-hand experience about the power of God when we call on Him, in faith. I feel humble and grateful that He gave me, a simple farm boy from McNairy County, TN, a part in His plan for Covenant College, the 'College in the Clouds.'"
Now
In August of 2016, Covenant College welcomed 293 new students to campus for Move-In Day. Those new Scots joined returning students to make up a student body of just under 1,000 students. We've come a long way since 1964, but the beliefs and maturity we value remain the same. Today, 91% of full-time teaching faculty hold doctorate or terminal degrees and our classes remain intimate—with just a thirteen-to-one student-faculty ratio. We still prize the preeminence of Christ over all things, and we still hold dear to this place where so many brave men and women brought the College more than fifty years ago.
The restoration of Carter Hall is beginning to enter its final phase. Students and employees of the College spend time studying or eating lunch on the newly res-tored North porch of the building. Many students and employees are enjoying double windows in their residence rooms and offices. With each and every day, the restoration strengthens and preserves Carter Hall for future generations of Covenant students.
Want to get a behind-the-scenes look at the Carter Hall restoration? You can learn more and partner with the College in this important work at covenant.edu/carter.