Ministers of Reconciliation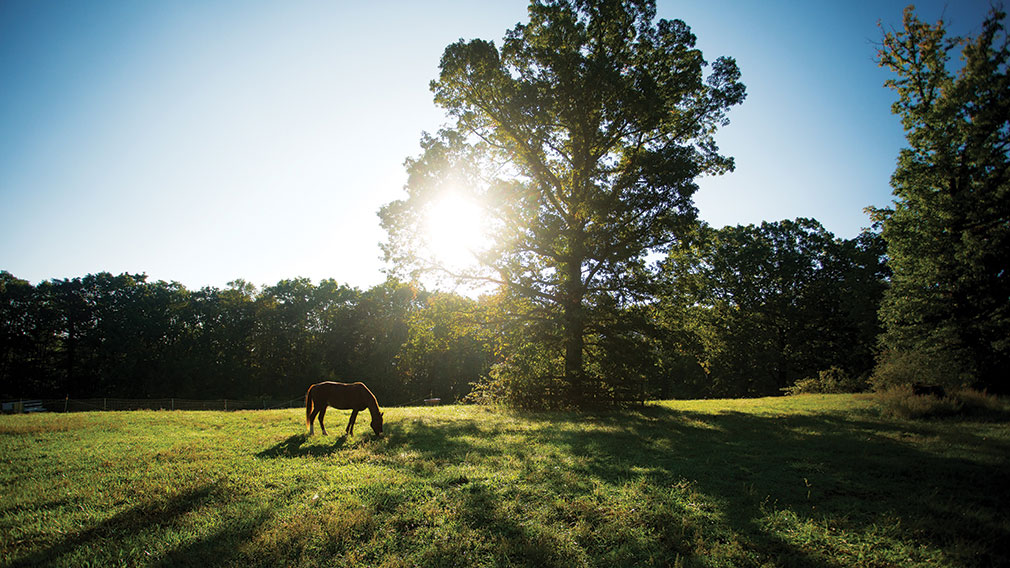 by Grace Mullaney Humbles '13
Six years ago, Marshall '08 and Katherine Whitmire Teague '06 thought they would spend the rest of their lives in Oregon. The couple began thinking about eating, land, and animal husbandry. Today, they live with their two daughters in Lookout Mountain, Georgia, where they operate a sustainable farm called EdenThistle.
Marshall and Katherine Teague were living in Bend, Oregon, working with horses and children at a ranch ministry, when a simple conversation changed the course of their lives. During dinner one night, a friend brought up a discussion about food and made the point that, as believers, we should probably think differently about what we eat and how we eat.
"I didn't refute it," says Marshall, "but it didn't seem like something I needed to spend time dealing with."
At the end of the conversation, the friend told them he was considering homesteading and becoming a farmer. Marshall left thinking that the idea was pretty foolish. Without knowing it, the Teagues' friend had planted a seed that would eventually become EdenThistle Land Stewardship Company.
As Marshall and Katherine began to explore the theology of what it means to care for and steward creation, they became increasingly convinced that food and farming and ideas they had recently shrugged off as unimportant may be part of God's call on their lives.
"We needed to address the fact that from Genesis to Revelation there is a consistent care shown by God for His creation and there's a consistent role that man is to play," says Marshall.
Although they loved their life in Bend, the Teagues realized they were being shaped and prepared to come home to Lookout Mountain, where they started EdenThistle.
From the beginning, the Teagues wanted to produce a real product and participate in a real market. Today, they offer an active buyers club where locals can purchase pasture-raised meat and eggs on a regular basis. Embedded in these day-to-day operations is a desire to abide by the design of their animals and to act as ministers of reconciliation for the land.
"Paul talks about how we are brought in, by Jesus' grace, to the ministry of reconciliation," says Marshall. "So we want to be participants in the ministry of reconciliation with our land."
At the farm, the Teagues seek to practice responsible animal husbandry as they care for goats, hogs, horses, and chickens. At the same time, they are committed to stewarding their land through sustainable practices that restore and enrich their grass and soil—which in turn feed their animals and produce high-quality and healthy meat.
The name EdenThistle points to the in-between place where all mankind lives.
"At Covenant we talked a lot about the now and the not yet," says Marshall. "The whole company is designed around the idea that God in the garden clearly shows that there is design both to creation and to us and there is a manner in which it should all operate. That's the Eden part."
Marshall explains that the "Thistle" calls us back to the reality of the Fall. The Fall is real, and the Fall's consequences are very real.
"Our farm, or wherever we participate in stewardship, will never be perfect," says Marshall. "We are doing all of this in waiting for the perfection to come down to us. We are just one voice in the song of the waiting for the return of Christ."
The Teagues' regularly open up their farm to anyone who wants to visit, eager to share their love for their work with others.
"The church should be renowned for our care for the earth," says Marshall. "But we aren't traditionally known for this. In fact, we're often known for not caring about the environment."
The Teagues note that the care of God's creation often naturally leads men and women into a deeper knowledge of God. Students from Covenant have participated in processing chickens at EdenThistle. During the half-day process, students get to witness the bloodshed that it takes to bring meat to our tables.
"If you allow yourself to see it, you are constantly, daily, entering into a rhythm of sacrifice," says Marshall.
All of Marshall and Katherine's work at EdenThistle is driven by their understanding of the call to stewardship. If we are called to image God in our care for His world, how should that inform the way we live? How should it transform our understanding of creation? How should it impact the way we eat? Marshall and Katherine live out their answers to these questions every day at EdenThistle.
Learning Farm at EdenThistle
The educational nonprofit arm of EdenThistle
The Teagues' passion for reclaiming their role as stewards of the earth has naturally led to an educational component in their work at EdenThistle. The Learning Farm at EdenThistle seeks to empower people as stewards of creation. This nonprofit arm of EdenThistle provides individuals and groups with the opportunity to personally engage with the concepts and practices of sustainable food production by hosting events, welcoming volunteers, and investing in interns.
Helping Each Other Grow
by Dr. Russell Mask, associate professor of community development
With the encouragement of Marshall Teague and his fellow alumni Christian Man '09 and Michael Rhodes '08, the community development department began an agricultural development course in the fall of 2015. Half of the thirteen agricultural students participated in field practica at EdenThistle. Students also created feasibility studies for new agricultural products—three of which were prepared for EdenThistle. Designing and implementing a new academic course is quite a lot of work, but it is also encouraging to see energized students working hard in a class and in the field—quite literally in this case. I am thankful to work at a place where we can be challenged by students and alumni to learn new things and then challenge them in return. Praise the Lord for His care and concern for the land and critters of all types that He gives us to steward.