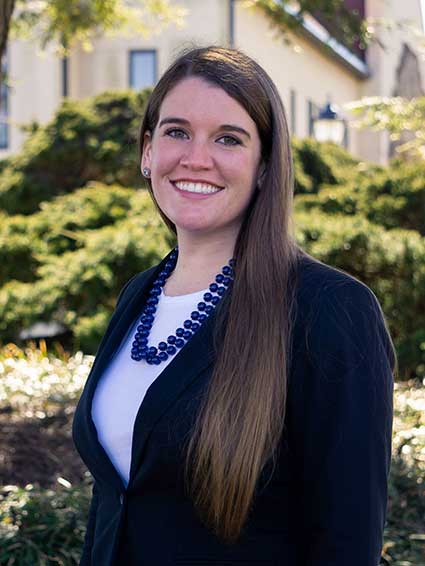 Michaela Kourmoulis
Assistant Professor of Sport Management
Business
On Faculty Since 2020
Covenant's Sport Management program allows students to combine a passion for sports with business fundamentals to pursue a variety of careers in the sports industry. Covenant's program is unique because of our distinct focus on how we, as Christian's, can make a positive impact on the sports industry. We also have a great emphasis on experiential learning which includes regular work opportunities with the Atlanta Falcons, Chattanooga Lookouts, and more. The sport management program also takes trips to work major sporting events like the Super Bowl, NCAA Men's Final Four, and CFP National Championships.
Education
Currently pursuing PhD in Sport Management at Troy University
MS, Sport Management - University of Central Florida 2016
MBA - University of Central Florida 2015
BS, Recreation and Sport Management - University of Tennessee, Knoxville 2014
Interests / Specialization
Sport Management - Sponsorships/Revenue Generation. Previously having worked in sponsorship and hospitality sales for NASCAR at Talladega Superspeedway has sparked a deeper interest in this aspect of sport managegment.
Selected Professional Work
Kourmoulis, M., Polite, F., Waller, S. (2021). Building Brand Identity via Sports. In J. W. Lee, B. A. Cianfrone, & E. Gregg (Eds.), Branding in Higher Education: Every University Tells a Story (pp. 53–61). Carolina Academic Press.
Robbins, M., & Polite, F. G. (2014). The Most Powerful Mouse in the World: The Globalization of the Disney Brand. The Global Journal of Management and Business Research. Vol 14, Sept. 14. Available at http://journalofbusiness.org/index.php/GJMBR/article/view/1441
Get to know your professor
Q. Favorite movie?
A. Pirates of the Caribbean
Q. Favorite food?
A. Cheesecake
Q. What is one thing that instantly makes your day better?
A. My daughters laughter
Q. Personal Interests/Hobbies
A. I grew up dancing competitively and still enjoy teaching dance when I can.