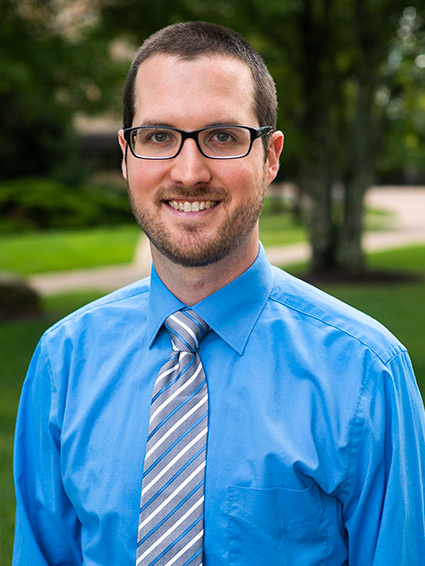 Preston Hoobler
Assistant Professor of Chemistry
Chemistry
On Faculty Since 2019
Our program has two things that are especially good for our students. The first is that we take faith integration seriously. We are constantly looking to show how chemistry displays the glory of God. Secondly, we have a desire for all of our students to have hands-on experience with high-level experimental equipment and instrumentation. We love helping students develop the knowledge of chemistry while experiencing it first hand.
Education
B.S. Chemistry Education, Huntington University
Ph.D. Physical Chemistry, University of Georgia
Interests / Specialization
Computational Chemistry: Aluminyl Anion Systems, Small-molecule chemistry, and Educational Applications
Selected Professional Work
Hoobler, Turney, Agarwal, and Schaefer, Fundamental Vibrational Analyses of the HCN Monomer, Dimer, and Associated Isotopologues, 2018, ChemPhysChem, 19, 3257-65.
Lahm, Hoobler, Turney, and Schaefer, The Bismuth Tetramer Bi4: the n3 Key to Experimental Observation, 2018, Physical Chemistry Chemical Physics, 20, 21881-9.
Abbott, Hoobler, and Schaefer, Relatives of cyanomethylene: Replacement of the Divalent Carbon by B-, N+, Al-, Si, P+, Ga-, Ge, and As+, 2019, Phys. Chem. Chem. Phys., 21, 26438-52.
Wolf, Hoobler, Turney, and Schaefer, Important Features of the Potential Energy Surface of the MethylaminePlus O(1D) Reaction, 2019, Phys. Chem. Chem. Phys., 21, 24194-205.
Hoobler, Villegas–Escobar, Turney, Torro–Labbé, and Schaefer, Substituent Effects on Aluminyl Anions and Derived Systems: A High-Level Theory, 2021, J. Phys. Chem. A, 125, 10379-91.
Get to know your professor
Q. If you could compete in an olympic sport, what would it be and why?
A. Baseball. First of all, it should never have been removed from the Olympics. Second, it would be amazing to see the best players in the world do their thing first hand. Third, to have a real jersey with my last name on it would awesome.
Q. Favorite movie?
A. Lord of the Rings: Return of the King
Q. Favorite local restaurant?
A. Thai Garden in Fort Oglethorpe
Q. Favorite food?
A. Pad Thai: Medium-High spice
Q. What is one thing that instantly makes your day better?
A. A student coming into my office and asking a good question.
Q. If you could teach any other major, what would it be?
A. Music, Vocal Ensembles
Q. Personal Interests/Hobbies
A. St. Louis Cardinals fanhood, disc golf, gardening, and listening to audiobooks