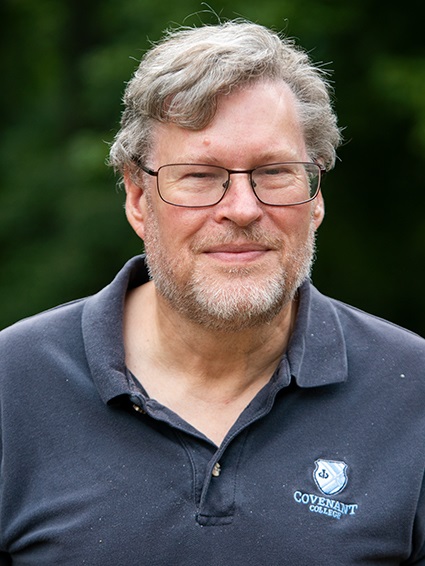 John Hunt
Professor of Computer Science
Department Chair
Computer Science
ON FACULTY SINCE 2006
The major limitation for a quality computer science program now is the faculty available to teach. It has become apparent that teaching computer science is not well-suited to large classes. Many experts suggest that hands-on apprenticeships and one-on-one mentoring are more appropriate approaches to learning to program.
The small class sizes and extensive student-faculty involvement at Covenant College provide a superior environment for learning computer science.
In addition, most programs in scientific and technical disciplines pretend that skills and information can be taught in a value-free manner. This is never the case. In fact, the assertion that some field of human endeavor can be held apart from and exist independently of God is a profound moral choice, regardless of the denials of those claiming moral neutrality.
At Covenant, our computer science students receive a thorough grounding in Christian teaching and worldview through Covenant's in-depth core curriculum. In addition, the relationship between computer science and Christianity is examined throughout the computer science curriculum.
Education
PhD, Computer Science, Clemson University, 2006

MS, Computer Science, Johns Hopkins University, 1991

BS, Computer Science, University of Maryland, 1986

BA, Political Science, George Washington University, 1981
Interests / Specialization
Selected Professional Work
John M Hunt "Layers: The Basic Network Handbook" ISBN: 9798370026072, Independently published,December 16, 2022

John M. Hunt "Guest Post: Thoughts on Academic Titles" Blog Post: Christian Scholars Review Animated Learning Blog, January 20, 2021

John M. Hunt "Book Review: Everybody Lies: Big Data, New Data, and What the Internet Can Tell Us about Who We Really Are" by Seth Stephens-Davidowitz. Perspectives on Science and Christian Faith, Journal of the American Scientific Affiliation, vol. 71, no. 2, June 2019, pp. 134-135

John M. Hunt "The Ethical Dimension of Big Data" Executive Ethics II: Ethical Dilemmas and Challenges for the C Suite. Ed. Ronald R. Sims and Scott A. Quatro, Information Age Publishing, Charlotte, NC, 2016.

John M. Hunt "Python in CS1 - NOT" CCSC Southeast Conference 2015, Salem, VA, USA, November 6-7, 2015.

Get to know your professor
Q. Favorite movie?
A.Casablanca
Q. Favorite local restaurant?
A. Boccaccia
Q. Favorite food?
A. Fresh Pasta
Q. What is one thing that instantly makes your day better?
A. My dog
If you could teach any other major, what would it be?
A. History
Q. Personal Interests/Hobbies
A. Model railroading