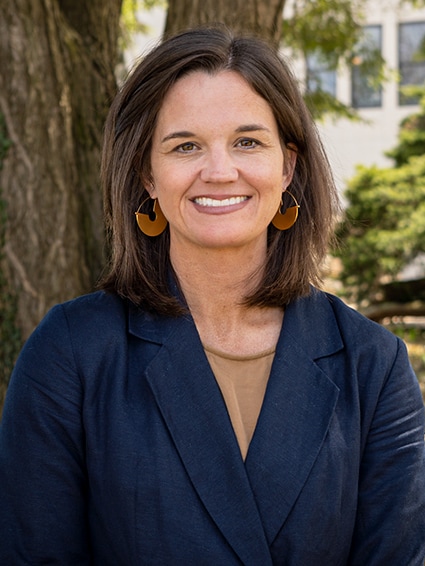 Lindsey Fain
Associate Dean of the Graduate School of Education and Certification Official
Education
On Faculty Since 2018
Acknowledging Christ pre-eminent as creator of all things, redeemer of people fallen in sin, as the author of all truth, and as sovereign ruler over all of life, the college strives to produce a life-long love of learning and compel students to implement that knowledge in constructive and redeeming ways. These central realities are the fundamental points of the Biblical compass. Indeed, these truths cultivate a change in the way that one works with people, treats them, and the awareness that the essential purpose is to serve them. While Covenant is focused on academics, students are also provided with a holistic education from a biblical perspective that is spiritually nourishing and academically challenging that equips students with skills and experiences they need to lead successful lives and careers. Additionally, Covenant helps students identify their callings as they pursue their passions and use their God given talents. For most Christians, our callings center around work...and work is an exceptional way to glorify the Lord and implement those talents.
Education
PhD Columbia International University
MEd Covenant College
BA Covenant College
Interests / Specialization
Educational Leadership
Foundations of Education
Teacher to Student Rapport
Selected Professional Work
"Fostering teacher-student rapport: Teachers' perceptions of most effective practices" ACSI Research in Brief Journal, Spring 2023
Get to know your professor
Q. If you could compete in an olympic sport, what would it be and why?
A. Soccer because I have an innate love for the sport and even played for the Lady Scots from 2001-2005 :)
Q. Favorite movie?
A. The Natural
Q. Favorite local restaurant?
A. State of Confusion or ll Primo
Q. Favorite food?
A. Filet Mignon
Q. What is one thing that instantly makes your day better?
A. Exercise or a run and coffee
Q. If you could teach any other major, what would it be?
A. Sports Management and Coaching
Q. Personal Interests/Hobbies
A. Running, Crossfit, reading, trips to the beach, watching (taxiing) her kids in their activities and sports, and spending quality time outdoors with family and friends.