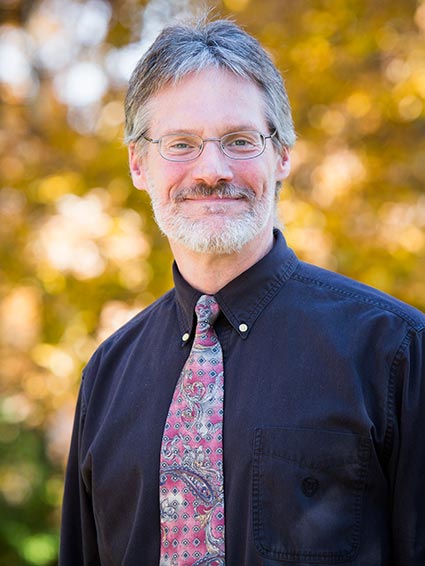 William Tate
Professor of English
Dean of Arts and Letters
English
On faculty since 2007
Education
PhD, English Renaissance Literature, University of North Carolina at Chapel Hill, 1996
MA, English Literature, Duke University, 1986
MA, Bible, Bob Jones University, 1984
BA, Bible, Bob Jones University, 1982
Professional Interests
Because everything is related to everything else, I'm interested in everything. I'm especially interested in the ways that theology, philosophy, and literature form and transform cultures. I love the literature of the English Renaissance (especially the works of Spenser, Sidney, Shakespeare, Donne, and Herbert). I'm also strongly interested in Modern and Contemporary literature (with particular affection for the poetry of Robert Frost, Wallace Stevens, Marianne Moore, and Richard Wilbur, and for the prose of Wendell Berry, Frederick Buechner, and Marilynne Robinson). I'm especially intrigued by authors' use of metaphor and fiction to convey truth and thereby give shape to the world.
Favorite theologians include Karl Barth, Herman Bavinck, G. C. Berkouwer, John Calvin, Colin Gunton, and Lesslie Newbigin. Favorite philosophers include Hans-Georg Gadamer, Paul Helm, Alvin Plantinga, Paul Ricoeur, Jean-Luc Marion and Nicholas Wolterstorff; I'm still trying to figure out what I think about Martin Heidegger. I look to these writers for help in my effort to understand the world as well as how the invented worlds of literature relate to the actual world.
Personal Interests
I'm married to Patty, who directs the Math Center at Covenant.
Patty and I both enjoy pottery, though we haven't done much to build our collection in recent years. When I'm not too busy, I enjoy cooking.
As often as I can, I walk the trails on Lookout Mountain.
Professional Membership
Conference on Christianity and Literature
Selected Publications
"Bell Speech in Doomsday Book," chapter for Doomsday Every Day: Connie Willis's Science Fiction (Routledge, forthcoming).
"Richard Wilbur's Right Listening." Pro Rege 50.3 (March 2022).
"A Rite of Finitude: Richard Wilbur's Hermeneutic Ontology," Texas Studies in Literature and Language 64.1 (Spring 2022): 89-113.
"Converting the Gaze: From Gazing to Seeing in Richard Wilbur's 'The Eye,'" Christian Scholar's Review 51.2 (Winter 2022): 153-170.
"Labor of Love: Richard Wilbur's 'A Plain Song for Comadre,'" Scintilla 24 (2021): 71-80.
"Richard Wilbur's Book of Nature," Pro Rege 49.3 (March, 2021): 41-50.
"To Mean What Once We Said: Richard Wilbur Celebrates the Fourth of July," Christianity and Literature 69.4 (December, 2020): 549-567
"'Stalled by our Lassitude': Time and Attunement in Wilbur's Lying," Renascence 72.4 (Fall 2020): 231-248
"Richard Purdy Wilbur (1921-2017)." Twentieth-Century and Contemporary American Literature in Context. Ed. Linda De Roche. Santa Barbara: ABC-CLIO.
"'A Set Mind, Blessed by Doubt': Phenomenologies of Misperception in Frost, Wilbur, Heidegger, and Merleau-Ponty." Christian Scholar's Review 48.4 (Summer 2019): 351-370.
"'Shades of Bliss': Imagining Heaven in Wallace Stevens and Richard Wilbur." Christianity and Literature 68.2 (March 2019): 252-271.
"'Where Eyes Become the Sunlight': Roman Fountains in Martin Heidegger and Richard Wilbur." Janus Head: Journal of Interdisciplinary Studies in Literature, Continental Philosophy, Phenomenological Psychology, and the Arts 15:2 (Summer/Fall 2016): 137-158.
"'How the Sun Came Shining': Stevens and Wilbur on Waking Up." Logos: A Journal of Catholic Thought and Culture 19:3 (Summer 2016): 87-112.
"Avian Diptych: Richard Wilbur's Flights of Imagination," Christianity and Literature 65:3 (2016): 310-326.
"Karl Barth's Secular Parables." CASE: The Quarterly Magazine of the Centre for Apologetic Scholarship and Education 30 (2012): 22-26. Rpt. in Journal for the Sociological Integration of Religion and Society 2.2 (October 2012): 23-29.
"Something in Us Like the Catbird's Song." Logos: A Journal of Catholic Thought and Culture 13:3 (Summer 2010): 105-123.