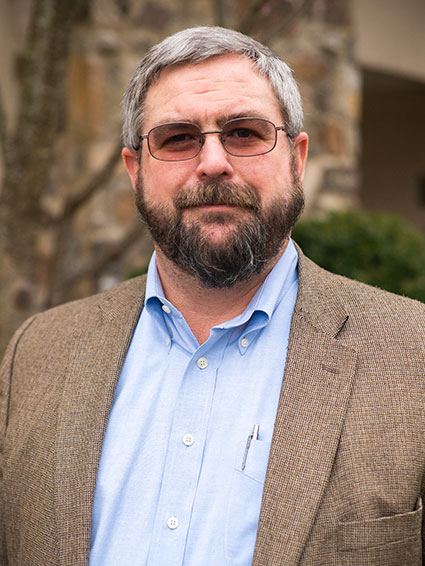 Richard Follett
Professor of History
History & Politics
On Faculty Since 2001
Our program provides opportunity not to only learn about history in both broad and detailed perspectives, but to develop research and writing skills that further historical research and impacts the broader community. Such skills are easily applied in areas of public service and business, as well as in educational settings. Students should consider Covenant because the faculty are dedicated to teaching well, serving as mentors, and edifying our students' spiritual as well as intellectual gifts and capabilities.
Education
PhD, Washington University, 1996
MA, Washington University, 1992
BA, Arizona State University, 1986
Interests / Specialization
Modern British and European history, teaching European survey courses, upper division courses in British, German and Russian history, modern political theory, and seminars on World War I and Europe since 1945. Areas of special interest include English legal history, religion and eighteenth and nineteenth-century British politics, and European history and integration since 1945. Current work includes the life and times of British law reformer and anti-slavery activist Sir Thomas Fowell Buxton (1786-1845), who succeeded William Wilberforce as leader of the abolitionist movement in the 1820s. I also serve as the college's pre-law advisor.
Selected Professional Work
"Thomas Fowell Buxton: Quaker Brewer," in Invincible Determination: The Legacy of Thomas Fowell Buxton (Weymouth: The Thomas Fowell Buxton Society, 2022), 9-18.
Review of James Heartfield, The British and Foreign Anti-Slavery Society, 1838–1956 (New York: Oxford University Press, 2016). In History: Reviews of New Books, vol. 46, no. 2 (January 2018), 55-56.
"From Quaker Brewer to Evangelical Law Reformer: Thomas Fowell Buxton in the 1810s," Western Conference on British Studies, October 8, 2016, in Tempe, Arizona.
"Wilberforce to Buxton: Generational Change in Antislavery Leadership in the 1820s," Presented to the Consortium on the Revolutionary Era, 1750-1850, Savannah, Georgia, February 20, 2009.
Evangelicalism, Penal Theory and the Politics of Criminal Law Reform in England, 1808-30. London: Palgrave Press. 2001.
Get to know your professor
Q. Favorite movie?
A. The Fifth Element
Q. Favorite local restaurant?
A. El Matador Restaurant in Fort Oglethorpe, GA
Q. Favorite food?
A. Green chile chicken enchiladas
Q. What is one thing that instantly makes your day better?
A. Coffee