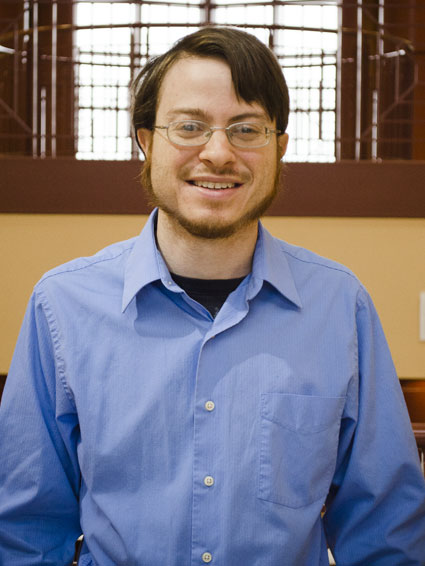 Chris Cyr
Associate Professor of Mathematics
Department Chair
Mathematics
On Faculty Since 2017
Our program is academically rigorous, so students majoring in math will gain a depth of knowledge and a detailed understanding of many different areas of mathematics. Additionally, students get a lot of personalized attention since the upper-division classes are so small (typically 3-5 students). Students also gain the ability to communicate about math both orally and in writing through presentations and written assignments across the curriculum. Finally, a unique aspect of Covenant's math program is the concern to relate the course content to our Christian faith and to understand how our faith convictions inform and influence our perception and practice of mathematics.
Education
PhD, University of Florida
MS, North Carolina State University
BS (Math) & BA (Music), Mercer University
Interests / Specialization
My dissertation was in the area of finite group theory, which is contained within the larger field of abstract algebra. However, I teach a wide variety of math courses at Covenant and enjoy learning about many different branches of the discipline. As a musician, I'm also intrigued by the connections between mathematics and music.
Selected Professional Work
"Partnered Problem-Solving as a Gateway to Active Learning," presented at the ACMS Conference at Azusa Pacific University in Azusa, CA (June 2, 2022).
"Nilpotent Subgroups and Semipermutability in Some Simple Groups," presented at the Southern Regional Algebra Conference at the University of Southern Alabama in Mobile, AL (March 17, 2017)
"Nilpotent Subgroups and Semipermutability in the Symmetric Group," presented at the Zassenhaus Group Theory Conference at Adelphi University in Garden City, NY (June 11, 2016)
Get to know your professor
Q. Favorite food?
A. I love pretty much any type of Italian food: spaghetti, lasagna, fettuccini alfredo, chicken parmesan, etc.
Q. What is one thing that instantly makes your day better?
A. Helping a student understand a mathematical concept better. It might sound like a canned answer, but seeing the "light bulb" of understanding that goes off when students really *get* something, whether that's in class or during office hours, is truly the best part of my job. It gives me great satisfaction to share the joy I find in mathematics with others.
Q. If you could teach any other major, what would it be?
A. I suppose it would be music - I actually got a second undergraduate degree in music. I loved taking music theory and form and analysis in college, because I got to apply my analytical skills to understand musical pieces in a deeper way.
Q. Personal Interests/Hobbies
A. I have been a musician for most of my life - I started learning piano at 6 and added the alto saxophone at 12 and the pipe organ at 16. I sometimes bring my saxophone to class to play something for students at the end of the semester. Like most mathematicians, I also enjoy solving all sorts of puzzles. I avidly follow college football and basketball and cheer for the Florida Gators, which has been my favorite team since childhood.