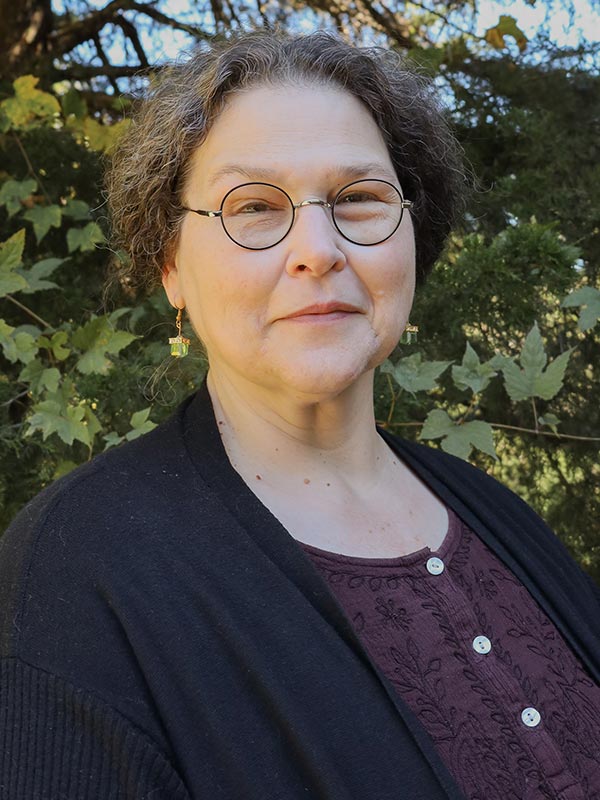 Camille Hallstrom
Professor of Theatre
Theatre
On Faculty Since 2000
We pray that the Lord will raise up missionaries to the professional theatre and film worlds. This requires both excellence in dramatic arts skills and crafts, and especially love for the Lord and serious discipleship.
At Covenant we seek to help students grow in their love for the needy "people group" of the dramatic arts mission field, increase in trust of and service orientation to the Lord and his call on our individual and corporate lives, and to experience the broad range of dramatic arts practices -- writing, acting, designing, building, etc. -- ultimately growing in advanced ability in one or more of those areas.
Jesus died to save human beings, yes -- but also to redeem every structure of his creation (Col. 1:19-20), the dramatic arts included. We want to serve Jesus by proclaiming his kingdom over our individual hearts, minds and bodies as we serve him and our neighbors via the beauty and power of the dramatic arts.
Education
MFA, Acting, University of Pittsburgh
MA, Theological Studies, Covenant Theological Seminary
Certificate, Acting Shakespeare, Royal Academy of Dramatic Art, London U.K.
BA, Indiana University of Pennsylvania
Interests / Specialization
Integration of Christian thought with the multi-faceted discipline of dramatic art. How do orthodoxy and orthopraxy shape our interactions with audience members, fellow theatre artists and the broader dramatic profession? How does it help us to show forth truth, goodness and beauty via incarnated words, embodied stories, visual and auditory art and ensemble art making?
I also serve most summers doing missionary work for the (Anglican) Churches of Uganda and South Sudan, training clergy, doing prison ministry and Christian broadcasting, among other things.
Selected Professional Work
Yotkhee, recorded audio book version of the three-volume novel by Andrei Martinov, translated from the Russian by Olga Lukmanova, Summer 2021
"'A Theatre to the Cosmos'; Dramatic Incarnation for a Postmodern World," in Firstfruits of a New Creation: Essays Honoring Jerram Barrs, edited by Doug Serven, White Blackbird Books, 2019
"Dignity" (previously "The Imago Dei Incarnates Words; Dramatic Art and the Theology of the Body") in It Was Good: Performing Arts to the Glory of God, edited by Ned Bustard, Square Halo Books, 2018
"The Cultural Mandate and the Great Commission" in Joyfully Spreading the Word: Sharing the Good News of Jesus, edited by Kathleen Nielson and Gloria Furman, Crossway Books, 2018
"Theatre as Incarnation; Towards a Vision for Redemption of Dramatic Art," in Presbyterion, Journal of Covenant Theological Seminary, Fall 2001
Get to know your professor
Q. Favorite movie?
A. This is changing all the time, but, for now let's say it is a three-way tie between "The Passion of Joan of Arc," "Of Gods and Men," and "Babette's Feast."
Q. What is one thing that instantly makes your day better?
A. A good class discussion or art collaboration with my students.
Q. If you could teach any other major, what would it be?
A. Theological Studies
Q. Personal Interests/Hobbies
A. The Kuku ethnic group of Southern Sudan & Uganda