The Blue Tribune is your place to learn about all things Covenant and keep up with stories from campus and beyond. By guiding you through elements of The Covenant Ascent, we'll help you picture yourself making your Ascent.
Choosing to Teach at Covenant: Professors' Stories
By Marketing & Communications
Jan 9, 2023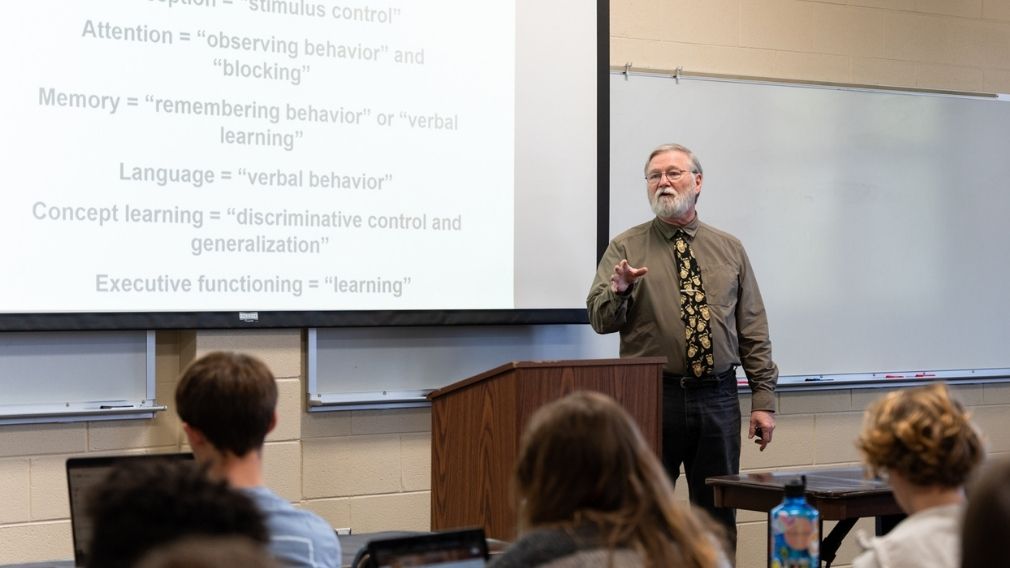 Many Covenant professors could be teaching at much larger schools with more prestigious reputations, but you'll never hear them brag about that. However, the rest of the college is proud of their academic accomplishments and excellent teaching, so we're happy to brag on them any chance we have.
90% of our professors earned their doctorates or terminal degrees (i.e. the highest degree possible in their field). Our culture may pit prestigious education and Christianity against each other, but our professors have earned degrees from schools like Yale, Wash U, Duke, UC Berkeley, Wake Forest, and Notre Dame, yet they remain committed to Christian education and the inerrancy of the Bible.
Some of our professors left positions at other schools so that they could come teach at Covenant. Why would they choose to teach at a school that will never have the name recognition of the ivy leagues or state universities? It's because they deeply believe in the value of a Covenant education, they enjoy building relationships with Covenant students, and they know that God has called them here to Lookout Mountain.
Dr. Brian Fikkert
Professor of Economics and Community Development, President of the Chalmers Center
"I taught at the University of Maryland--College Park. I loved it there for many reasons, but I came to Covenant to work in the space of economics and poverty alleviation from a distinctly Christian perspective. Covenant has been more than I could have ever imagined. My colleagues and students have taught me so much about the nature of human beings, the complexity of poverty, and the comprehensive implications of Christ's death and resurrection. In retrospect, there is only one place where this could have happened: Covenant College."
Dr. David Washburn
Professor of Psychology
"I was blessed to teach for 30 years at Georgia State University, a research university with more than 2,000 psychology majors and 100 psychology doctoral students, but where I only really knew about 3 or 4 students each commencement. At Covenant, faculty members become part of students' lives as they grow as scholars and believers. Just as faculty members invested personally in me and my wife when we were Covenant students, we now have the opportunity to invest in the lives of current Covenant students."
Dr. John Rush
Assistant Professor of Economics
"I taught at Marlboro College, but I came to Covenant because I wanted to be part of a department that provided students a rigorous education in economic theory and data analysis while training them to pursue all things in the light and power of the gospel of Jesus Christ."
Dr. Curt Stern
Professor of Engineering, Director of the Dual Degree Engineering Program
"I left Virginia Tech to come teach at Covenant because I witnessed the impact Covenant had on my son, and I wanted to be part of an engineering program in an explicitly Christian setting."
Dr. Scott Quatro
Professor of Management, Director of the Dual Degree Engineering Program
"Here at Covenant College I have colleagues that could teach at many different places, and it's true of myself, but I'll say this, that for all of us we are here because of the unique mission of the college. In ALL things, Christ preeminent. It's a very compelling thing for me and was a big driver of why I wanted to join the faculty at Covenant. Closely related to that is the fact that the college is deeply committed to both what I call reformation and revival. Reformation - deeply held theological truths - and revival - a spiritually alive place. I love that combination of deep foundational commitment and ongoing spiritual energy. That combination is what compelled me to join the community."