The Blue Tribune is your place to learn about all things Covenant and keep up with stories from campus and beyond. By guiding you through the different aspects of Covenant, we'll help you decide if you want to pursue your very own Covenant experience.
A Castle, a Hotel, and Covenant College
By Lydia Berglar '18
Feb 5, 2021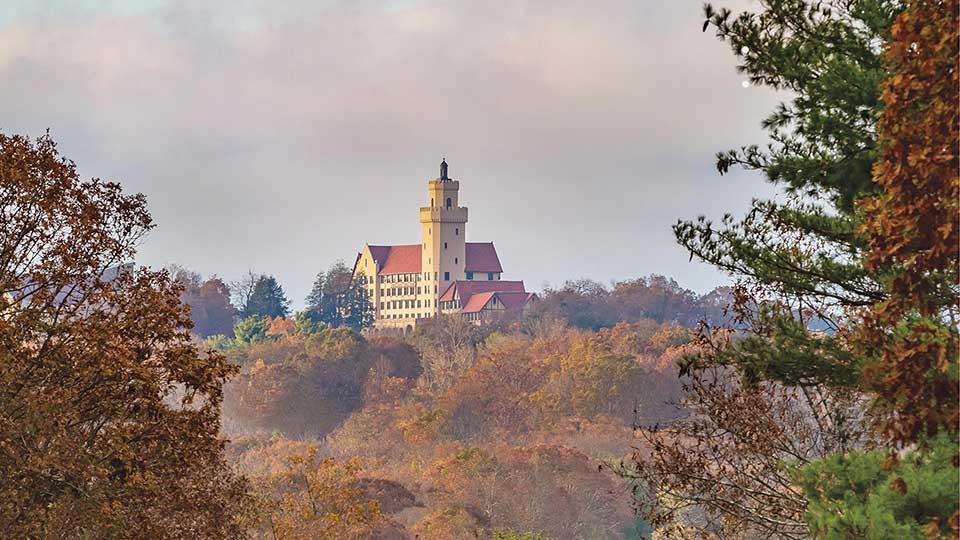 As you drive east on I-24, winding between the mountains of Tennessee, passing over the Tennessee River, you come around a curve and look up to see a castle on a ridge.
Wait.
A castle? In eastern Tennessee?
It's Carter Hall - the flagship building of Covenant College. Once the grand Lookout Mountain Hotel, the castle-like building now houses nearly 300 college students, administrative offices, and the Great Hall (home of daily food and fellowship.)
History of Carter Hall
Filled with history and tragedy, old Carter Hall found redemption when Covenant College moved in. The luxury resort opened in 1928, welcoming wealthy visitors to Lookout Mountain, Dade County, and Chattanooga. However, after struggling through the Great Depression and decades of new owners, reopenings, and failed business ventures, the castle's time as a resort ended forever in the early 60s. Then, Covenant College entered the story.
Founded in 1955, Covenant moved from Pasadena, CA to St. Louis, MO (where we rubbed elbows with Covenant Seminary), before making our permanent home on Lookout Mountain, GA. The Lord provided the run-down Georgia hotel in 1964 so we could begin making our mountaintop home.
About Covenant College
A Christian liberal arts college, Covenant trains students to explore and express the preeminence of Jesus Christ in all things. Covenant's Reformed theology and worldview comes from its foundation as the college of the Presbyterian Church in America. Committed to the Bible as the inerrant Word of God, Covenant equips students to faithfully steward their God-given abilities throughout their life and career.
Roughly 40 states and 20 countries are represented in our student body. With 27 majors, (ranging from art and theatre, to biblical & theological studies and philosophy, to chemistry and pre-engineering), students of every interest find their callings at Covenant.
A Vision Fulfilled
Paul B. Carter - the businessman whose dream spurred the Lookout Mountain Hotel venture - watched his resort struggle over the decades, and his dream that people from all over the United States would visit his hotel and even make their home in Chattanooga seemed to dissipate. However, today his vision is fulfilled in a way he never could have imagined: Students from all over the world come to Covenant College, many living in Mr. Carter's eponymous building, and numerous Covenant College alumni make their homes in Chattanooga and the surrounding areas.
Hear Allen Duble, Covenant's first VP of development, share about his relationship with Paul Carter. Both Paul and Allen have since passed away, but Covenant would not be the place it is today without them.
Connect with us
Loading...