The Blue Tribune is your place to learn about all things Covenant and keep up with stories from campus and beyond. By guiding you through the different aspects of Covenant, we'll help you decide if you want to pursue your very own Covenant experience.
Faithful in Exile
By President J. Derek Halvorson
Feb 2, 2021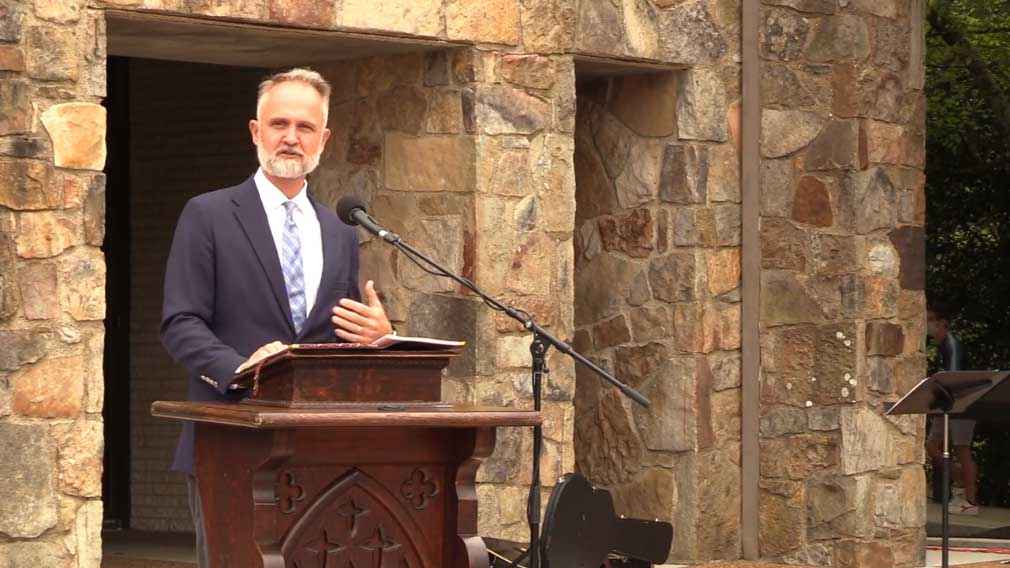 The veneer of Christian culture in our country is cracking, if not completely disintegrated. As the president of a college that remains committed to biblical positions on matters like marriage and human sexuality, I am acutely aware that American culture is, at best, indifferent to Christianity and more often—and worse—hostile to the Christian faith. Despite the profound influence that Christian men and women have had in the history of our nation, we find ourselves exiles in a land that worships other gods—gods of self-determination, greed, authenticity, and pleasure. Reflecting on the state of Christianity in America today, I can't help but think of the situation Daniel found himself in as an exile in Babylon.
Reading Daniel's account of the exile can provide a helpful guide to answering two important questions: Where is God? And how do we live the Christian life here? These two questions are pivotal if we are to live the Christian life in an increasingly post-Christian culture. The order of the questions is also essential. We cannot adequately explore how to faithfully live the Christian life in exile until we first answer: where is God?
Where was God in Babylon?
Where was God in Babylon? Daniel leaves us with no doubt. In Daniel chapter 1, he continually reminds readers that the Lord gave them into the hands of Babylon, that God gave him favor with leaders in Babylon, and that God gave Daniel and his friends the ability to learn and gain wisdom and skill. Despite all of the evidence that God had abandoned his people, despite the horrific catastrophe of subjugation and deportation, Daniel remains confident that God is orchestrating it all. Reading Daniel's account today, we can see a foreshadowing of the cross, where God willed the death of His own Son on our behalf. This knowledge allows us to confidently answer the first question, "Where is God?" As awful as it may seem, God is here and even the most powerful forces on earth cannot thwart His purpose.
How Do We Live the Christian Life Now?
With this in mind, how do we live the Christian life here, where it might seem at times like God has lost and we are on "the wrong side of history"? Daniel's account chronicles a familiar strategy: the Babylonians targeted Judah's young, intelligent, skilled elites. They provided them with education and gave them new names and identities, which often included names of Babylonian gods. How did Daniel remain faithful to God in the midst of a calculated and aggressive re-education and assimilation campaign? Daniel 1:8-16 and 19-20 help answer this question. Daniel resolved to not defile himself, down to the "little things" like eating food sacrificed to idols. Even in secret, Daniel remained faithful, rejecting the lure of the comfortable Babylonian life. In humble confidence, Daniel maintained his distinctive and peculiar lifestyle as a member of God's household.
This example challenges us to ask ourselves a few difficult questions: How peculiar are we? How set apart? Do we have the courage to be different, even in small things—even in secret? Do we live lives of humble confidence? If we're honest, we may not like our answers to all of these questions. But we can look to the testimony of Daniel for encouragement. We can remember the humiliation of God's own Son that has made a way for us to sit down at a banquet table that will make Nebuchadnezzar's royal table look like a pile of crumbs on the floor. We can cling to the good news that even though the world may seem like it is coming unglued, God is not far off. He is here and He is in control.
We do not need to despair. Though nations rage, though kingdoms and our country totter, the Lord of hosts is with us and the God of Jacob is our fortress. In light of what He has done for us, in light of the humiliation He willed upon His own Son for our sake, and in light of God's faithfulness to Daniel in the midst of exile, let us seek to be a peculiar and faithful people. Let us be a church that is committed to serving the land where we have been exiled.
Originally published in View magazine, Autumn 2018
Connect with us
Loading...