Computer Science
Increasingly, the world in which we live is molded by computing. How it molds it–for good or for bad–is the result of a million individual decisions made each day by people in the computing industry. Covenant's computer science department teaches students how to be salt and light in this process by providing quality, fundamental instruction.
On this page Overview Graduate Outcomes Programs / Features Faculty Contact
Program Overview
At Covenant, we provide the computer science major with a core curriculum that corresponds to recommendations made by the Association for Computing Machinery (ACM) and the Institute of Electrical and Electronics Engineers (IEEE).
Computer science education has always been challenging given the ever-changing landscape of computer technology and the increasing integration of computing with other disciplines. To address these rapid changes, we focus on the fundamentals as well as the environment for learning, offering extensive faculty involvement and a formal lab with additional graded opportunities for students to practice coding.
Covenant computer science students receive a thorough grounding in Christian teaching and worldview that examines the relationship between computer science and Christianity throughout the curriculum. Additionally, our graduates have an excellent placement record. Students from our department are the most requested of any major by employers contacting Covenant's Center for Calling & Careers.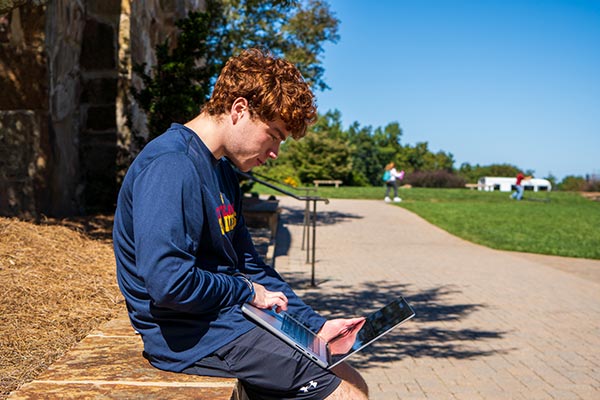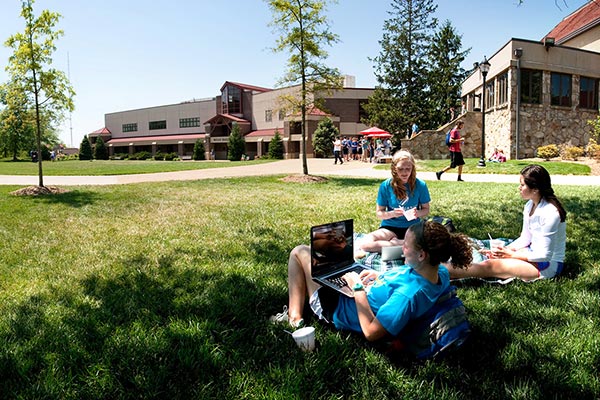 Graduate Outcomes
Our graduates have been very successful at obtaining internships, launching careers as software developers, and working for companies such as:
Lockheed Martin
Tennessee Valley Authority
BlueCross BlueShield of Tennessee
Mission to the World
Northrop Grumman Corporation
Lamp Post Group
LivePerson
Encompass Digital Media, Inc.
QuickCue
Rent the Runway
Amazon
Fidelity Investments
CFA Corporation
Our alumni have also continued study at graduate schools including:
Carnegie-Mellon University
University of Tennessee at Chattanooga
University of Nebraska
University of Texas, Austin
University of Alabama at Birmingham
The church needs people who can use and work with computing technology. Computing technology offers tremendous ways to make life better for people.
John Hunt
Professor of Computer Science
Programs & Features
Covenant College's Department of Computer Science major is the broadest and most established of the computing disciplines. Our course work is based on the ACM / IEEE CC 2013 Curriculum Guidelines for Undergraduate Degree Programs in Computer Science. The program requires 40 credit hours of COS courses as well as a supporting course in quantitative methods for a total of 44 credit hours.
Students interested in teaching computer science for grades 6-12 should complete a BA degree with a major in computer science and then enroll in the one-year Master of Arts in Teaching (MAT) at Covenant College. It is recommended that the Education Minor be completed during the undergraduate degree.
Three of the courses in the Education Minor, EDU 121 Introduction to Teaching, EDU 222 Educational Psychology, and EDU 361 Education of Exceptional Children, are required for admission to the MAT. For information, see Teacher Certification under the Education section of the catalog.
"Ethics & Virtual Reality"
"Violence in Video Games"
"Poverty Alleviation Through Online Collaboration"
"Spyware"
"Cyberterrorism"
COS 130 Computer Programming Methodology
COS 210 Discrete Structures in Computing
COS 230 Data Structures and Algorithms
COS 260 Ethical and Professional Issues in Computing
COS 326 Operating Systems
COS 440 Programming Languages
Our students have completed internships at a variety of companies including:
Tennessee Valley Authority
Paragon
BlueCross BlueShield
CFA Corporation
Northrop Grumman
NSA
Mission to the World
Lockheed Martin
Southern Champion Tray
LightSys
CGI
I3Harris
Ready to take the next step?
Thank you for your interest in Covenant! By filling out this form, we'll be able to connect you with the best information regarding your program of interest, as well as your Admissions Counselor.
Undergraduate Departments, Majors, Minors, Certificates, Concentrations, and Programs
Arts Administration
Entrepreneurship
Environmental Stewardship & Sustainability
Journalism and Society
Medical Ethics Consultation
Neuroscience
Teaching English to Speakers of Other Languages (TESOL)
Art, 2-D Concentration
Art, 3-D Concentration
Art, Art History Concentration
Art, Graphic Design Concentration
Art, Photography Concentration
Art minor
Art History minor
Biblical & Theological Studies
Biblical & Theological Studies, Missions Concentration
Biblical & Theological Studies minor
Biblical Languages minor
History of Christianity minor
Missions minor
Youth Ministry minor
Biology, Biomedical Concentration
Biology, Environmental Concentration
Biology, General
Biology, Health Professions Concentration
Biology minor
Business
Business, Accounting Concentration
Business, Finance Concentration
Business, Marketing Concentration
Sport Management
Business minor
Sport Management minor
Chemistry, Biochemistry Concentration
Chemistry, General
Biochemistry minor
Chemistry minor
Computer Science
Computer Science minor
Community Development
Economics
Community Development minor
Economics minor
Education Studies
Elementary Education (P-5)
Secondary Education Certifications through MAT program
Education minor
Natural Science, Pre-Engineering Studies Concentration
English
English, Writing Concentration
English minor
Writing minor
History
History, Art History Concentration
Political Science
International Studies
History minor
Political Science minor
Interdisciplinary Studies with Concentrations
Mathematics
Mathematics minor
Music, Church Music Concentration
Music, Creative Studies Concentration
Music, General Music Concentration
Music, Instrumental Performance Concentration
Music, Music Education (Pre-MAT) Concentration
Music, Organ Performance Concentration
Music, Piano Pedagogy Concentration
Music, Piano Performance Concentration
Music, Vocal Performance Concentration
Music minor
Philosophy
Philosophy minor
Pre-Law Studies
Pre-Medical Studies
Pre-Nursing Studies
Pre-Physical Therapy Studies
Psychology
Psychology minor
Sociology
Sociology, Family Studies & Social Work Concentration
Sociology minor
French
Spanish
French minor
Spanish minor