Business
Business is an essential part of the world. It runs our economy and connects the world through trade causing the global market to thrive. In our department, we prepare students to make the world more accessible and prosperous by loving God and neighbor through business—which is a remarkable calling.
On this page Overview Graduate Outcomes Programs / Features Faculty Contact
Program Overview
Business is part of God's good creation and impacts the world in significant ways. In short, people all over the world have their "daily bread" needs such as food, drink, work, clothing, and shelter met through business. In that sense, business is the engine of society and a major means by which God shows grace to His people. Given this fundamental reality, Covenant prepares students to pursue careers in enterprise with a Christian worldview and to be agents of prosperity, stewardship, and renewal in the business sphere of God's world.
The business major is primarily designed to prepare students for careers in the for-profit industry; however, some graduates have also pursued careers in non-profit organizations. Business majors may gain optional specialization by completing a concentration in accounting, finance, or marketing. Students with a major other than in business may minor in business.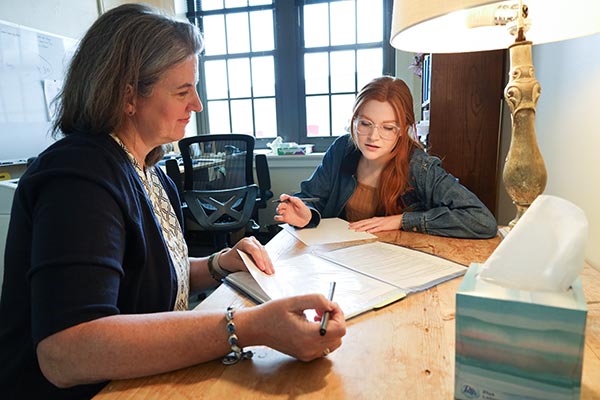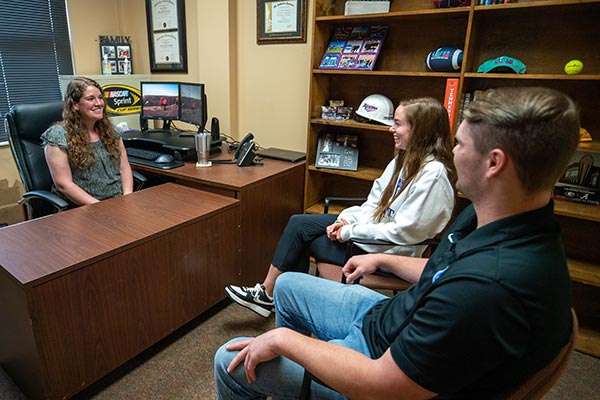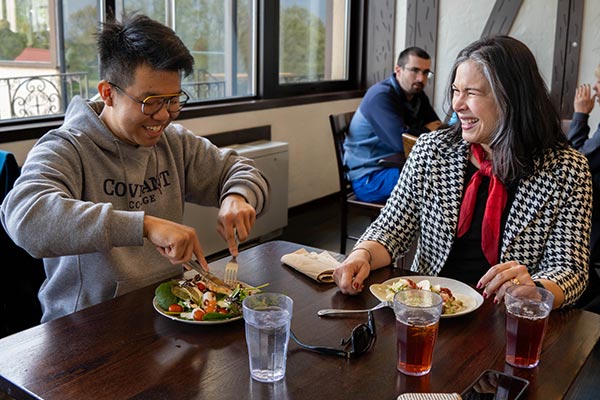 Graduate Outcomes
Our job placement and graduate school placement is outstanding with over 90% of our annual graduates placed into full-time business employment or full-time graduate studies within 3 months of graduation.
Recent Job Outcomes for Covenant Business Majors:
Ernst & Young
PricewaterhouseCooper
Chattem
Goldman Sachs
Bank of America
VaynerMedia
Unum
Kenco
BlueCross BlueShield
Tennessee Valley Authority
Johnson & Johnson
Accenture
Cigna
Recent Grad Schools for Business Alumni:
Vanderbilt University
Duke University
College of William & Mary
Johns Hopkins University
University of Virginia
University of Georgia
University of Southern California
University of North Carolina
I love the small faculty to student ratio! The professors at Covenant genuinely care about us as students, but they also want to get to know us. Many professors like to have classes over for a home-cooked meal or even go on a hike with students. It is very encouraging to see your professors on campus and they know your name.
Baylie Sims '22
Business & Community Development double major
Programs & Features
Our department offers a major in business as well as concentrations in accounting, finance, or marketing.
Accounting Concentration
Accounting benefits businesses and the surrounding communities. Students who choose the accounting concentration master the material, completing assignments that give them practice with the skills needed to become an accountant.
Finance Concentration
Finance is the study of the strategic management and allocation of financial capital as a means of prospering businesses. Students in this concentration are well prepared to pursue careers in corporate finance, commercial banking, investment banking, and more.
Marketing Concentration
The marketing concentration teaches students to find solutions to meet real-time needs, considering the current cultural moment while building a foundation of research techniques and insights into consumer motivation.
The sport management program combines a passion for sport with business fundamentals, allowing students to pursue careers in various segments of the sports industry, including recreational, collegiate, and professional sports.
Students in the entrepreneurship certificate program will consider problems and prototype potential solutions. They will navigate business model generation as they consider best practices, break-even points and financial projections, and gain experience writing a business plan.
An arts administration certificate helps graduates think critically and creatively when solving challenges facing arts organizations. They will gain applicable skills and real-world experience that translate to job opportunities across the world.
ACC 405 Principles of Taxation
BUS 350 Business Ethics Seminar
FIN 345 Corporate Financial Management
MKT 332 Consumer Behavior
SPM 345 Sales and Sponsorship in Sports
"Financial Leverage & the Use of Debt Financing"
"Marketing to the Generation of Echo Boomers"
"Corporate Theory & Social Responsibility"
"Generous Transparency: A Look at the Nonprofit Disclosure Discussion"
"The Importance of Food Culture: Sustainability in American Grocery Stores"
"The Importance of Diversity in Fortune 500 Leadership Ranks"
Some recent businesses where our students have completed internships:
FSG Bank
Tennessee Valley Authority
Ernst & Young
Conference of State Bank Supervisors
Merrill Lynch
Southern Champion Tray
Disney
Signal Energy
M&M Industries
Ready to take the next step?
Thank you for your interest in Covenant! By filling out this form, we'll be able to connect you with the best information regarding your program of interest, as well as your Admissions Counselor.
Undergraduate Departments, Majors, Minors, Certificates, Concentrations, and Programs
Arts Administration
Entrepreneurship
Environmental Stewardship & Sustainability
Journalism and Society
Medical Ethics Consultation
Neuroscience
Teaching English to Speakers of Other Languages (TESOL)
Art, 2-D Concentration
Art, 3-D Concentration
Art, Art History Concentration
Art, Graphic Design Concentration
Art, Photography Concentration
Art minor
Art History minor
Biblical & Theological Studies
Biblical & Theological Studies, Missions Concentration
Biblical & Theological Studies minor
Biblical Languages minor
History of Christianity minor
Missions minor
Youth Ministry minor
Biology, Biomedical Concentration
Biology, Environmental Concentration
Biology, General
Biology, Health Professions Concentration
Biology minor
Business
Business, Accounting Concentration
Business, Finance Concentration
Business, Marketing Concentration
Sport Management
Business minor
Sport Management minor
Chemistry, Biochemistry Concentration
Chemistry, General
Biochemistry minor
Chemistry minor
Computer Science
Computer Science minor
Community Development
Economics
Community Development minor
Economics minor
Education Studies
Elementary Education (P-5)
Secondary Education Certifications through MAT program
Education minor
Natural Science, Pre-Engineering Studies Concentration
English
English, Writing Concentration
English minor
Writing minor
History
History, Art History Concentration
Political Science
International Studies
History minor
Political Science minor
Interdisciplinary Studies with Concentrations
Mathematics
Mathematics minor
Music, Church Music Concentration
Music, Creative Studies Concentration
Music, General Music Concentration
Music, Instrumental Performance Concentration
Music, Music Education (Pre-MAT) Concentration
Music, Organ Performance Concentration
Music, Piano Pedagogy Concentration
Music, Piano Performance Concentration
Music, Vocal Performance Concentration
Music minor
Philosophy
Philosophy minor
Pre-Law Studies
Pre-Medical Studies
Pre-Nursing Studies
Pre-Physical Therapy Studies
Psychology
Psychology minor
Sociology
Sociology, Family Studies & Social Work Concentration
Sociology minor
French
Spanish
French minor
Spanish minor