Sport Management
The sport management program combines a passion for sport with business fundamentals, allowing students to pursue careers in various segments of the sports industry, including recreational, collegiate, and professional sports. We place a unique focus on using careers to glorify God and keep Christ preeminent, making a positive impact on the sports industry and society as a whole.
On this page Overview Graduate Outcomes Programs / Features Faculty Contact
Program Overview
Students majoring or minoring in sport management will have several opportunities to gain real-world experience in the sport industry. Students in our program have worked events like Atlanta Falcons games, the SEC Men's Basketball Tournament, and the Chick-Fil-A Peach Bowl to name a few. Students may apply to work some of the largest sporting events in the country as well. Events we have worked include the Daytona 500, the NCAA Men's Final Four, the CFP National Championship, and the Super Bowl.
These practical learning experiences allow students to connect what they have learned in the classroom to an actual sport setting while also providing great networking opportunities and additions to their resume.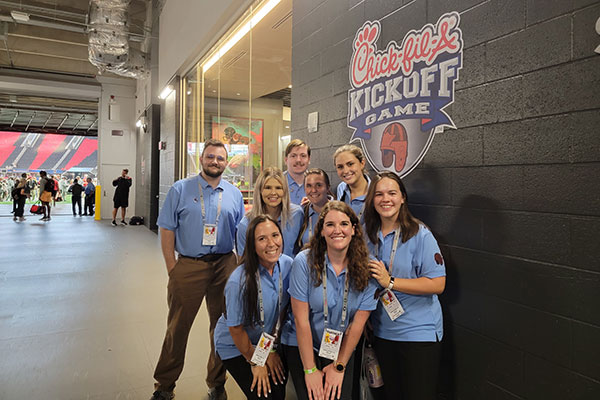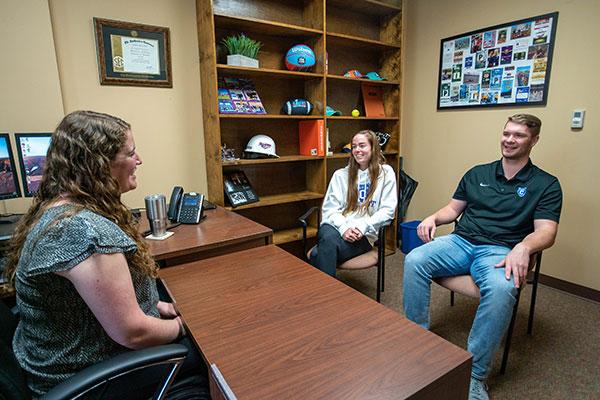 Graduate Outcomes
Our graduates pursue a variety of career paths in the sport industry across many different levels of sport from recreation and youth sport to collegiate athletics to professional sport. Some common careers include gameday or events coordinators, athletics director, sports marketing manager, facility operations manager, sport law/contracts agent, guest relations manager, and corporate partnership manager.
Senior Manager of Business Analytics, Oakland Athletics
Assistant Director of Compliance, Duke University Athletics
Operations Manager, St. Louis City Soccer Club
Partnership Activation Manager, Hall of Fame Resort & Entertainment
Compliance, NIL Coordinator, Robert Morris University
Coordinator of Performing Arts & Sports, National Federation of State High School Associations
Head Volleyball Coach, Oglethorpe University
Teaching sport management at Covenant College brings me great joy. I love the small community that allows me to get to know each student personally. That enables me to better assist each student to prepare for the specific aspect of sport management that they are interested in.
Michaela Kourmoulis
Assistant Professor of Sport Management
Programs & Features
The sport management major is housed in the business department where emphasis is placed on the development of a Christian worldview as it applies to the business sphere.
SPM 275 Athletics in Secondary & Higher Education
SPM 308 Marketing & Communication in Sport 3 hour(s).
SPM 318 Sport Facility & Event Management 3 hour(s).
SPM 345 Sales and Sponsorship in Sports
SPM 406 Sport Law & Ethics
"Name, Image, and Likeness: A Step Towards God's Image or Towards Corruption"
"Analysis of the business cost, economic impact, and Christian outlook on Major League Baseball and cutting affiliation with 42 Minor League Baseball organizations"
"Impact of Adults on the Mental Health of Youth Sport Participants"
"The Effect of VAR (Video Assistant Referee) on Soccer"
"The Impacts of the Coronavirus Pandemic on NCAA Athletics"
As part of the course curriculum, a variety of guest speakers are brought in from prominent leagues, brands, and teams in the sport industry to share about their experiences. Some of our guest speakers have represented the following:
Under Armor
The Chicago Bears
The University of Southern California Athletics Department
Atlanta Dream
Meet the Sport Management Faculty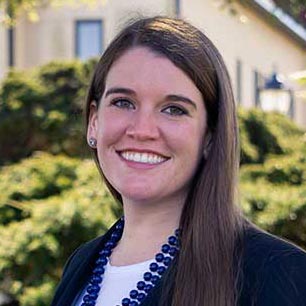 Michaela Kourmoulis Assistant Professor of Sport Management
Ready to take the next step?
Thank you for your interest in Covenant! By filling out this form, we'll be able to connect you with the best information regarding your program of interest, as well as your Admissions Counselor.
Undergraduate Departments, Majors, Minors, Certificates, Concentrations, and Programs
Arts Administration
Entrepreneurship
Environmental Stewardship & Sustainability
Journalism and Society
Medical Ethics Consultation
Neuroscience
Teaching English to Speakers of Other Languages (TESOL)
Art, 2-D Concentration
Art, 3-D Concentration
Art, Art History Concentration
Art, Graphic Design Concentration
Art, Photography Concentration
Art minor
Art History minor
Biblical & Theological Studies
Biblical & Theological Studies, Missions Concentration
Biblical & Theological Studies minor
Biblical Languages minor
History of Christianity minor
Missions minor
Youth Ministry minor
Biology, Biomedical Concentration
Biology, Environmental Concentration
Biology, General
Biology, Health Professions Concentration
Biology minor
Business
Business, Accounting Concentration
Business, Finance Concentration
Business, Marketing Concentration
Sport Management
Business minor
Sport Management minor
Chemistry, Biochemistry Concentration
Chemistry, General
Biochemistry minor
Chemistry minor
Computer Science
Computer Science minor
Community Development
Economics
Community Development minor
Economics minor
Education Studies
Elementary Education (P-5)
Secondary Education Certifications through MAT program
Education minor
Natural Science, Pre-Engineering Studies Concentration
English
English, Writing Concentration
English minor
Writing minor
History
History, Art History Concentration
Political Science
International Studies
History minor
Political Science minor
Interdisciplinary Studies with Concentrations
Mathematics
Mathematics minor
Music, Church Music Concentration
Music, Creative Studies Concentration
Music, General Music Concentration
Music, Instrumental Performance Concentration
Music, Music Education (Pre-MAT) Concentration
Music, Organ Performance Concentration
Music, Piano Pedagogy Concentration
Music, Piano Performance Concentration
Music, Vocal Performance Concentration
Music minor
Philosophy
Philosophy minor
Pre-Law Studies
Pre-Medical Studies
Pre-Nursing Studies
Pre-Physical Therapy Studies
Psychology
Psychology minor
Sociology
Sociology, Family Studies & Social Work Concentration
Sociology minor
French
Spanish
French minor
Spanish minor