Jay Lykins '73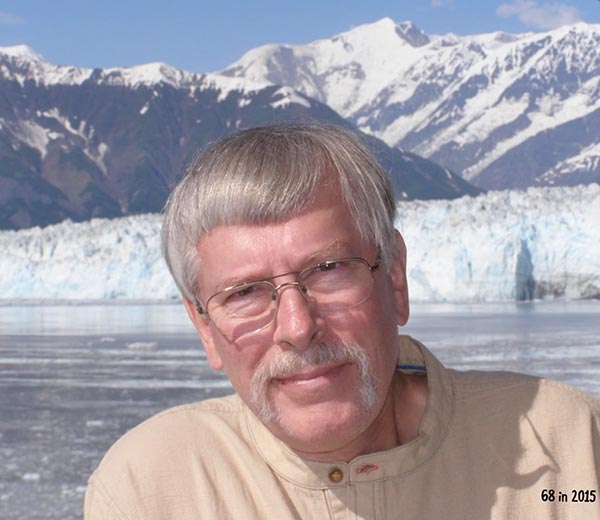 Looking Back on 50 Years- Jay Lykins and his Time at Covenant and Abroad
In the summer of 1971, Jay Lykins '73, and his wife, Lynn, found themselves standing in the "West Brow House" doorway, just five miles down the road from Covenant. Paint cans, brushes, and ladders lay scattered around as the two spruced up the house they would call home for the next year or so. However, this wasn't the beginning of Jay's Covenant journey.
Jay first stepped foot on Covenant's campus—not as a freshman straight out of high school, but as an opponent to the Covenant basketball team. He had never seen or heard of Covenant until his team bus pulled under the portico and followed the scent of steak and potatoes that led them into the great hall. Despite the wonderful meal, the food was not the most memorable part of the evening. Apart from basketball talent, passion for the game, or aggression on the court, what really stuck with Jay was the Covenant team's kindness. The players seemed interested in Jay and his team as individual people, not just opponents.
"Over the next several years, I always remembered that night at Covenant—the players, their friendliness, and the sense of purpose they seemed to have. But, I still did not know God, even though I know now that He knew me," said Jay.
Rather than transfer to Covenant, Jay enlisted in the U.S. Navy in the fall of 1966. Several months later, he deployed with thousands of others to Vietnam. But the Lord was still watching over Jay. Just a couple of weeks before one of the most extensive military campaigns of the war—the, "Tet Offensive,"—Jay's helicopter was shot down. After six months in the hospital, he was discharged in July 1968.
Nearly a year after his recovery, Jay met his future wife, Lynn, and his life was never the same. Lynn was already a Christian when the two met, but Jay still lacked a relationship with God. After just a few months of dating, Lynn told Jay she wouldn't go out with him anymore because they were unequally yoked. Jay had his hand on the doorknob, ready to leave. "Just before turning the knob, with my back to her, I asked her to tell me about this personal relationship with Jesus," said Jay. He accepted Christ that night and the two continued dating and were married on January 3, 1970.
A short while later, Jay held in his hand two college acceptance letters: one from SMU and the other from Covenant. He could attend SMU, a school that provided him with everything needed for a business degree, but, on the other hand, he could attend a small Christian college yet to be accredited. What would such a school do for him? After much thought and prayer, Jay felt that if God wanted him to be in business, he would let the Lord take care of his plans, and he would go and get a Christian education.
"I wasn't really sure what classes would be like at a Christian school—one long continuous Bible study? From the few students I'd meant early on—Harry 'Ike' Reeder, Rob Rayburn, Jeff Talley—I gathered that most went on to seminary. I knew that was not for me. Perhaps the mission field? That too, required seminary. So, why was I here? What did God want of me? Surely it was more than just day-long Bible studies."
In the summer of 1971, Jay and Lynn arrived on campus, and their self-renovated house soon became a popular hangout for other young married couples. As Jay continued his study, he found the classes weren't what he anticipated. Rather than long Bible studies, they were challenging in their field of research and always presented a Christian worldview.
After graduating from Covenant, Jay faced a new question—where did his Christian education fit into his calling? Jay still felt the call into the business world but wanted to share his knowledge.
"My struggle was how to take what the Bible teaches and put it into a practical, everyday application that spoke to the business-person. I received the same education as my classmates but felt a different calling than many did. Or, maybe it was the same calling, but from a different approach... I think I felt my calling was to be sitting in the congregation, next to the people being preached to. I would try and help put the handles on to what the pastor was saying, by learning to walk the talk. It had to be a practical application of what the Bible taught, without people necessarily knowing it was the Bible."
For the next few years, Jay worked in several different locales and business settings — he worked at General Electric, learning finance and customer relations, and AT&T, learning about inter-office communications and working with people. After this, he experienced working in a non-profit business environment and learning more about the younger generation.
However, it was during his time being self-employed that God was molding Jay, placing him in different business settings and with different types of people, each with a different focus. He would only see this later, as he looked back on where God placed him, that these were his "training grounds."
With the practical application of the Bible in mind, Jay began taking notes on how his co-workers talked, the language used, how supervisors and management interacted, and how people treated each other in the workplace. Then, he consulted Scripture.
He found different ways Scripture spoke about hiring and firing employees, honoring them, being honest with customers, etc. Years later, these notes, combined with the above "training grounds" and biblical insight, would form the basis of his training for young Christians in the workplace and his book, Values In The Marketplace. Through this work, he demonstrated the practical application of these principles.
Over the next 30 years, God would lead Jay to start a new ministry that would provide business training tied to biblical principles for young entrepreneurs who mostly lived in the two-thirds world. These businesses would then provide jobs for those needing employment and tithing back to a local church or ministry. He worked closely with such organizations as Young Life, Scripture Union, Operation Mobilization, Youth With A Mission, Mission to the World, and many others. The businesses were bakeries and donut shops, ice cream parlors and used clothing stores, Christian bookstores, and computer support shops. If a young person came up with a viable idea, Jay would assemble the training materials and then do the training. In addition, he provided seminars for Christian business groups in such places as Nigeria, Mexico, Indonesia, and North Africa.
But Jay's mission did not stop there. Many years after Covenant, Jay wondered if business was his proper calling.
"I grew up not knowing what I wanted to do with my life — it was at Covenant that I finally knew. It was to serve Christ, but I still didn't know what that meant, only that seminary was not for me, which closed a lot of doors. At that time, no mission agency would take me because I did not go to seminary."
But, it was 10:00 p.m. on a Sunday when his path would change again. He received a call containing a job offer from Young Life in Colorado Springs that would eventually lead him and Lynn overseas. This opportunity left passport stamps from Peru, Brazil, Zimbabwe, Haiti, Canada, Romania, Mexico, Azerbaijan, the Soviet Union, the Republic of Georgia, and more.
"I look back on it now and see just how faithful God had been... Traveling to over 65 countries; living in eleven of them," said Jay. "I stopped counting the individuals and groups being trained. God's blessing turned out to be something I never would have dreamed of."
While Jay and Lynn were abroad, they didn't forget their time at Covenant. The couple even had a daughter and grandson attend Covenant, and they continue to give back to the community. "We provide financial support to several ministries and individuals. God has placed each of these on our hearts to give to," said Jay. Over 50 years later, Jay still remembers the kindness of the Covenant basketball team his first time on campus, the West Brow House, and the friends he and Lynn made at Covenant.
"I've probably forgotten more faces than I can remember, and God gave me a wife to share it all with; however, the past pales in comparison to the hunger that can be seen in the eyes of young men and women when they realize that the Bible offers so many answers to questions faced by business owners as they work in a fallen world."
Undergraduate Departments, Majors, Minors, Certificates, Concentrations, and Programs
Arts Administration
Entrepreneurship
Environmental Stewardship & Sustainability
Journalism and Society
Medical Ethics Consultation
Neuroscience
Teaching English to Speakers of Other Languages (TESOL)
Art, 2-D Concentration
Art, 3-D Concentration
Art, Art History Concentration
Art, Graphic Design Concentration
Art, Photography Concentration
Art minor
Art History minor
Biblical & Theological Studies
Biblical & Theological Studies, Missions Concentration
Biblical & Theological Studies minor
Biblical Languages minor
History of Christianity minor
Missions minor
Youth Ministry minor
Biology, Biomedical Concentration
Biology, Environmental Concentration
Biology, General
Biology, Health Professions Concentration
Biology minor
Business
Business, Accounting Concentration
Business, Finance Concentration
Business, Marketing Concentration
Sport Management
Business minor
Sport Management minor
Chemistry, Biochemistry Concentration
Chemistry, General
Biochemistry minor
Chemistry minor
Computer Science
Computer Science minor
Community Development
Economics
Community Development minor
Economics minor
Education Studies
Elementary Education (P-5)
Secondary Education Certifications through MAT program
Education minor
Natural Science, Pre-Engineering Studies Concentration
English
English, Writing Concentration
English minor
Writing minor
History
History, Art History Concentration
Political Science
International Studies
History minor
Political Science minor
Interdisciplinary Studies with Concentrations
Mathematics
Mathematics minor
Music, Church Music Concentration
Music, Creative Studies Concentration
Music, General Music Concentration
Music, Instrumental Performance Concentration
Music, Music Education (Pre-MAT) Concentration
Music, Organ Performance Concentration
Music, Piano Pedagogy Concentration
Music, Piano Performance Concentration
Music, Vocal Performance Concentration
Music minor
Philosophy
Philosophy minor
Pre-Law Studies
Pre-Medical Studies
Pre-Nursing Studies
Pre-Physical Therapy Studies
Psychology
Psychology minor
Sociology
Sociology, Family Studies & Social Work Concentration
Sociology minor
French
Spanish
French minor
Spanish minor