Alumni Profile: Chris Sossou '11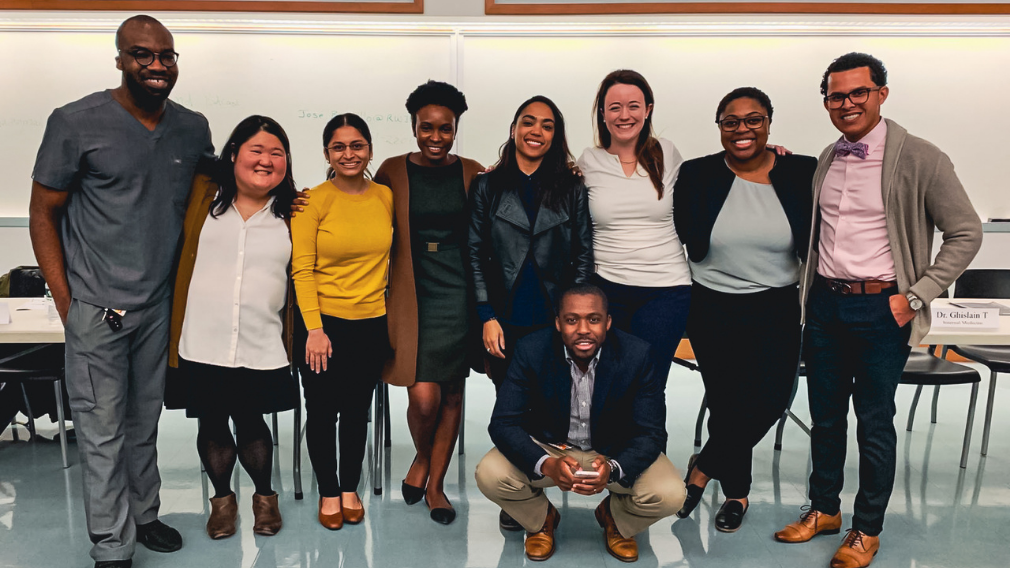 Chris Sossou founded the Young Citizen Mentorship Program (YCMP) in New Jersey as a way to help children in his community reach their potential by connecting them with mentors. Growing up in war-torn areas of Africa and living in refugee camps, Chris has a better understanding than most of the need for good role models.
Chris was born in Liberia, but as civil wars tore apart their home, his family moved to the Ivory Coast and lived in a refugee camp. His mother was a physician and used her skills to help other refugees. Even with very limited resources, she wanted to give the best possible care that she could, and watching her inspired Chris to pursue medicine.
War came to the Ivory Coast, and Chris and his siblings were resettled in St. Louis, MO in 2004. Growing up in refugee camps prevented Chris from receiving a good education, and after moving to St. Louis, he entered a struggling public school. French is his primary language so learning English added an extra challenge.
A Covenant College graduate in the area hired Chris to help with some yard work, and as the alumnus got to know Chris, he wanted to help him receive a quality education. He helped Chris attend a private Christian school and found people to help fund Chris' education. To this day, Chris remains incredibly grateful for the generosity of strangers that allowed him to receive a quality education.
Knowing the Covenant alum and attending the Christian high school led Chris to Covenant College where he studied biology. He was raised in a Christian family, but Covenant helped grow his faith. He says, "Professors and friends at Covenant helped me not only learn science but also learn how God is behind science." Chris realized that while his vocational calling is to be a doctor, his larger calling is to help people, loving them in a Christ-like manner.
After Covenant, Chris attended med school, completed an internal medicine residency, and began a cardiologist fellowship at University Nevada Las Vegas in the summer of 2020.
Chris says that most people who practice medicine see good results and take the glory, saying, "I did this, I'm the best." He, instead, sees medicine as a way to advance God's kingdom. "The best physician is Christ, not me. My role is to make you physically strong so you can worship God, not worship me. I can't create the Kingdom of God, but I can maintain it and play a role in it."
While completing his residency in New Jersey, Chris founded Young Citizen Mentorship Program (YCMP) to help at-risk youth in his community. Chris says that only God's grace prevented him from being trapped in the dangerous, difficult situations where many at-risk youth end up. "God put people in my life who steered me away from that." He knows how important it is for young people to have mentors who not only guide them professionally and academically but also emotionally, helping them prepare for life and reach the potential of who God created them to be.
Chris got to know kids in his community and prayed about how he could help at-risk youth, and while he didn't have many resources, he realized that what the kids really needed was mentors. With research, he learned that his community offered many resources, but the youth didn't know about them or how to utilize them. That's where YCMP comes in.
YCMP's goal is to connect young people with resources that will help them reach their potential. Chris focuses on those interested in medicine because that's his area of expertise. He finds mentors with expertise in other areas and connects them with mentees.
Now that Chris has moved from New Jersey to Las Vegas, YCMP continues through partnership with the hospital where he completed his residency and other mentors still in New Jersey. He hopes to one day support kids in other ways like buying lunch and paying for books, with the ultimate goal of funding scholarships. He hopes to help them attend better high schools, build connections with good colleges, and prepare them with "life learning," much like he experienced in St. Louis and at Covenant College.
Undergraduate Departments, Majors, Minors, Certificates, Concentrations, and Programs
Arts Administration
Entrepreneurship
Environmental Stewardship & Sustainability
Journalism and Society
Medical Ethics Consultation
Neuroscience
Teaching English to Speakers of Other Languages (TESOL)
Art, 2-D Concentration
Art, 3-D Concentration
Art, Art History Concentration
Art, Graphic Design Concentration
Art, Photography Concentration
Art minor
Art History minor
Biblical & Theological Studies
Biblical & Theological Studies, Missions Concentration
Biblical & Theological Studies minor
Biblical Languages minor
History of Christianity minor
Missions minor
Youth Ministry minor
Biology, Biomedical Concentration
Biology, Environmental Concentration
Biology, General
Biology, Health Professions Concentration
Biology minor
Business
Business, Accounting Concentration
Business, Finance Concentration
Business, Marketing Concentration
Sport Management
Business minor
Sport Management minor
Chemistry, Biochemistry Concentration
Chemistry, General
Biochemistry minor
Chemistry minor
Computer Science
Computer Science minor
Community Development
Economics
Community Development minor
Economics minor
Education Studies
Elementary Education (P-5)
Secondary Education Certifications through MAT program
Education minor
Natural Science, Pre-Engineering Studies Concentration
English
English, Writing Concentration
English minor
Writing minor
History
History, Art History Concentration
Political Science
International Studies
History minor
Political Science minor
Interdisciplinary Studies with Concentrations
Mathematics
Mathematics minor
Music, Church Music Concentration
Music, Creative Studies Concentration
Music, General Music Concentration
Music, Instrumental Performance Concentration
Music, Music Education (Pre-MAT) Concentration
Music, Organ Performance Concentration
Music, Piano Pedagogy Concentration
Music, Piano Performance Concentration
Music, Vocal Performance Concentration
Music minor
Philosophy
Philosophy minor
Pre-Law Studies
Pre-Medical Studies
Pre-Nursing Studies
Pre-Physical Therapy Studies
Psychology
Psychology minor
Sociology
Sociology, Family Studies & Social Work Concentration
Sociology minor
French
Spanish
French minor
Spanish minor