Dave Connis '11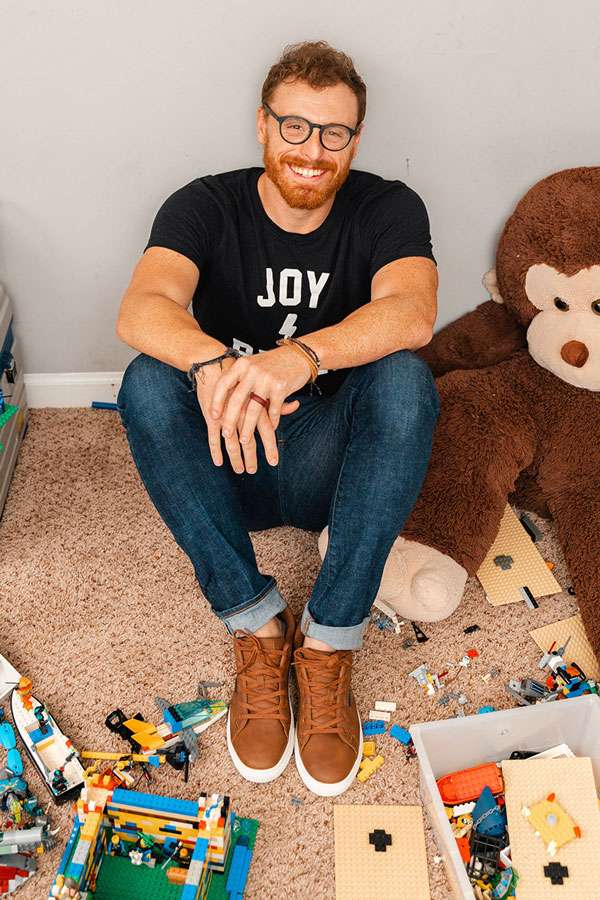 Creativity in the Chaos
During his senior year at Covenant, Dave Connis '11 was facing a severe bout of "senioritis," and, instead of studying for exams, picked up the Harry Potter books for the first time. He laughingly notes that he would not recommend this method to current students; however, he credits the "book hangover" after finishing the books as instrumental to his decision to pursue writing. The best way to cure the book hangover, he determined, would be to write his own book. From 2011 to 2015, Dave began to consider what it would look like to become an author, and, in 2015, he secured an agent to begin sending his manuscript to publishers. His first two novels, The Temptation of Adam (2017) and Suggested Reading (2019), were poignant and successful young adult novels, and his trajectory as an author seemed clear.
In 2017, though, Dave's writing progress was suspended by the death of his father. He felt like he had lost both his passion for the creative process, as well as his desire to write. By 2021, Dave's creative process began to return, and, with it, a new model and focus for his writing: he wanted to write "stories of wonder, whimsy, and worth."
These three words encapsulated Dave's stories once he began writing again. He would write stories of wonder that inspired readers with their intricate worlds and characters; stories of whimsy, which offered a funny, lighthearted, and unexpected take on the world; and stories of worth, which highlighted the value of every person as an individual made in the image of God. Here his faith intersected joyfully with his authorship.
Dave's passion for stories that reflect his faith is evidenced by his foray into picture books. In 2021, after reading a host of picture books with his three children, Dave started hunting for books that were fun and silly, but also talked about Jesus. He discovered that these books were difficult to find—so he started writing his own. With input from his friends Matt Brown '05, Professor Scott Jones, John-Michael Forman '10, and Andrew Alms '10, Dave wrote a fun, sweet, and theologically accurate picture book. The Inventions of God (and Eva) and The Stories of God (and Kiki) were published in 2021 and 2022, respectively, after Dave found a publisher who was excited about his mission.
Today, Dave splits his time between his work as a remote UX Designer at Out Systems, a web application company, and his current book, a historical fantasy set in 18th-century Italy. Despite the chaos of work, family, and writing, he focuses on writing for an hour daily, and he notes how thankful he is for the flexibility in his job, which allows him time to write and time to balance family life. "The most important thing," he notes, "is that you continue to show up–persistence is the most important." Dave's stories offer a valuable reminder that our creativity and stories matter, and that wonder, whimsy, and worth can describe both the things that we read and the way that we perceive the world.
Undergraduate Departments, Majors, Minors, Certificates, Concentrations, and Programs
Arts Administration
Entrepreneurship
Environmental Stewardship & Sustainability
Journalism and Society
Medical Ethics Consultation
Neuroscience
Teaching English to Speakers of Other Languages (TESOL)
Art, 2-D Concentration
Art, 3-D Concentration
Art, Art History Concentration
Art, Graphic Design Concentration
Art, Photography Concentration
Art minor
Art History minor
Biblical & Theological Studies
Biblical & Theological Studies, Missions Concentration
Biblical & Theological Studies minor
Biblical Languages minor
History of Christianity minor
Missions minor
Youth Ministry minor
Biology, Biomedical Concentration
Biology, Environmental Concentration
Biology, General
Biology, Health Professions Concentration
Biology minor
Business
Business, Accounting Concentration
Business, Finance Concentration
Business, Marketing Concentration
Sport Management
Business minor
Sport Management minor
Chemistry, Biochemistry Concentration
Chemistry, General
Biochemistry minor
Chemistry minor
Computer Science
Computer Science minor
Community Development
Economics
Community Development minor
Economics minor
Education Studies
Elementary Education (P-5)
Secondary Education Certifications through MAT program
Education minor
Natural Science, Pre-Engineering Studies Concentration
English
English, Writing Concentration
English minor
Writing minor
History
History, Art History Concentration
Political Science
International Studies
History minor
Political Science minor
Interdisciplinary Studies with Concentrations
Mathematics
Mathematics minor
Music, Church Music Concentration
Music, Creative Studies Concentration
Music, General Music Concentration
Music, Instrumental Performance Concentration
Music, Music Education (Pre-MAT) Concentration
Music, Organ Performance Concentration
Music, Piano Pedagogy Concentration
Music, Piano Performance Concentration
Music, Vocal Performance Concentration
Music minor
Philosophy
Philosophy minor
Pre-Law Studies
Pre-Medical Studies
Pre-Nursing Studies
Pre-Physical Therapy Studies
Psychology
Psychology minor
Sociology
Sociology, Family Studies & Social Work Concentration
Sociology minor
French
Spanish
French minor
Spanish minor