Kat's Story: Ambitions Discovered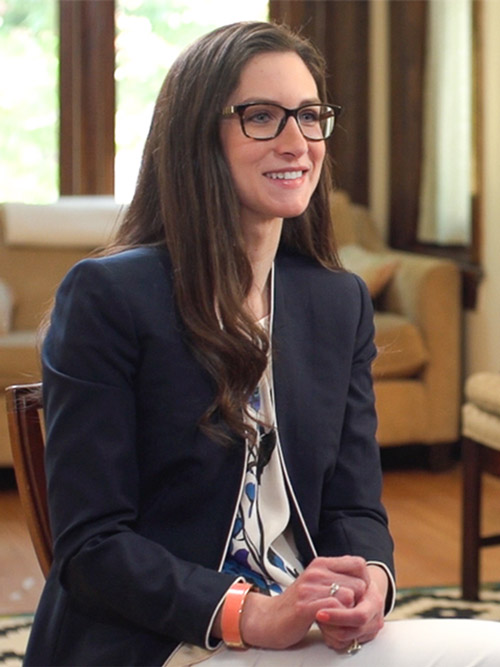 "I credit the rigorous academics at Covenant College for preparing me for law school and my career, and I'm incredibly thankful for the many professors and friends who encouraged me along the way."
In 2016, Kathryn Kimball '09 was selected for the SCOTUS clerkship to serve with Justice Clarence Thomas for the 2018 term. After graduating with highest honors from Covenant in 2009 with a degree in Economics, Kimball went on to receive her JD from the Fredric G. Levin College of Law in 2012, where she graduated first in her class. While at Covenant, Kimball was in the Maclellan Scholars Program program, which equips students for faithful leadership and encourages them to live out their callings for the good of the church and the world. During her senior year at Covenant, she also served as student body president.
"Kathryn always approached her studies with faithfulness, diligence, and poise and it's no surprise to hear that she has carried these characteristics into her career," said Sarah Huffines, associate professor of English and co-director of the Maclellan Scholars Program. "I'm obviously thrilled for her success, and I am confident that those around her will benefit from her presence."
During her clerkship, Kimball was deeply involved in the daily work of the Supreme Court, researching issues presented in petitions, writing memoranda about pending cases, and assisting Justice Thomas as he prepared for oral arguments.
Undergraduate Departments, Majors, Minors, Certificates, Concentrations, and Programs
Arts Administration
Entrepreneurship
Environmental Stewardship & Sustainability
Journalism and Society
Medical Ethics Consultation
Neuroscience
Teaching English to Speakers of Other Languages (TESOL)
Art, 2-D Concentration
Art, 3-D Concentration
Art, Art History Concentration
Art, Graphic Design Concentration
Art, Photography Concentration
Art minor
Art History minor
Biblical & Theological Studies
Biblical & Theological Studies, Missions Concentration
Biblical & Theological Studies minor
Biblical Languages minor
History of Christianity minor
Missions minor
Youth Ministry minor
Biology, Biomedical Concentration
Biology, Environmental Concentration
Biology, General
Biology, Health Professions Concentration
Biology minor
Business
Business, Accounting Concentration
Business, Finance Concentration
Business, Marketing Concentration
Sport Management
Business minor
Sport Management minor
Chemistry, Biochemistry Concentration
Chemistry, General
Biochemistry minor
Chemistry minor
Computer Science
Computer Science minor
Community Development
Economics
Community Development minor
Economics minor
Education Studies
Elementary Education (P-5)
Secondary Education Certifications through MAT program
Education minor
Natural Science, Pre-Engineering Studies Concentration
English
English, Writing Concentration
English minor
Writing minor
History
History, Art History Concentration
Political Science
International Studies
History minor
Political Science minor
Interdisciplinary Studies with Concentrations
Mathematics
Mathematics minor
Music, Church Music Concentration
Music, Creative Studies Concentration
Music, General Music Concentration
Music, Instrumental Performance Concentration
Music, Music Education (Pre-MAT) Concentration
Music, Organ Performance Concentration
Music, Piano Pedagogy Concentration
Music, Piano Performance Concentration
Music, Vocal Performance Concentration
Music minor
Philosophy
Philosophy minor
Pre-Law Studies
Pre-Medical Studies
Pre-Nursing Studies
Pre-Physical Therapy Studies
Psychology
Psychology minor
Sociology
Sociology, Family Studies & Social Work Concentration
Sociology minor
French
Spanish
French minor
Spanish minor