The Blue Tribune is your place to learn about all things Covenant and keep up with stories from campus and beyond. By guiding you through the different aspects of Covenant, we'll help you decide if you want to pursue your very own Covenant experience.
Internship Feature: Leah Persons '25
By Calvin Harlow '25
Oct 10, 2022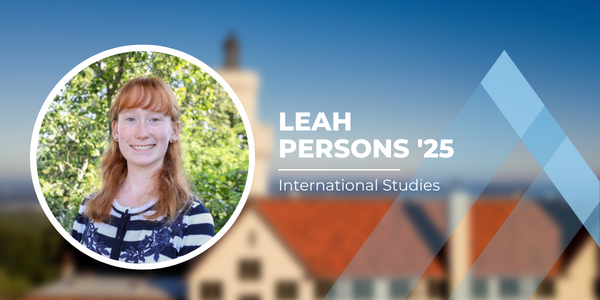 This past summer, International Studies major Leah Persons '25 interned for The Partnership for Public Service, a non-partisan, non governmental organization based out of Washington D.C.
What did your internship involve?
"We worked on a federal workforce team that improves government job applications and works with students and potential employees to help them through the job process for governmental agencies." Leah worked on three different programs. "The smallest one is the cybersecurity talent initiative, updating a lot of program materials for the 2023 cohort." Leah also organized the Rosenthal Fellowship in International Relations. "The Rosenthal Fellowship involved working with graduate students from different colleges, all of whom are studying public policy or international relations." Leah continued, "The largest project was the Call to Serve Network. This included reaching out to career advisors at various colleges across the company, informing them of various government job opportunities and internships. I also was in charge of maintaining an active excel spreadsheet with over 300 contacts and advisors, making sure everyone had the same role, and updating with new advisors and removing former advisors."
What is your favorite part of the internship?
"There were two aspects that stood out. The first is the impact of our work and the second is my team. The partnership does a lot to impact the government and tries to change the bureaucratic reputation of the federal government. We work to expedite the application process and connect students with jobs. Secondly, my team was amazing and helped me learn professional skills and more about the work environment at the Partnership. I felt like an employee, not just an intern. They developed me both professionally and personally. I read leadership articles and had to lead various teams. These experiences not only taught me the theory of leadership topics such as conflict management, but I also got to apply them on the teams. They cared about me as a person, not just for the work I did."
Would you recommend this experience to covenant students?
"I would definitely recommend this internship and the organization to Covenant students interested in working for nonprofits or the federal government. I was not working directly for the government, but I did get a glimpse of what work I might want to do in the future. It was an amazing experience, and they are very welcoming and eager to help you in whatever field you hope to pursue in the future."
Connect with us
Loading...