Covenant College Summer Institute
July 22-26, 2019
The Covenant College Summer Institute offers one-week residential programs for motivated high school students to earn college credit. These courses are hosted on Covenant College's campus and taught by Covenant College professors. Admission is competitive, and rising sophomores, juniors, and seniors are encouraged to apply..
In addition to earning college credit, participating in the Summer Institute will give you a taste of a Covenant College education. Mornings will be filled with rigorous and engaging academic instruction by Covenant faculty. You may continue your class discussion over lunch each day in the Great Hall with your classmates and professor in a more informal setting.
Afternoons will build on the morning's instruction with studying, group work, or research in the library with the support of current Covenant College students serving as teaching assistants.
After dinner in the Great Hall, you will have opportunities to experience different aspects of residence life at Covenant through a variety of planned activities.
The entire Summer Institute experience - from the classroom to the residence hall - is grounded in Scriptural principles, reminding and challenging students to live out the reality of Christ's preeminence in all things.
Academics
Courses
Students have the option of studying one of the courses listed below, each taught by Covenant professors. Each class will be made up of no more than ten students.
The Art of Place | Prof. Jeff Morton
The subject of place is not a neutral one. Whether we recognize it or not, we all come from somewhere and are presently in a place. In this experiential class we will explore the subject in an art studio context informed by social and critical theory, and theological and Christian thinking about place.
While walking the campus of Covenant College, making maps and notational drawing, and through the act of photography and journaling, we will ask the simple question: where do we belong?
---
The Language of Nature: How Do Plants & Animals Communicate? | Dr. Heath Garris
Have you ever walked in the forest and thought it was unbearably quiet, but with some stillness you noticed a chorus of bird and insect songs? To us these sounds are foreign. (Some are convinced they are beautiful, others not so much.) To the creatures that produce them, they represent a necessary component of daily life. In fact, much of what we see and hear in nature is masterfully effective communication; we just aren't the intended recipients.
This course is a survey of plant and animal communication, with an emphasis on field-based methods and foundations in scientific inquiry. Students will gain experience in interpreting and identifying communication from plants, birds, bats, and insects and form a basis for understanding the multi-modality of communication in nature.
---
Knowing Our Own Minds | Dr. Carole Yue
Our conscious and unconscious beliefs about how our minds work drive many of our behaviors. For example, our ideas about memory influence how we study, interpret eyewitness testimony, and even how we argue. However, many of our beliefs are inaccurate and can cause us to make bad decisions or miscommunicate without even realizing it.
This course will consider some of our basic beliefs about how our minds work and how we can use psychological science to improve our understanding of ourselves and the people around us.
Jeff Morton, MFA, BFA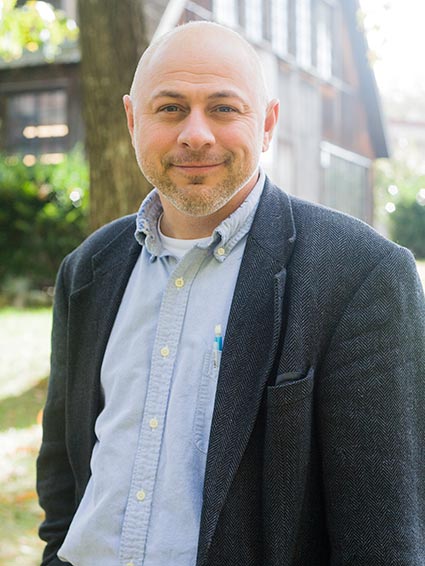 Prof. Jeff Morton will teach "The Art of Place." Prof. Morton has been a professor of art at Covenant College since 2000. He also serves as the art department chair. He holds an MFA from Yale University and is one of two recipients of a 2016 Individual Artist Fellowship from the Tennessee State Arts Commission. An accomplished painter with influences found in 17th Century Japanese folding screens, Dr. Morton specializes in various interpretations of landscape in the form of large color-field canvases and small obsessive drawings. Dr. Morton has exhibited his works regionally and nationally, most recently at the Hunter Museum of Art in Chattanooga.
Heath Garris, PhD
Dr. Heath Garris will teach "The Language of Nature." Dr. Garris is an assistant professor of biology at Covenant College, as well as curator and advocate for the Covenant College BioInventory. He holds a PhD in integrated bioscience from the University of Akron and is passionate about teaching environmental science to Covenant students. He believes that environmental stewardship is a calling worthy of Christ's followers who are earnestly seeking to be His agents in the redemption of all creation. In his research, he addresses questions that require ecological knowledge to solve long-term challenges for creation.
Carole Yue, PhD
Dr. Carole Yue will teach "Knowing Our Own Minds." Dr. Yue has been teaching at Covenant College since 2014, and she teaches a variety of experimental and cognitive courses in the psychology department. She holds an M.A. and Ph.D. in Cognitive Psychology from the University of California, Los Angeles. Her research focuses on the mechanisms and educational applications of human learning, memory, and metacognition.
Residence Life
In addition to learning from Covenant professors, students will live in a Covenant College residence hall, dine in Covenant's Great Hall, and experience a taste of Covenant's campus life.
Current Covenant students will serve as resident assistants in the residence hall, and will host fun activities each evening. Summer Institute participants will also have group devotions together several times throughout the week.
While the summer experience isn't exactly the same as a student's experience during the regular academic year, over the course of your week in residence on campus you will become more familiar with what life is like for Covenant students and better understand the value of a Covenant education.
Admissions
Application Process
Admission to the Summer Institute is competitive, and rising sophomores, juniors, and seniors in high school with a weighted GPA of 3.0 or higher are eligible.
There are four steps to apply for admission:

Submit a completed online application for admission.
Submit a 200-250 word essay to explain why you are interested in participating in Covenant College's Summer Institute. Please describe how your interest in the subject matter of your preferred course has been shaped by your family, church, and/or broader community.
Submit a current high school transcript.
Pay a $15 application fee. Make checks payable to Covenant College with the student's name and "Summer Institute" in the memo line.
Applicants may submit application materials by email to summerinstitute@covenant.edu, by fax to 706.820.0893, or by mail to Covenant College Summer Institute, 14049 Scenic Highway, Lookout Mountain, Georgia 30750.
Admission is competitive. Please complete all four steps of the application process by April 26, 2019, to be considered for admission to the 2019 Summer Institute.
Cost
The total investment to enroll in Covenant College's Summer Institute is $1010.

The cost is composed of the following:

Tuition for one hour of college credit
$715

Housing in a Covenant College residence hall
$135

Meals in Covenant College's Great Hall
$110

Residence life activities
$50

Upon being accepted for admission, students have until June 1, 2019, to register and make their nonrefundable payment.
Contact Us
Do you have questions that we haven't answered here? We'd be glad to help.
You are welcome to contact our admissions staff with questions about any aspect of the Summer Institute.