About William Wilberforce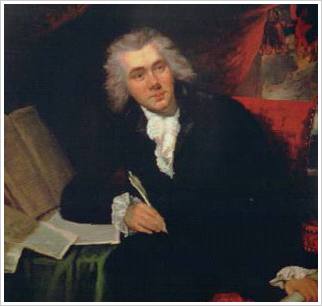 William Wilberforce's whole life was animated by a deeply held, personal faith in Jesus Christ.
Wilberforce had a deep sense of calling that grew into conviction that he was to exercise his spiritual purpose in the realm of his secular responsibility.
Wilberforce was committed to the strategic importance of a band of like-minded friends, devoted to working together in chosen ventures.
Wilberforce believed deeply in the power of ideas and morality to change culture through a campaign of sustained public persuasion.
Wilberforce willingly paid a steep cost for his courageous public stands and was remarkably persistent in pursuing his life's tasks.
Wilberforce's labors and faith were grounded in a genuine humanity rather than a blind fanaticism.
Wilberforce forged strategic partnerships for the common good irrespective of differences over methods, ideology, or religious belief.
Source:
Character Counts: Leadership Qualities in Washington, Wilberforce, Lincoln, and Solzhenitsyn, edited by Os Guinness (Grand Rapids: Baker Books, 1999)
Undergraduate Departments, Majors, Minors, Certificates, Concentrations, and Programs
Arts Administration
Entrepreneurship
Environmental Stewardship & Sustainability
Journalism and Society
Medical Ethics Consultation
Neuroscience
Teaching English to Speakers of Other Languages (TESOL)
Art, 2-D Concentration
Art, 3-D Concentration
Art, Art History Concentration
Art, Graphic Design Concentration
Art, Photography Concentration
Art minor
Art History minor
Biblical & Theological Studies
Biblical & Theological Studies, Missions Concentration
Biblical & Theological Studies minor
Biblical Languages minor
History of Christianity minor
Missions minor
Youth Ministry minor
Biology, Biomedical Concentration
Biology, Environmental Concentration
Biology, General
Biology, Health Professions Concentration
Biology minor
Business
Business, Accounting Concentration
Business, Finance Concentration
Business, Marketing Concentration
Sport Management
Business minor
Sport Management minor
Chemistry, Biochemistry Concentration
Chemistry, General
Biochemistry minor
Chemistry minor
Computer Science
Computer Science minor
Community Development
Economics
Community Development minor
Economics minor
Education Studies
Elementary Education (P-5)
Secondary Education Certifications through MAT program
Education minor
Natural Science, Pre-Engineering Studies Concentration
English
English, Writing Concentration
English minor
Writing minor
History
History, Art History Concentration
Political Science
International Studies
History minor
Political Science minor
Interdisciplinary Studies with Concentrations
Mathematics
Mathematics minor
Music, Church Music Concentration
Music, Creative Studies Concentration
Music, General Music Concentration
Music, Instrumental Performance Concentration
Music, Music Education (Pre-MAT) Concentration
Music, Organ Performance Concentration
Music, Piano Pedagogy Concentration
Music, Piano Performance Concentration
Music, Vocal Performance Concentration
Music minor
Philosophy
Philosophy minor
Pre-Law Studies
Pre-Medical Studies
Pre-Nursing Studies
Pre-Physical Therapy Studies
Psychology
Psychology minor
Sociology
Sociology, Family Studies & Social Work Concentration
Sociology minor
French
Spanish
French minor
Spanish minor