Why We Give: Jay and Lynn Lykins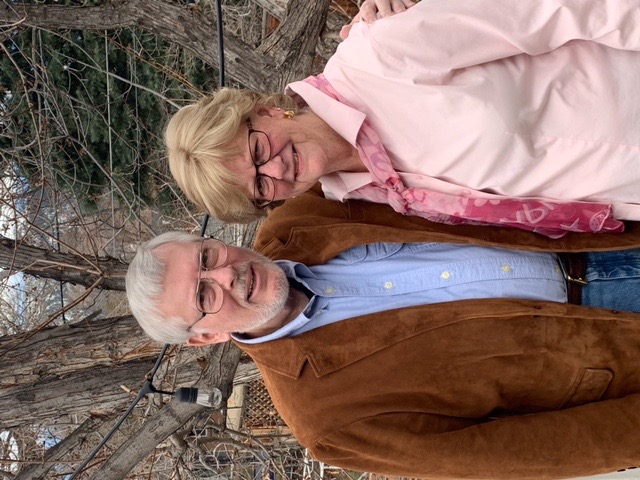 From travelling the world to settling in Colorado, and from living on a tight budget to starting endowed scholarships, Jay and Lynn Lykins have lived a full life of service to the Lord. Now, they are focused on impacting the next generation, from their grandkids to future Covenant Scots.
Jay's journey to Christ, and eventually to Covenant College, is a bit different than that of most Scots. He first stepped foot on Covenant's campus while playing basketball for the University of West Georgia in 1965. When his team arrived under Carter's stone arches to compete against the Scots, Jay remembers being greeted with a Salisbury steak dinner in the Great Hall. "The Covenant basketball players wanted to get close to us. They were friendly, and I wasn't entirely sure why, but something was different about them."
As a young man, Jay's life took several swift turns (including dropping out of college and joining the Navy), but in 1969, the most drastic change came when God called Jay to Himself. Jay asked the girl next door out on a date, but after several dates, Lynn told him that she could not continue the relationship because she was a Christian and he was not. Unswayed, he asked what it meant to be a Christian. Lynn shared the Gospel with Jay and his life as a Christian began. They soon married in January, 1970.
While Jay returned to school at a community college, the young couple joined a house church where they met a Reformed Presbyterian (RPCES) minister named George Soltau. George reintroduced Jay to Covenant College, and in 1971, Jay enrolled as a junior pursuing business.
At Covenant, Jay learned biblical values, Reformed theology, and how to incorporate his faith into everyday life. He says the entire community and faculty shaped him, strengthened his faith, and prepared him for his life and career. Still new to following Jesus, Covenant offered him a solid foundation for his growing faith and his understanding of theology.
Several years after Jay graduated, YoungLife contacted him about a job in their accounting department. The Lykins soon found themselves working internationally. Jay was asked to develop and manage a new department focused on starting small businesses in third-world countries. From helping a family in Peru open a donut shop to working with Compassion International in Haiti, Jay still found time to earn his MBA in Third-World Economic Development, and then a Ph.D. in Islamic Studies from Oxford University. Eventually, he started an organization called Global Reach to help churches and Christian non-profits who work in international economic development.
While the Lykins found great fulfillment in their work with nonprofits and third-world communities, they lived on a small paycheck and a tight budget. In the mid-90s, they were $30,000 in debt. Still, they had no regrets about their chosen path. In Jay's words, "Where else could we have gotten the experience, seen the things, done the things we've done together?" The Lord provided, and the Lykins were faithful to keep pressing on in their work.
Practicing generosity was a part of Lynn's background, but Jay was not raised in a Christian home, so tithing was a new part of his Christian life. The Lykins valued giving to their church, but they also lived generously by sacrificing a potentially wealthy life from Jay's business career so that they could give time and energy to developing businesses overseas.
While living in Tbilisi, Republic of Georgia, Lynn started working for the U.S. Embassy. After working and living overseas for several years, they returned to the States in 2001 so Jay could get some health issues resolved. In the meantime, Lynn applied to work for the U.S. Department of State, and when she was offered the opportunity to move to Israel to work full-time in foreign service, Jay told Lynn, "You've followed me around the world for the last 30 years. Now it's my turn to follow you." They spent the next decade working in foreign service, living in Israel, Iraq, Jordan, Zimbabwe, and China. Now, working in the State Department's Foreign Service, their financial situation improved. The Lord blessed their efforts.
In 2012, after living in over ten different countries, visiting countless others, and after both leading careers they enjoyed, the Lykins retired to Estes Park, Colorado. They began giving to Covenant's annual fund and several other organizations while continuing to faithfully give to their church. Jay has made it a point to increase their giving by ten percent each year to the organizations they support, including Covenant. Eventually, the Lykins made the generous decision to fund a scholarship at Covenant College for students who want to work in community and economic development. Jay and Lynn put aside college funds for each of their eight grandchildren, and Jay did his best to ensure that Lynn and his children will be provided for when he passes away. Then, they wanted to give out of the bounty left to them.
The Lykins' desire to live generously comes from their hearts and their trust in the Lord. In Jay's words, "You can't tell somebody, 'You have to give more.' You have to show them. I didn't choose to give because someone told me I needed to; I became convicted of it."
When Jay and Lynn think about the fact that their endowed scholarship will continue at Covenant forever, they are filled with excitement. They can already picture the first student who will benefit from their scholarship in the fall of 2022.
To those who are considering making a large gift to their church, Covenant College, or any other institution, Jay asks, "Why are you thinking about it? Why aren't you doing it? There must be something that's gotten you to this point and God has put it on your heart, so what's holding you back?"
Undergraduate Departments, Majors, Minors, Certificates, Concentrations, and Programs
Arts Administration
Entrepreneurship
Environmental Stewardship & Sustainability
Journalism and Society
Medical Ethics Consultation
Neuroscience
Teaching English to Speakers of Other Languages (TESOL)
Art, 2-D Concentration
Art, 3-D Concentration
Art, Art History Concentration
Art, Graphic Design Concentration
Art, Photography Concentration
Art minor
Art History minor
Biblical & Theological Studies
Biblical & Theological Studies, Missions Concentration
Biblical & Theological Studies minor
Biblical Languages minor
History of Christianity minor
Missions minor
Youth Ministry minor
Biology, Biomedical Concentration
Biology, Environmental Concentration
Biology, General
Biology, Health Professions Concentration
Biology minor
Business
Business, Accounting Concentration
Business, Finance Concentration
Business, Marketing Concentration
Sport Management
Business minor
Sport Management minor
Chemistry, Biochemistry Concentration
Chemistry, General
Biochemistry minor
Chemistry minor
Computer Science
Computer Science minor
Community Development
Economics
Community Development minor
Economics minor
Education Studies
Elementary Education (P-5)
Secondary Education Certifications through MAT program
Education minor
Natural Science, Pre-Engineering Studies Concentration
English
English, Writing Concentration
English minor
Writing minor
History
History, Art History Concentration
Political Science
International Studies
History minor
Political Science minor
Interdisciplinary Studies with Concentrations
Mathematics
Mathematics minor
Music, Church Music Concentration
Music, Creative Studies Concentration
Music, General Music Concentration
Music, Instrumental Performance Concentration
Music, Music Education (Pre-MAT) Concentration
Music, Organ Performance Concentration
Music, Piano Pedagogy Concentration
Music, Piano Performance Concentration
Music, Vocal Performance Concentration
Music minor
Philosophy
Philosophy minor
Pre-Law Studies
Pre-Medical Studies
Pre-Nursing Studies
Pre-Physical Therapy Studies
Psychology
Psychology minor
Sociology
Sociology, Family Studies & Social Work Concentration
Sociology minor
French
Spanish
French minor
Spanish minor