Music
The music department at Covenant College equips versatile musicians and scholars to cultivate a distinctly Christian understanding of music and respond to their callings with an emphasis on service to the Church and its diverse communities. It also exposes students to a broad spectrum of music, thereby encouraging the appreciation and critical thought necessary to engage musical cultures.
On this page Overview Graduate Outcomes Programs / Features Faculty Contact
Program Overview
Covenant's music department sets students on a path to fill an important need: namely, the need of God's world and His Church for capable, reflective musicians. In a sonic world ordered by its Creator, we need musicians who manifest the Imago Dei by glorifying God with their work and assisting others in doing likewise. Currently, our lives are dominated by technological advancements that permit the creation of musical works by virtually anyone; due to this, we train our musicians to explore the tremendous potential for development as well as recognize risk for misuse of God's gift of music.
Our students explore the contextual and architectural development of music throughout human history. They also enhance their individual musical abilities through opportunities to collaborate with others including public concerts, recitals, clinics, festivals, tours, and collaborative concerts, all with the guidance of expert musicians. A music major's time culminates in their capstone recital or research project completed under the supervision of a faculty mentor.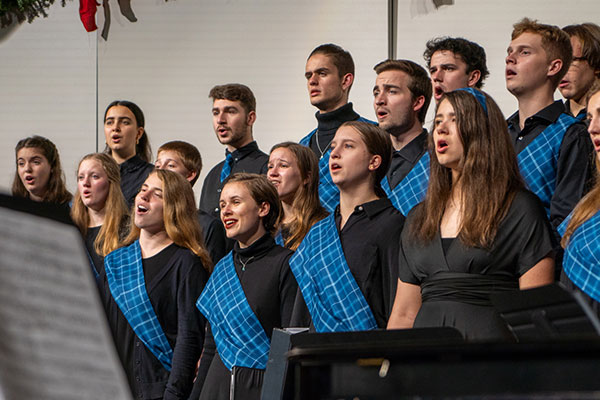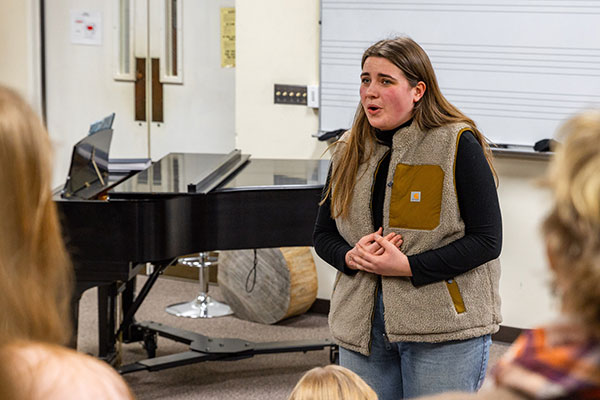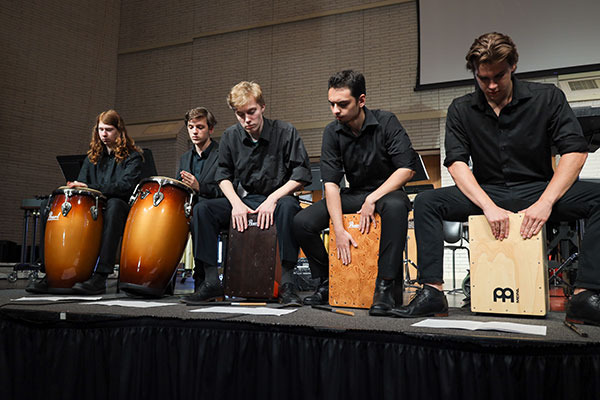 Graduate Outcomes
Our graduates have gone on from Covenant to a wide variety of musical careers and professions including:
Director, BiFrost Arts and The Porter's Gate Worship Project
Music Director, Lookout Mountain Presbyterian Church
Co-founder, East Lake Expression Engine
Music Director, New City Fellowship
Organist, Faith Presbyterian Church Tacoma
Professor, Geneva College
Professor, Lee University
Producer and Songwriter, Harrison Center for the Arts
Elementary Music Teacher, Chattanooga Charter School of Excellence
Violinist and Faculty, Elizabeth Faidley Violin Studio and Manhattan School of Music
Alumni have also studied at the following graduate schools:
University of Florida
Peabody Institute of the Johns Hopkins University
Washington University
North Carolina School of the Arts
Florida State University
Music enables our souls to speak about their pain and joy. Music is not just a thing to be conquered. It's something that is characteristic of who God's people are.
Scott Finch
Associate Professor of Music
Programs, Features & Resources
Music majors choose a concentration from the following:
Church Music
Creative Studies
General Music
Instrumental Performance
Organ Performance
Piano Pedagogy
Piano Performance
Vocal Performance
Students who are interested in teaching music for grades P-12 should complete the Music Education (Pre-MAT) Concentration, in addition to the Common Music Core for the BA degree in music and then enroll in the one-year Master of Arts in Teaching at Covenant College. It is recommended that the Education Minor be completed.
MUS 211 Music Writing
MUS 235 Shepherding Souls Through Music
MUS 241 Basic Music Technology
MUS 252 Introduction to Diction
MUS 262 Advanced Concepts of Musical Structure
MUS 275 Gypsies, Love, Insanity & Truth: The Context of Dramatic Music
MUS 463 Jazz Improvisation
"The Science of Sonorism: An Acoustical Analysis of Penderecki's Timbre System"
"The Theological Implications of Olivier Messiaen's Compositional Techniques"
"Fostering Creativity in Children Through Collaborative Musical Composition"
Music majors are offered many opportunities to perform in recitals. All majors are required to take eight semesters of Performance Seminar; minors take four semesters. Music students are also required to participate in departmental ensembles. The ensemble requirements vary according to chosen instrument and degree.
Chattanooga Symphony and Opera
Advanced student musicians may qualify for membership in the orchestra or opera chorus, depending on open positions.
Students are also involved in a number of on-campus performances every semester. Some of our recurring concerts include:
Celebrate Christmas
Spring Choral Festival
Celebration Concert
Fall Instrumental Concert
Spring Instrumental Concert
Selections from previous concerts are available on the department's YouTube channel.
Covenant offers music scholarships, which are awarded based on a student's contribution to the music program. (You do not have to declare music as a major in order to compete for this scholarship.) Students with a major or minor in music receive higher awards.
Covenant offers a competitive pipe & drum scholarship that is awarded to students who demonstrate the ability to contribute to Covenant's Pipe & Drum Corps. For students who have experience playing the bagpipes or a Scottish snare drum, this scholarship provides an opportunity to contribute to the Covenant community through music.
The John Hamm Performing Arts Series brings world-renowned musical artists to Covenant's campus to offer recitals and educational opportunities that serve students as well as the surrounding Chattanooga and Lookout Mountain communities.
Ready to take the next step?
Thank you for your interest in Covenant! By filling out this form, we'll be able to connect you with the best information regarding your program of interest, as well as your Admissions Counselor.
Undergraduate Departments, Majors, Minors, Certificates, Concentrations, and Programs
Arts Administration
Entrepreneurship
Environmental Stewardship & Sustainability
Journalism and Society
Medical Ethics Consultation
Neuroscience
Teaching English to Speakers of Other Languages (TESOL)
Art, 2-D Concentration
Art, 3-D Concentration
Art, Art History Concentration
Art, Graphic Design Concentration
Art, Photography Concentration
Art minor
Art History minor
Biblical & Theological Studies
Biblical & Theological Studies, Missions Concentration
Biblical & Theological Studies minor
Biblical Languages minor
History of Christianity minor
Missions minor
Youth Ministry minor
Biology, Biomedical Concentration
Biology, Environmental Concentration
Biology, General
Biology, Health Professions Concentration
Biology minor
Business
Business, Accounting Concentration
Business, Finance Concentration
Business, Marketing Concentration
Sport Management
Business minor
Sport Management minor
Chemistry, Biochemistry Concentration
Chemistry, General
Biochemistry minor
Chemistry minor
Computer Science
Computer Science minor
Community Development
Economics
Community Development minor
Economics minor
Education Studies
Elementary Education (P-5)
Secondary Education Certifications through MAT program
Education minor
Natural Science, Pre-Engineering Studies Concentration
English
English, Writing Concentration
English minor
Writing minor
History
History, Art History Concentration
Political Science
International Studies
History minor
Political Science minor
Interdisciplinary Studies with Concentrations
Mathematics
Mathematics minor
Music, Church Music Concentration
Music, Creative Studies Concentration
Music, General Music Concentration
Music, Instrumental Performance Concentration
Music, Music Education (Pre-MAT) Concentration
Music, Organ Performance Concentration
Music, Piano Pedagogy Concentration
Music, Piano Performance Concentration
Music, Vocal Performance Concentration
Music minor
Philosophy
Philosophy minor
Pre-Law Studies
Pre-Medical Studies
Pre-Nursing Studies
Pre-Physical Therapy Studies
Psychology
Psychology minor
Sociology
Sociology, Family Studies & Social Work Concentration
Sociology minor
French
Spanish
French minor
Spanish minor