2008-2009 Theatre Productions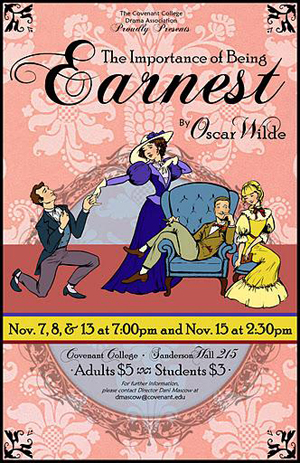 The Importance of Being Earnest
By Oscar Wilde
Directed by Dani Mascow '09 (SIP)
A classic comedy full of the wittiest epigrams ever uttered onstage. A delightful romp full of mistaken identity, tea sandwiches and christenings.
---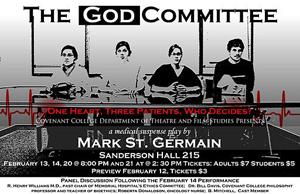 The God Committee
By Mark St. Germain
Directed by Professor Camille Hallstrom
A hospital committee must decide who gets to live when a heart becomes available for transplant.
Read the Director's Notes

DIRECTOR'S NOTES: "If they're going to live, somebody has to die."
I had a friend from college whose father died of pancreatitis in the mid-90s. I remember he was bitter that a replacement organ could not be found, and that was apparently because many church folk won't donate organs, believing it's forbidden since their bodies will one day be resurrected. I don't know where he got his information on the motivations, or lack thereof, of potential donors; I don't know whether many Christians actually believe what he said they do. But I felt bad for him and understood his anger at such foolishness.
I have another friend in Uganda who was disturbed when an American we both knew chose to be cremated rather than buried. Apparently this is appalling to Ugandans (not least because under Idi Amin many people were burned to death.) Parts of my responses to both friends follow.
You know, often in funeral services we hear the words of the Prayer Book:
"In sure and certain hope of the resurrection to eternal life through our Lord Jesus Christ, we commend to Almighty God our brother; and we commit his body to the ground; earth to earth; ashes to ashes, dust to dust..."
Those exact words do not appear in the Bible, but the ideas do in several passages:

The dust returns to the ground it came from, and the spirit returns to God who gave it. Ecclesiastes 12:7
And after my flesh has been destroyed, yet in my body I will see God; I myself will see him with my own eyes—I, and not another. How my heart yearns within me! Job 19:26-27
God gives life to the dead and calls things that are not as though they were. Romans 4:17
What you sow does not come to life unless it dies. When you sow, you do not plant the body that will be, but just a seed… But God gives it a body as he has determined… So will it be with the resurrection of the dead. The body that is sown is perishable, it is raised imperishable …. Then the saying that is written will come true: "Death has been swallowed up in victory!"
1 Corinthians 15:35-54
My driver's license identifies me as a multiple organ and tissue donor; I hope yours does too. I hope you also donate blood. (They won't take mine anymore -- despite my bulgy-blue, made-for-donation veins, since I'm regularly exposed to malaria.) I hope you put yourself in a marrow donor data base while you're at it. In short, I hope you remember you can't take it with you. (And what's more, you don't have to try.)
Just so you know, I didn't select this play because I am some sort of Organ Donation Crusader. I picked it because I thought it was a walloping good show. (It's been called a cross between Twelve Angry Men and E.R.) (And, well, I also picked it 'cause we could pull it off with a fairly cheap set and costume budget.) But, if it's possible that St. Germain's play just might encourage someone to ante up a vital, life-saving resource that he/she isn't in need of anymore, that would be a pretty nice return for all the effort the cast and crew has expended to put the play on.
When you think about it, Dr. Klee's line "If they're going to live, somebody has to die" isn't very far removed from "Greater love has no one than this: that he lay down his life for his friends."
Hope you enjoy the show, friends.
Soli Deo Gloria
CJH
---
Copenhagen
By Michael Frayn
Directed by Justin Johns '10
Physicists struggle with the impact their work has had on the world, their families, and themselves.
Undergraduate Departments, Majors, Minors, Certificates, Concentrations, and Programs
Arts Administration
Entrepreneurship
Environmental Stewardship & Sustainability
Journalism and Society
Medical Ethics Consultation
Neuroscience
Teaching English to Speakers of Other Languages (TESOL)
Art, 2-D Concentration
Art, 3-D Concentration
Art, Art History Concentration
Art, Graphic Design Concentration
Art, Photography Concentration
Art minor
Art History minor
Biblical & Theological Studies
Biblical & Theological Studies, Missions Concentration
Biblical & Theological Studies minor
Biblical Languages minor
History of Christianity minor
Missions minor
Youth Ministry minor
Biology, Biomedical Concentration
Biology, Environmental Concentration
Biology, General
Biology, Health Professions Concentration
Biology minor
Business
Business, Accounting Concentration
Business, Finance Concentration
Business, Marketing Concentration
Sport Management
Business minor
Sport Management minor
Chemistry, Biochemistry Concentration
Chemistry, General
Biochemistry minor
Chemistry minor
Computer Science
Computer Science minor
Community Development
Economics
Community Development minor
Economics minor
Education Studies
Elementary Education (P-5)
Secondary Education Certifications through MAT program
Education minor
Natural Science, Pre-Engineering Studies Concentration
English
English, Writing Concentration
English minor
Writing minor
History
History, Art History Concentration
Political Science
International Studies
History minor
Political Science minor
Interdisciplinary Studies with Concentrations
Mathematics
Mathematics minor
Music, Church Music Concentration
Music, Creative Studies Concentration
Music, General Music Concentration
Music, Instrumental Performance Concentration
Music, Music Education (Pre-MAT) Concentration
Music, Organ Performance Concentration
Music, Piano Pedagogy Concentration
Music, Piano Performance Concentration
Music, Vocal Performance Concentration
Music minor
Philosophy
Philosophy minor
Pre-Law Studies
Pre-Medical Studies
Pre-Nursing Studies
Pre-Physical Therapy Studies
Psychology
Psychology minor
Sociology
Sociology, Family Studies & Social Work Concentration
Sociology minor
French
Spanish
French minor
Spanish minor