2021-2022 Theatre Season
SHE STOOPS TO CONQUER
By Oliver Goldsmith
Directed by Cara Smole `22 (Capstone Project)
"Kate Hardcastle" played by Emily Cothran `22 (Capstone Project)
Kate Hardcastle is looking for love, but Charles Marlow is making it hard to find. When fate draws the two of them together, Kate stoops to conquer the heart and mind of her perplexing suitor. In Oliver Goldsmith's famous comedy, Kate and her friend Constance have to work around the expectations of polite society to each secure a husband. To make matters worse, Kate's pesky brother, Tony Lumpkin, works some mischief of his own which results in many mistakes of the night.
View the photo album on Facebook
---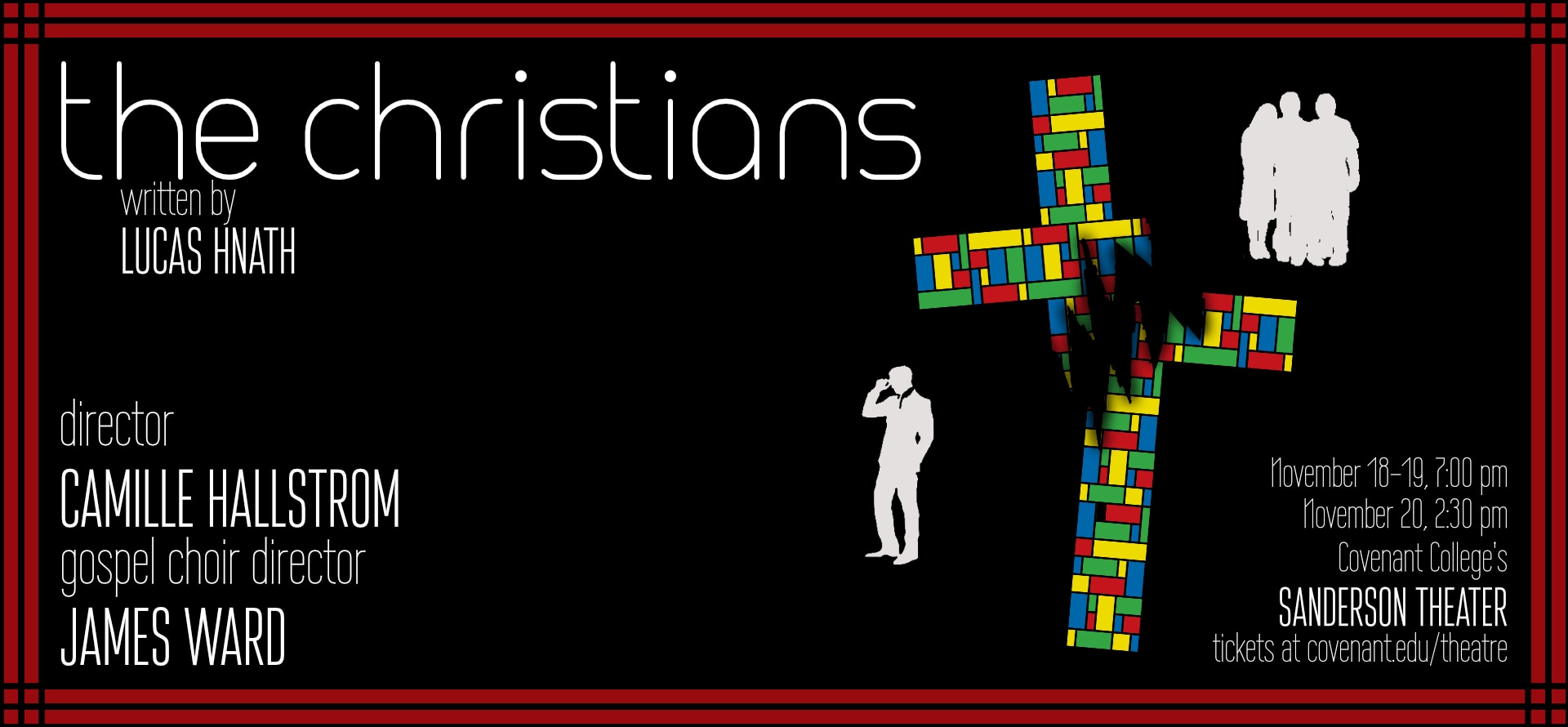 THE CHRISTIANS
By Lucas Hnath
Directed by Prof. Camille Hallstrom
Gospel Choir directed by James Ward
With his award-winning The Christians, playwright Lucas Hnath gives us "a mature... play about faith... a clever, searching and elusively profound work" (The Guardian). In it, Pastor Paul has spent 20 years successfully growing his church from a small storefront to a gleaming megachurch, but now he fears that there may be a crack in the theological foundation. As he shares his new belief in the nature of salvation, the message is met with surprise and then growing trepidation from his closest confidantes in the congregation, threatening to create a schism within the church. Hnath looks with great complexity and compassion at the relationship between belief and behavior—and his evenhanded, unbiased take on faith in modern America has been appreciated by audiences regardless of what they personally believe.
THE CHRISTIANS is presented by special arrangement with Dramatists Play Service, Inc., New York.
View the photo album on Facebook
---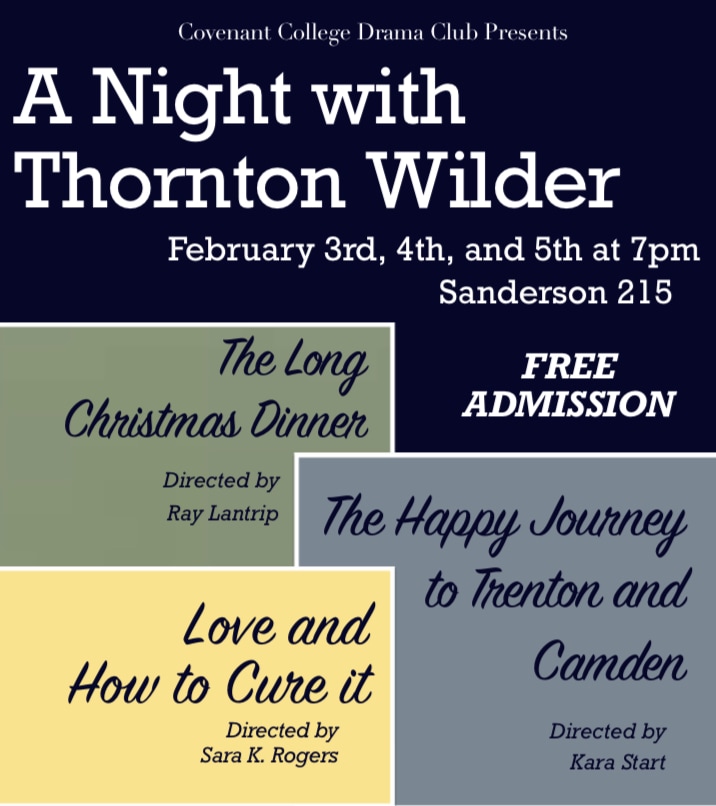 A NIGHT WITH THORNTON WILDER
By Thornton Wilder
Directed by Ray Lantrip `23, Sara Rogers `24, and Kara Start `23
Thornton Wilder's many one act plays often explore the same themes as his American masterpiece, Our Town. Sometimes funny, often poignant, the plays treat on the beauty and the tragedy of everyday.
"The Long Christmas Dinner," "Love and How to Cure It," and "Happy Journey to Trenton and Camden" are presented by arrangement with Concord Theatricals on behalf of Samuel French, Inc. www.concordtheatricals.com
---
THE MAGIC FLUTE
Sung in English with supertitles
Music by Wolfgang Amadeus Mozart
Libretto by Emanuel Schikaneder
English Singing Translation by Andrew Porter
New English Libretto by Susan Bernofsky
Directed by Keturah Stickann
Conducted by Prof. Lok Kim
Pamina is stuck in a violent riff between her mother and father, who both think they should raise her alone. When she is kidnapped by her father, her mother (who also happens to be the powerful Queen of the Night) enlists the help of young Prince Tamino and her hapless birdcatcher, Papageno, to bring her daughter back. Part fantasy adventure tale, part family drama, Mozart's infectious music, and a witty new libretto translation by Susan Bernofsky will evoke raucous laughter and endless tears in this classic opera that reminds us we are all worthy of love.
Undergraduate Departments, Majors, Minors, Certificates, Concentrations, and Programs
Arts Administration
Entrepreneurship
Environmental Stewardship & Sustainability
Journalism and Society
Medical Ethics Consultation
Neuroscience
Teaching English to Speakers of Other Languages (TESOL)
Art, 2-D Concentration
Art, 3-D Concentration
Art, Art History Concentration
Art, Graphic Design Concentration
Art, Photography Concentration
Art minor
Art History minor
Biblical & Theological Studies
Biblical & Theological Studies, Missions Concentration
Biblical & Theological Studies minor
Biblical Languages minor
History of Christianity minor
Missions minor
Youth Ministry minor
Biology, Biomedical Concentration
Biology, Environmental Concentration
Biology, General
Biology, Health Professions Concentration
Biology minor
Business
Business, Accounting Concentration
Business, Finance Concentration
Business, Marketing Concentration
Sport Management
Business minor
Sport Management minor
Chemistry, Biochemistry Concentration
Chemistry, General
Biochemistry minor
Chemistry minor
Computer Science
Computer Science minor
Community Development
Economics
Community Development minor
Economics minor
Education Studies
Elementary Education (P-5)
Secondary Education Certifications through MAT program
Education minor
Natural Science, Pre-Engineering Studies Concentration
English
English, Writing Concentration
English minor
Writing minor
History
History, Art History Concentration
Political Science
International Studies
History minor
Political Science minor
Interdisciplinary Studies with Concentrations
Mathematics
Mathematics minor
Music, Church Music Concentration
Music, Creative Studies Concentration
Music, General Music Concentration
Music, Instrumental Performance Concentration
Music, Music Education (Pre-MAT) Concentration
Music, Organ Performance Concentration
Music, Piano Pedagogy Concentration
Music, Piano Performance Concentration
Music, Vocal Performance Concentration
Music minor
Philosophy
Philosophy minor
Pre-Law Studies
Pre-Medical Studies
Pre-Nursing Studies
Pre-Physical Therapy Studies
Psychology
Psychology minor
Sociology
Sociology, Family Studies & Social Work Concentration
Sociology minor
French
Spanish
French minor
Spanish minor