2022-2023 Theatre Season
2023-2023 Theatre Productions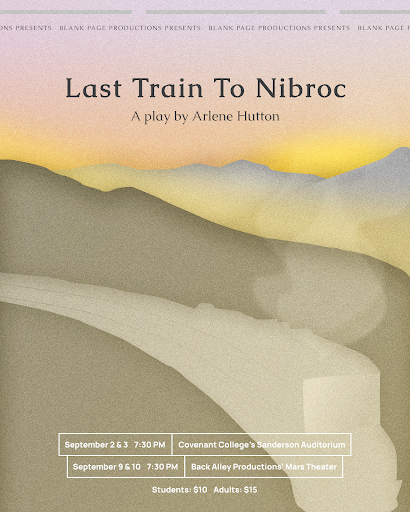 LAST TRAIN TO NIBROC
By Arlene Hutton
A Blank Page Production
Directed by Jonathan Goff
Set in rural Kentucky during WWII, "Last Train to Nibroc" tells the story of two average people struggling with the nuances of life, loss, and love.From their very first meeting on a train across the country, May and Raleigh are immediately confronted with their conflicting yet complementary natures. Over the course of three acts the couple meet again in converging crises within their own individual journeys, each time revealing the ways they are drawn together even as they challenge and hurt one another. This intimate play explores this relationship as both characters question their passion and purpose. A Blank Page Production starring alumni Sammie Brown Waller `18 and Matthew Mindeman `17.
---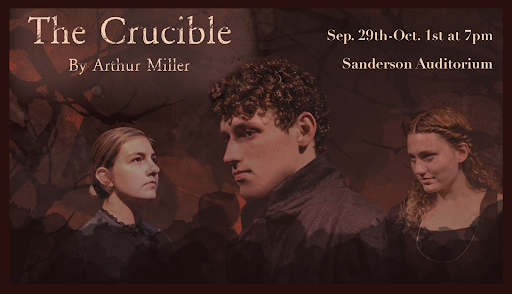 THE CRUCIBLE
By Arthur Miller
Directed by Courtney McKenzie
When the children of Salem, Massachusetts start inexplicably falling ill, an otherwise common occurrence morphs into the catalyst to a hysteria that will unravel the life of the entire village. The initiators soon discover that they have lost all control in the wave of panic and frantic accusation sweeping over all in its path. Farmer John Proctor suddenly finds himself confronted with the choice of either saving his life or his name.
---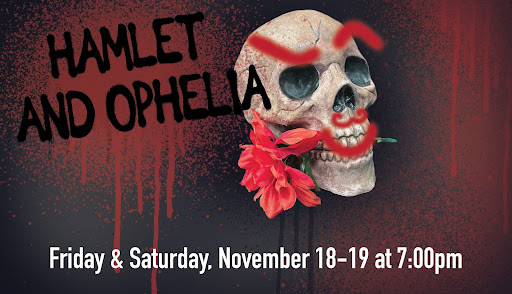 HAMLET & OPHELIA
From the play by William Shakespeare
Directed by Prof. Camille Hallstrom
Adapted and performed by Anya Klumpenhower '24
Hamlet's father is dead. Hamlet is not okay. This one woman show was put together in a way that blatantly ignores the plot. Instead it highlights the carelessness and consequences of Hamlet's actions. The monologues in this show alternate between Hamlet and a friend, a family member, and a lover, desperately calling out for him to pay attention to the effects before it's too late.
---

HELLO, DOLLY!
Book by Michael Stewart Music and Lyrics by Jerry Herman
Based on the play The Matchmaker by Thornton Wilder
Original Production Directed and Choreographed by Gower Champion
Produced for the Broadway Stage by David Merrick and Champion Five, Inc.
Directed by Prof. Claire Slavovsky
Music directed by Prof. David Tahere
Choreography by Pop-up Project
With a book based on a play by Thornton Wilder of Our Town fame, Hello, Dolly! is more than just another light-hearted, fun romp with hummable tunes. At the core of the story is something all-too-familiar to us, moving through loss and grief. Dolly lost her husband Ephraim, and has spent the last several years relatively isolated, avoiding old friends, and "thanking God that [she] was independent, that no-one else's life was mixed up with [hers]." Similarly, Horace Vander Gelder is a widower and in his words, has become "rich, friendless and mean, which in Yonkers is about as far you can go!" This is the story of these characters coming out of their solitude and deciding to "rejoin the human race."
HELLO, DOLLY! is presented by arrangement with Concord Theatricals on behalf of Tams-Witmark LLC.
www.concordtheatricals.com
---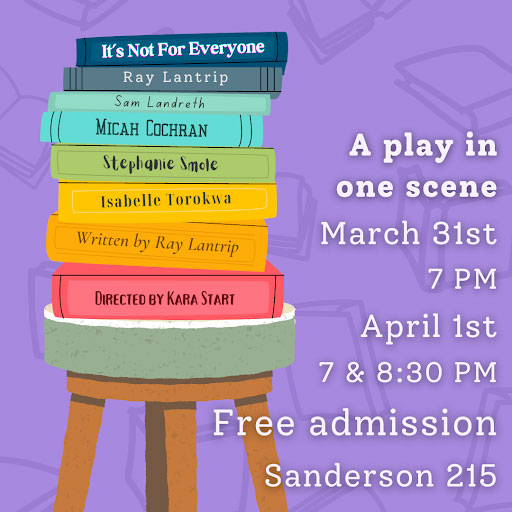 IT'S NOT FOR EVERYONE
By Ray Lantrip `23
Directed by Kara Start `23
Percy Lewiston, a literature PhD candidate, is just trying to do his job. But in an evening of unexpected turns, he finds himself learning about slam poetry, fending off flirtatious girls, mediating a lifelong feud, and struggling with the questions of why scholars continue to do work that receives little appreciation.
---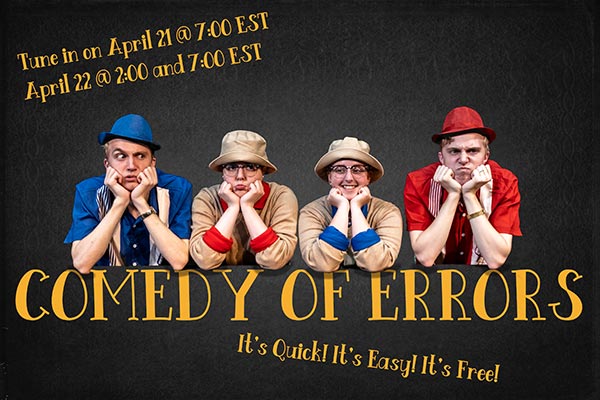 THE COMEDY OF ERRORS
By William Shakespeare
Adapted and directed by Anya Klumpenhower `24
April 21 at 7:00 pm & April 22 at 2:00 pm, 7:00 pm
Sanderson Auditorium
Free Admission
Covenant College presents an abridged hour long version of The Comedy of Errors, Shakespeare's classic comedy of mistaken identities (featuring actual twins!). Placed in a 1960's sitcom, this show follows two sets of identical twins who unknowingly trade places for a day, resulting in slapstick and shenanigans.
Undergraduate Departments, Majors, Minors, Certificates, Concentrations, and Programs
Arts Administration
Entrepreneurship
Environmental Stewardship & Sustainability
Journalism and Society
Medical Ethics Consultation
Neuroscience
Teaching English to Speakers of Other Languages (TESOL)
Art, 2-D Concentration
Art, 3-D Concentration
Art, Art History Concentration
Art, Graphic Design Concentration
Art, Photography Concentration
Art minor
Art History minor
Biblical & Theological Studies
Biblical & Theological Studies, Missions Concentration
Biblical & Theological Studies minor
Biblical Languages minor
History of Christianity minor
Missions minor
Youth Ministry minor
Biology, Biomedical Concentration
Biology, Environmental Concentration
Biology, General
Biology, Health Professions Concentration
Biology minor
Business
Business, Accounting Concentration
Business, Finance Concentration
Business, Marketing Concentration
Sport Management
Business minor
Sport Management minor
Chemistry, Biochemistry Concentration
Chemistry, General
Biochemistry minor
Chemistry minor
Computer Science
Computer Science minor
Community Development
Economics
Community Development minor
Economics minor
Education Studies
Elementary Education (P-5)
Secondary Education Certifications through MAT program
Education minor
Natural Science, Pre-Engineering Studies Concentration
English
English, Writing Concentration
English minor
Writing minor
History
History, Art History Concentration
Political Science
International Studies
History minor
Political Science minor
Interdisciplinary Studies with Concentrations
Mathematics
Mathematics minor
Music, Church Music Concentration
Music, Creative Studies Concentration
Music, General Music Concentration
Music, Instrumental Performance Concentration
Music, Music Education (Pre-MAT) Concentration
Music, Organ Performance Concentration
Music, Piano Pedagogy Concentration
Music, Piano Performance Concentration
Music, Vocal Performance Concentration
Music minor
Philosophy
Philosophy minor
Pre-Law Studies
Pre-Medical Studies
Pre-Nursing Studies
Pre-Physical Therapy Studies
Psychology
Psychology minor
Sociology
Sociology, Family Studies & Social Work Concentration
Sociology minor
French
Spanish
French minor
Spanish minor