2011-2012 Theatre Productions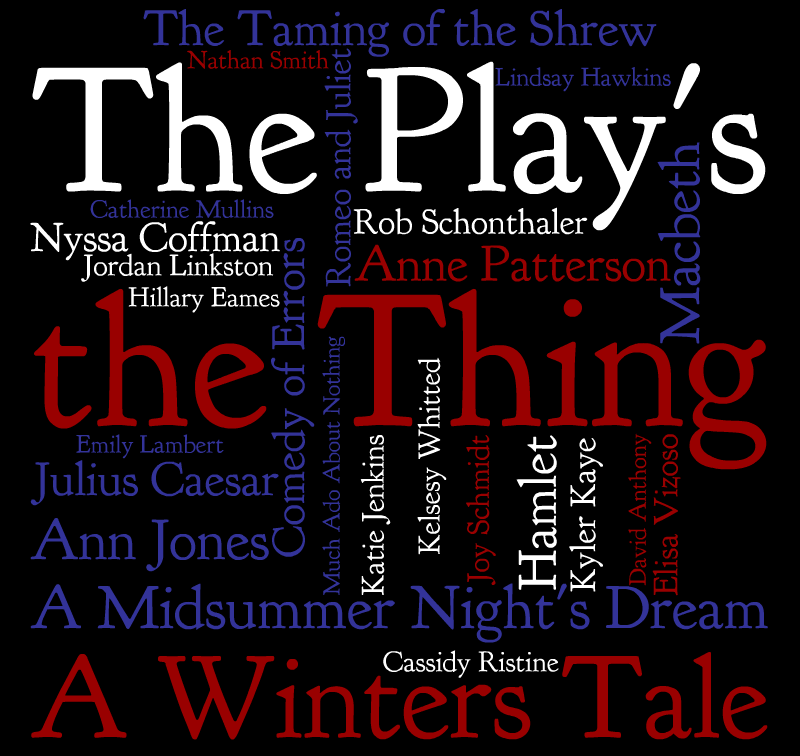 The Play's the Thing
William Shakespeare
Directed by Nyssa Coffman '15, Katie Jenkins '12, Ann Jones '13, Anne Patterson '13, and Kelsey Whitted '13.
April 13-14 & 20 @8:00 pm; April 21 @2:30 pm.
All tickets $3

Presenting an evening of nine student-directed and fully produced scenes from Comedy of Errors, Hamlet, Julius Caesar, Macbeth, A Midsummer Night's Dream, Much Ado About Nothing, Romeo and Juliet, Taming of the Shrew, and A Winter's Tale
View the photo album on Facebook »
Three on the Seesaw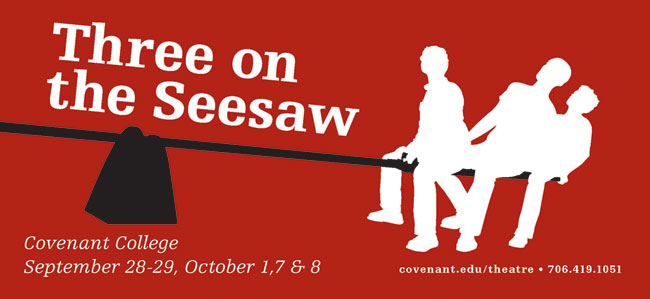 by Luigi Lunari
Directed by Visiting Professor Deborah Kirby
Album on Facebook

Can there be such a thing as a Catholic No Exit?
A farcical meditation on the nature of existence, death, the universe and God.
Three on the Seesaw Trailer from Cara Reed.
The Effect of Gamma Rays on Man-in-the-Moon Marigolds
by Paul Zindel
Directed by Katie Jenkins ´12
Album on Facebook

A girl thrives in the midst of destructive forces, much like the marigolds in her science fair project.
Winner of the Pulitzer Prize.
Actors' Anonymous
Including scenes and monologues by Jordan Linkston '12, Jeremy Alvarez, David Ives and Christopher Durang
Directed by Jordan Linkston and Anne Patterson
February 16-18 & 24 @ 8 pm; February 25 @ 2:30 pm
Scenes and monologues taking a playful look at the nature of theatre, language and timing.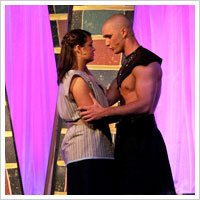 Aida
Music by Elton John, Lyrics by Tim Rice
Directed by Visiting Professor Deborah Kirby, Music Direction by Dr. Jeanell Brown
March 23-31
Dora Maclellean Brown Chapel

Based on Verdi's opera about a Nubian princess forced into slavery in Egypt, who then must choose between love and the salvation of her people.
View the photo album on Facebook »
Undergraduate Departments, Majors, Minors, Certificates, Concentrations, and Programs
Arts Administration
Entrepreneurship
Environmental Stewardship & Sustainability
Journalism and Society
Medical Ethics Consultation
Neuroscience
Teaching English to Speakers of Other Languages (TESOL)
Art, 2-D Concentration
Art, 3-D Concentration
Art, Art History Concentration
Art, Graphic Design Concentration
Art, Photography Concentration
Art minor
Art History minor
Biblical & Theological Studies
Biblical & Theological Studies, Missions Concentration
Biblical & Theological Studies minor
Biblical Languages minor
History of Christianity minor
Missions minor
Youth Ministry minor
Biology, Biomedical Concentration
Biology, Environmental Concentration
Biology, General
Biology, Health Professions Concentration
Biology minor
Business
Business, Accounting Concentration
Business, Finance Concentration
Business, Marketing Concentration
Sport Management
Business minor
Sport Management minor
Chemistry, Biochemistry Concentration
Chemistry, General
Biochemistry minor
Chemistry minor
Computer Science
Computer Science minor
Community Development
Economics
Community Development minor
Economics minor
Education Studies
Elementary Education (P-5)
Secondary Education Certifications through MAT program
Education minor
Natural Science, Pre-Engineering Studies Concentration
English
English, Writing Concentration
English minor
Writing minor
History
History, Art History Concentration
Political Science
International Studies
History minor
Political Science minor
Interdisciplinary Studies with Concentrations
Mathematics
Mathematics minor
Music, Church Music Concentration
Music, Creative Studies Concentration
Music, General Music Concentration
Music, Instrumental Performance Concentration
Music, Music Education (Pre-MAT) Concentration
Music, Organ Performance Concentration
Music, Piano Pedagogy Concentration
Music, Piano Performance Concentration
Music, Vocal Performance Concentration
Music minor
Philosophy
Philosophy minor
Pre-Law Studies
Pre-Medical Studies
Pre-Nursing Studies
Pre-Physical Therapy Studies
Psychology
Psychology minor
Sociology
Sociology, Family Studies & Social Work Concentration
Sociology minor
French
Spanish
French minor
Spanish minor